Blackstone Mexican Fried Rice – Or Whatever You Do
Our simple Blackstone Mexican Fried Rice is a spicy, chile-filled version of a dish that is typically reserved for your favorite Asian restaurant! This was fast, fun, and so delicious. Serve it with chips or load it into a tortilla. Make it as spicy (or mild) as you want. Endlessly customizable, always delicious!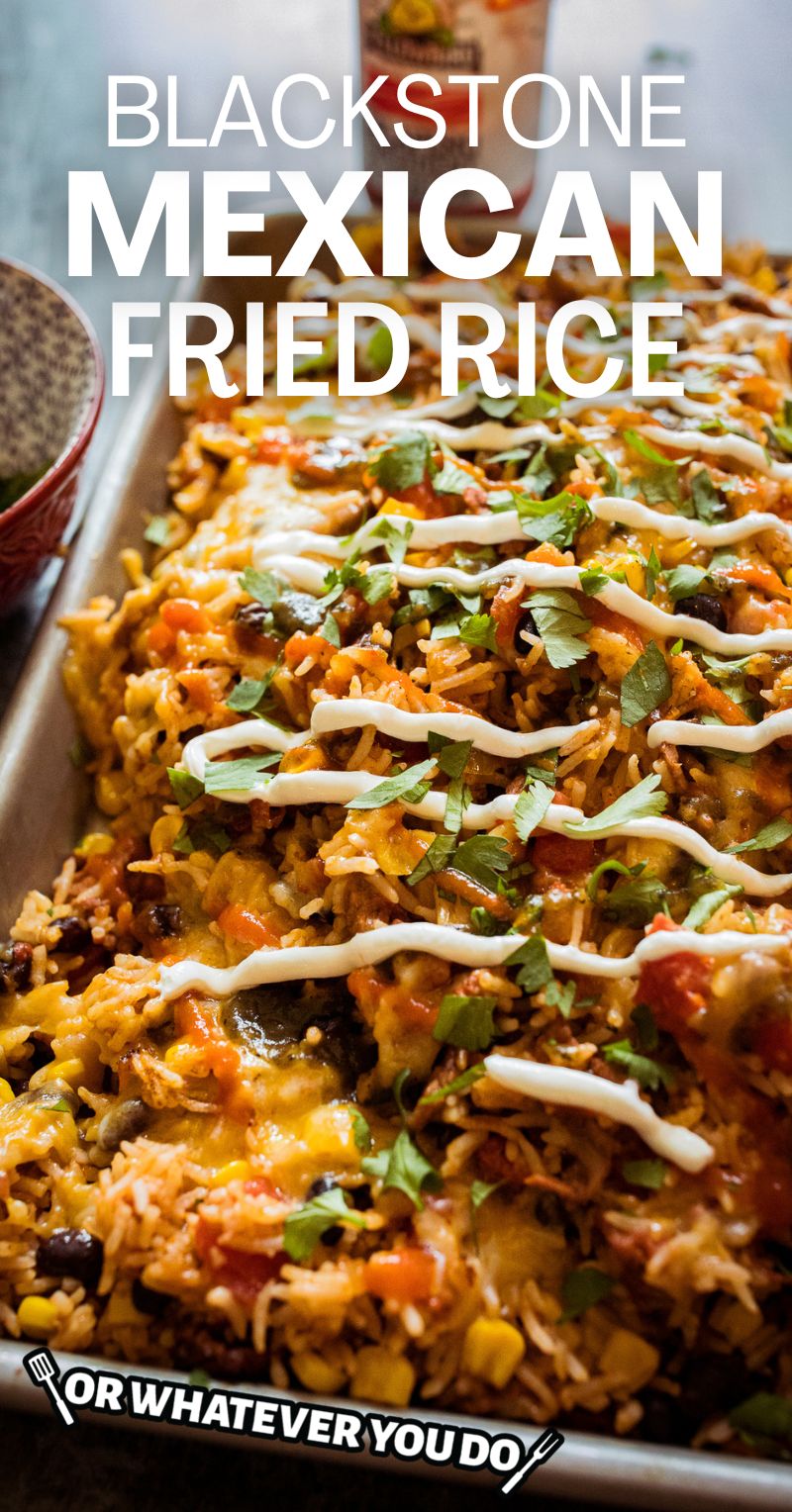 Mexican Fried Rice
I feel like basically this whole title should be in quotes. Is this recipe actually "Mexican", as in, originating from Mexico?
No.
It also isn't traditional fried rice, which is generally made using flavors common in Asian cooking.
What it is, is a mash-up of some of my favorite flavors, inspired by my favorite steak taco, and one of my favorite Asian dishes, using rice as a base and tossing everything but the kitchen sink in there along with your favorite sauces to flavor the rice.
So, authentic – this is not. But delicious? For sure.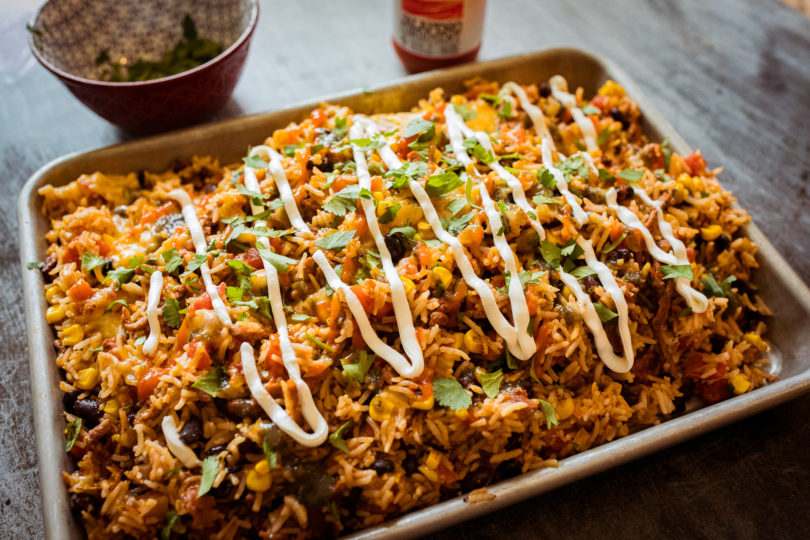 Blackstone Mexican Fried Rice shopping list
Wondering if you have to hit the store? Here's the list of items you'll need to make this recipe. For specific amounts, please refer to the printable recipe card at the bottom of the post.
chilled cooked white rice
avocado oil
black beans
corn
onion
marinated carne asada
Rotel (your favorite flavor)
salsa or enchilada sauce
Mexican-blend cheese
cilantro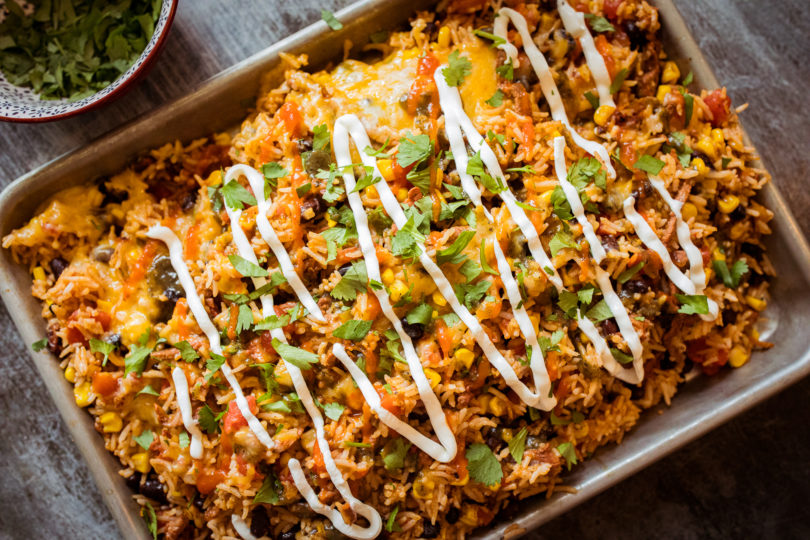 How to make Mexican Fried Rice on the griddle
This is just the overview so you can see what you're actually getting into here. When you are cooking, you'll want to use the full recipe at the bottom of the page.
Preheat griddle
Use high heat. We're cooking a lot of food here and it sucks the heat out of the surface pretty good!
Cook
Put down a thin layer of oil. Use 1/3 of the griddle for the corn and beans, 1/3 for the rice, and 1/3 for the meat. Cook it all and then combine at the end.
Get sauced
Dump that rotel over the top along with some of your favorite salsa or enchilada sauce. Stir it all up and let it cook some more.
Cheese!
Throw some cheese on top and cover until it melts.
Enjoy
Serve with tortilla chips or some warm tortillas.
FREE Weeknight Blackstone Recipe E-Book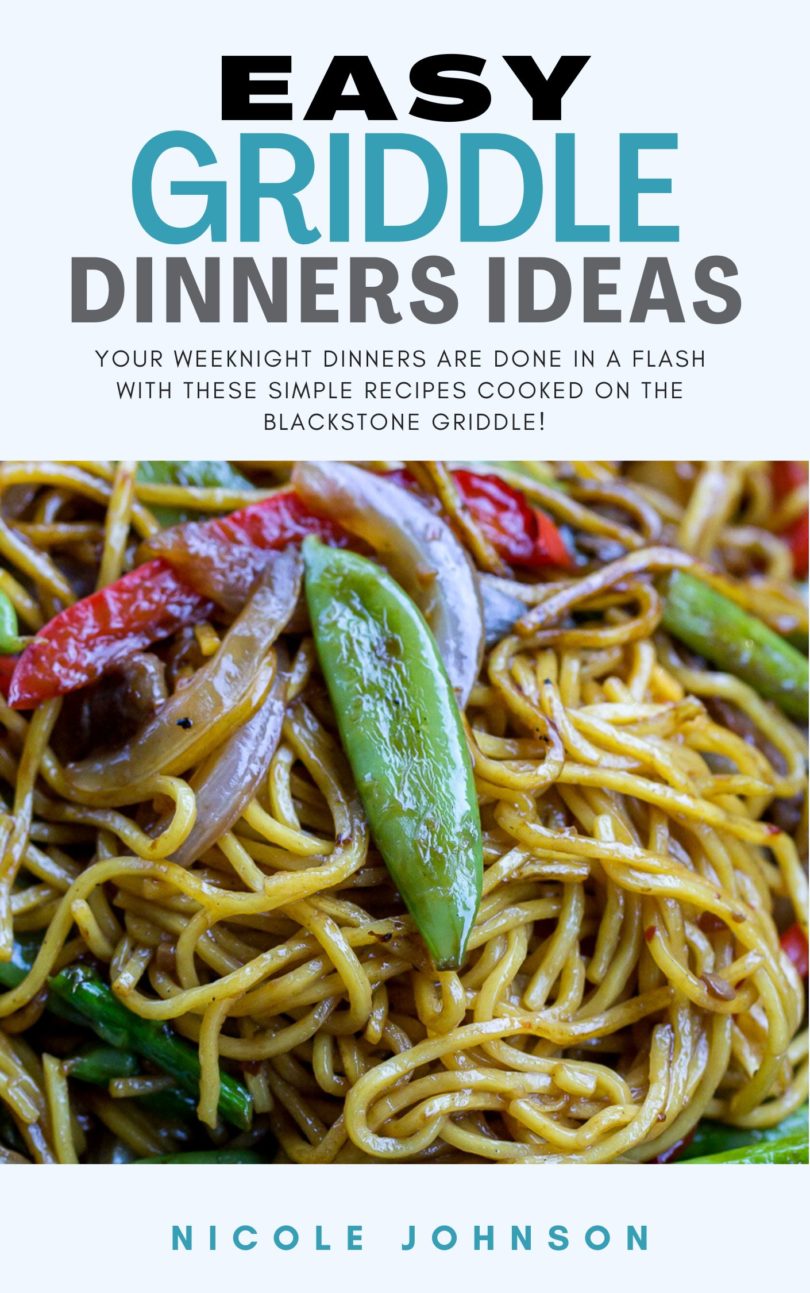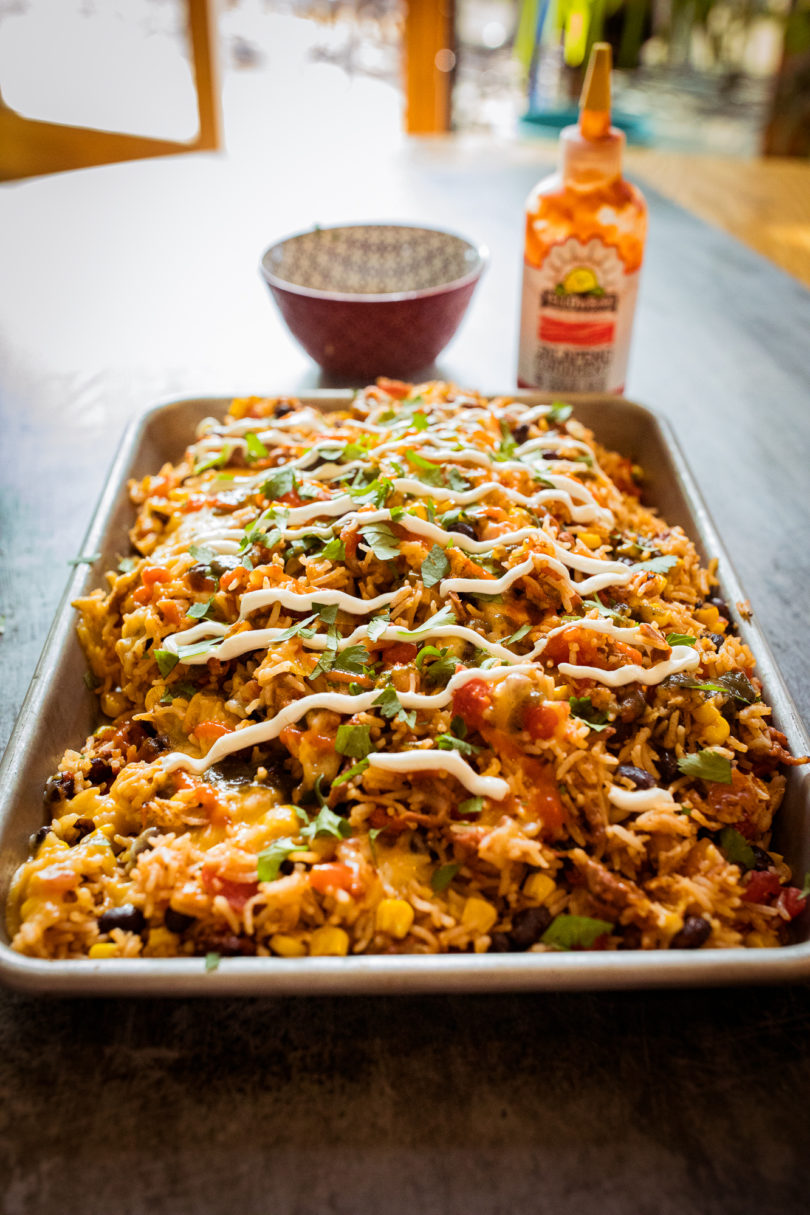 Blackstone Mexican Fried Rice FAQ
How do you store leftovers?
Store these in an airtight container for up to 2-3 days. Refrigerate immediately after serving.
What's the best way to reheat leftovers?
The microwave works great to reheat this dish!
What else could you toss into this rice?
I love this because it is such a great way to use up leftovers from taco night, or stuff that's in the fridge that needs to get used. Have some jalapeños? Toss 'em in! LOVE green chiles? Use extra! Hate spicy food? Make sure to use mild sauces. Fried rice is endlessly customizable, so you can make this JUST how your family likes it.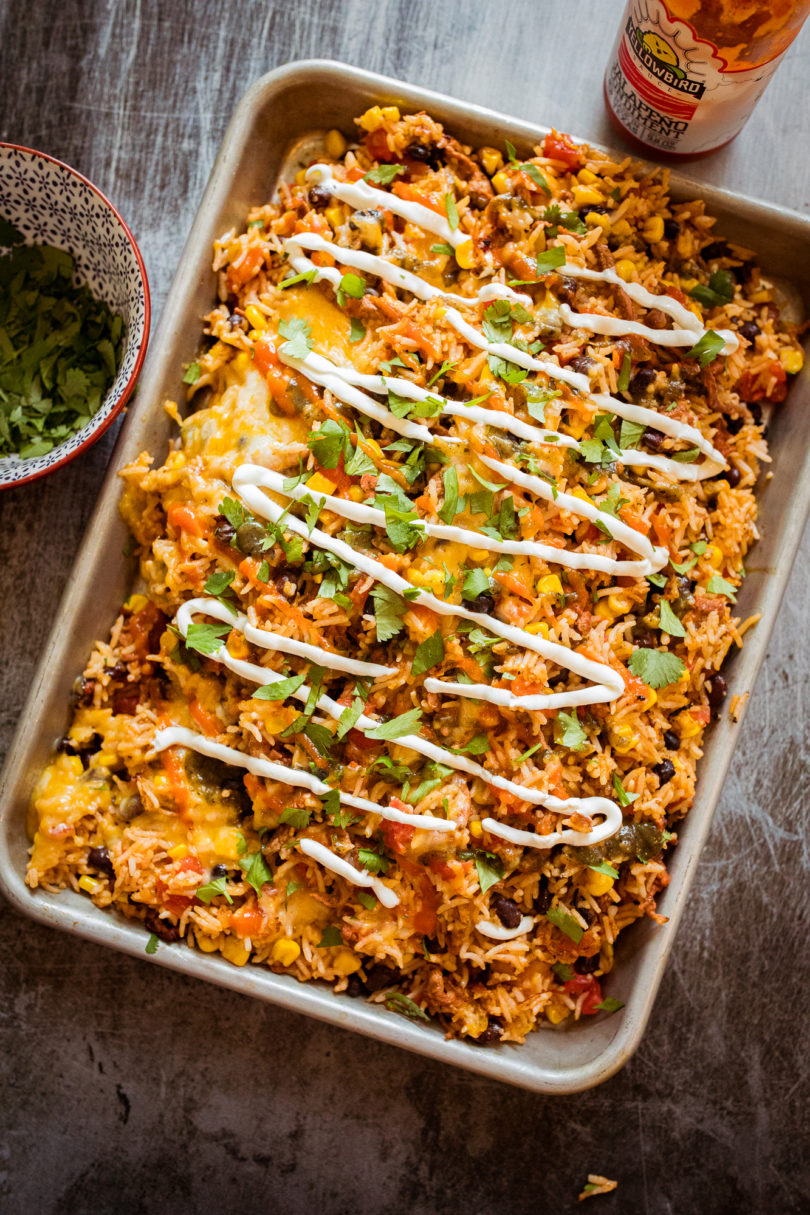 Get more of our favorite Mexican-inspired Blackstone recipes below!
More great recipes to love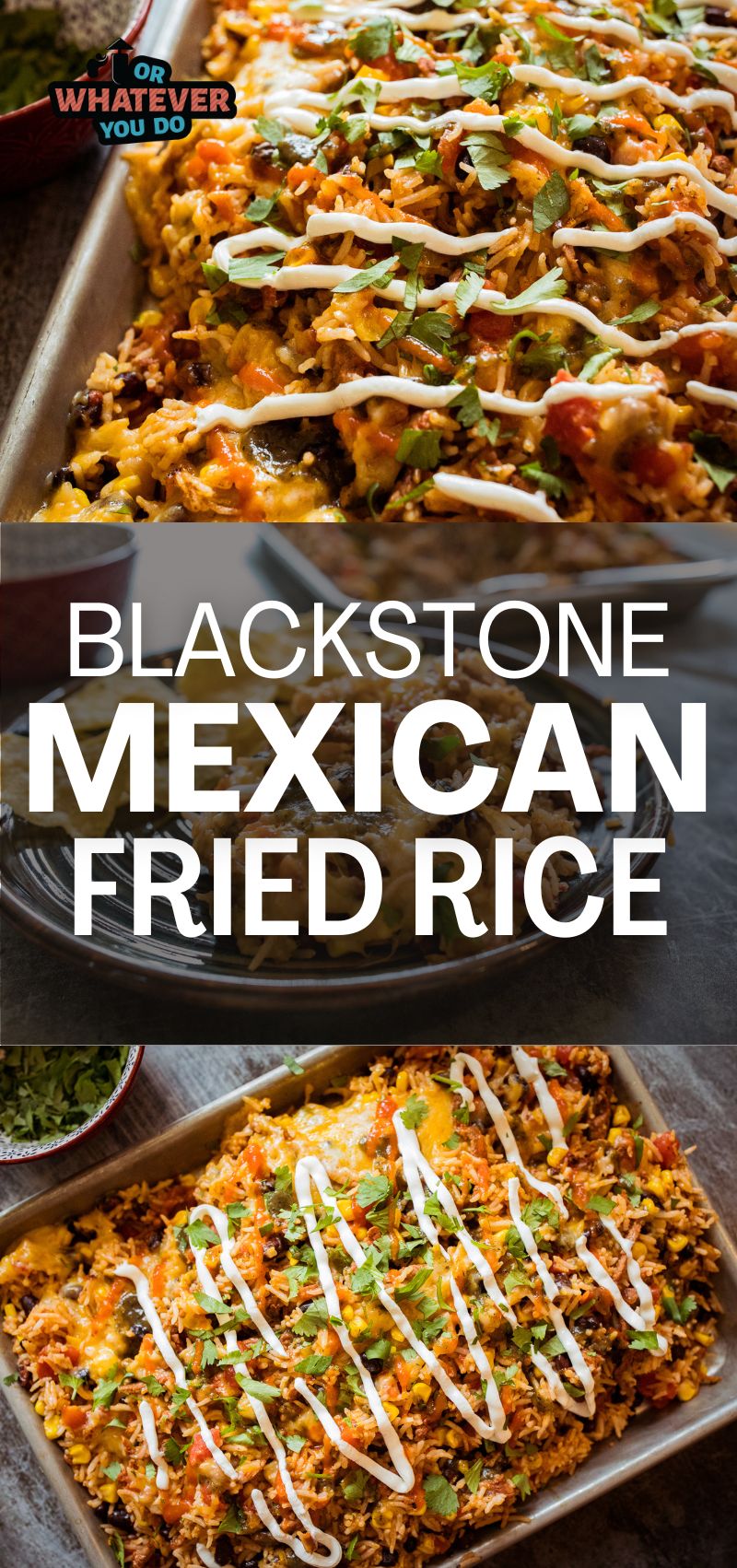 Prep Time
15 minutes
Cook Time
15 minutes
Total Time
30 minutes
Ingredients
6 cups cooked white rice, chilled
1/3 cup avocado oil
1 cup black beans, drained
1 cup corn, drained if using canned
1/2 cup diced onion
2 cups thinly sliced marinated carne asada (we use pre-marinated carne asada from our local Mexican grocery store)
1 can Rotel (your favorite flavor)
1/2 cup salsa or enchilada sauce
2 cups shredded Mexican-blend cheese
4 tablespoon cilantro
Instructions
Preheat your griddle over high heat. Lay down some of the avocado oil in a thin layer.
Cook your beans, corn, and onion on one third of the griddle. Flipping occasionally.
Put the rice down in a thin layer on another third of the griddle. Let it get a little toasty on the griddle before flipping. Add more oil if necessary.
On the last third of the griddle, put down your carne asada meat. Don't flip it until it browns a bit on the bottom!
Combine all of the stuff on the grill until it is evenly mixed. Pour over your Rotel on the top, right along with the juice from the can. Add your salsa or enchilada sauce too, and use large spatulas to mix and turn and get all of that juice easily distributed through the rice.
Turn the heat down on the griddle and cover with your cheese. Place a cover over and let cook until the cheese is melted.
Garnish with cilantro and your favorite taco toppings like sour cream, avocado, diced tomatoes, etc.
Recommended Products
As an Amazon Associate and member of other affiliate programs, I earn from qualifying purchases.
Nutrition Information:
Yield:
8
Serving Size:
1
Amount Per Serving:
Calories: 475Total Fat: 22gSaturated Fat: 7gTrans Fat: 0gUnsaturated Fat: 13gCholesterol: 51mgSodium: 528mgCarbohydrates: 48gFiber: 3gSugar: 3gProtein: 22g
Nutrition data provided here is only an estimate.