Cosmic Brownies – The Cookie Rookie®
Homemade Cosmic Brownies are just like the childhood treats you loved, but even better! Homemade fudgy brownies are topped with a layer of sweet chocolate frosting and speckled with colorful candies.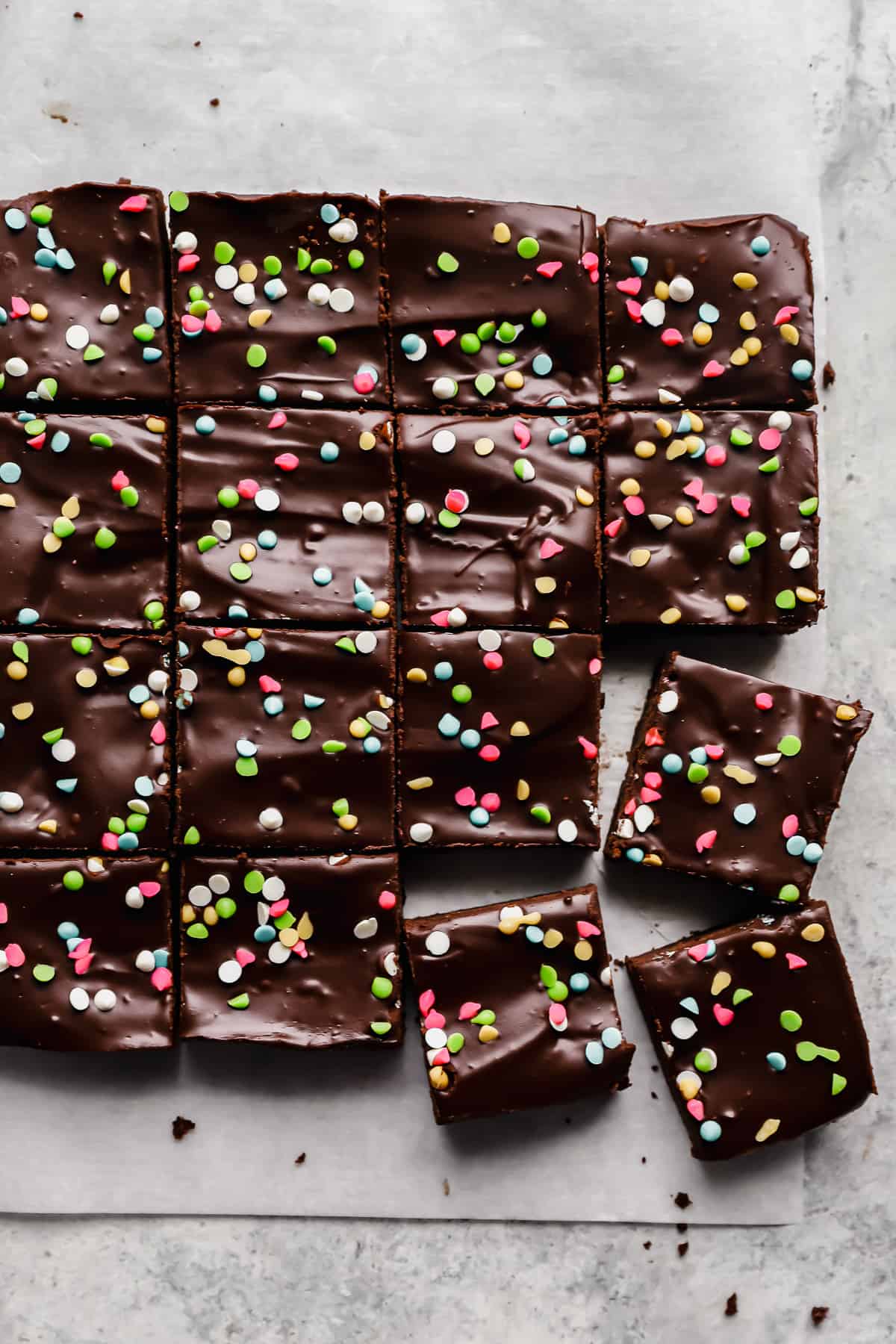 Little Debbie Cosmic Brownies
Cosmic Brownies are the best treats EVER! Seeing one of them in your lunchbox as a little kid was like getting the golden ticket to the chocolate factory. If you're like me, you love a good copycat recipe, and this one might just be the best.
These homemade brownies are chewy and thin, just like the Little Debbie snacks you know and love. The frosting on top is so smooth, chocolatey, and perfectly sweet! Of course, what really makes these brownies cosmic in appearance is the sprinkle of rainbow candy-coated chocolate chips on top.
Why You'll Love this DIY Cosmic Brownies Recipe:
Easy: This recipe is certified kid-friendly! Your little ones will love eating these brownies, and the recipe is so easy that they'll also love helping you make them.
Copycat Recipe: Copycat recipes are so much fun! You'll love how these brownies are so similar to the treats you're familiar with, but even better.
Classic: Everyone loves Cosmic Brownies! These little sweet treats are a lunchtime classic.
Trademark Note: In the spirit of transparency, I want to note that this is a copycat recipe for an existing product. Little Debbie is a proprietary brand that I want to acknowledge and give credit to.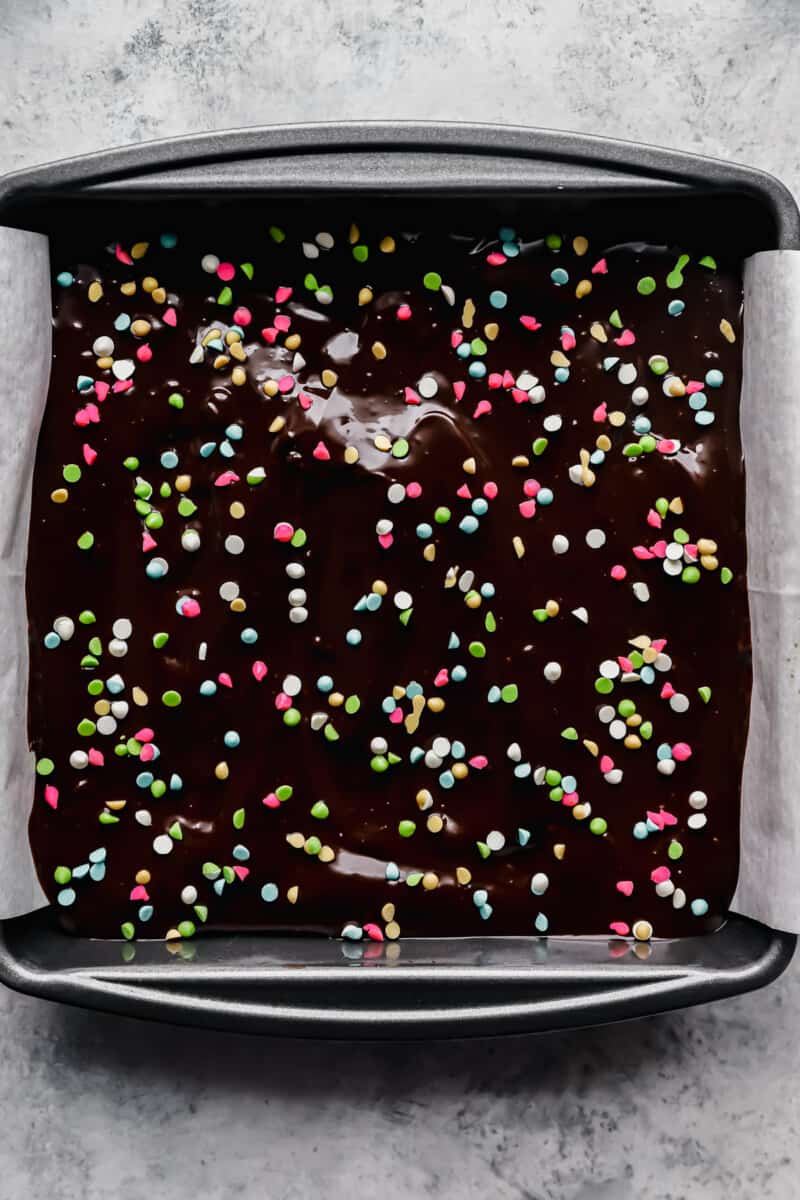 How to Make Cosmic Brownies
You can jump to the recipe card for full ingredients & instructions!
Combine ingredients to make the brownie batter, and spread it evenly into the baking pan. While they're baking, make the chocolate frosting in the microwave so it's ready to spread. Pour the frosting on the baked brownies, spread it out, and sprinkle on the rainbow chips. Then refrigerate and freeze them to let everything set into place.
They'll be ready to slice and serve (or save for later) in no time!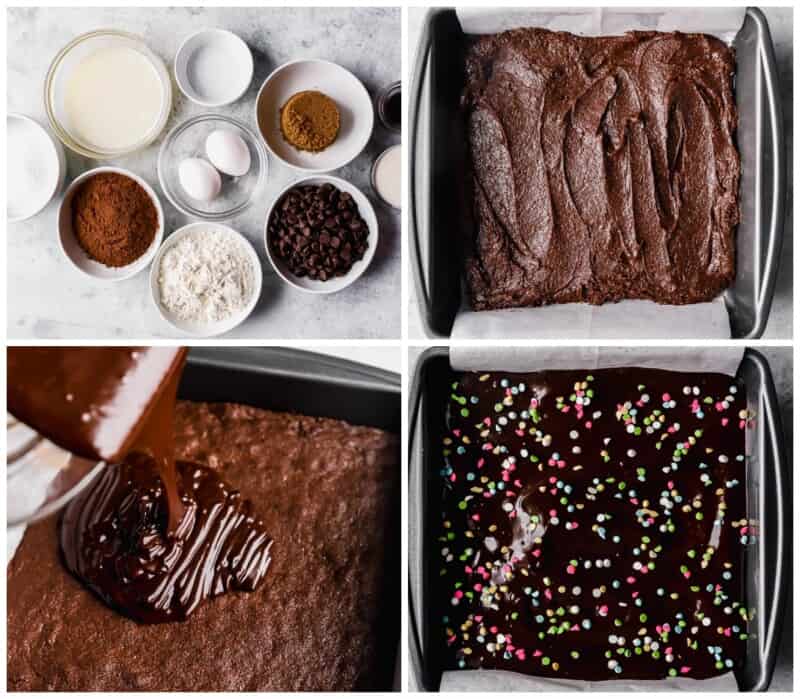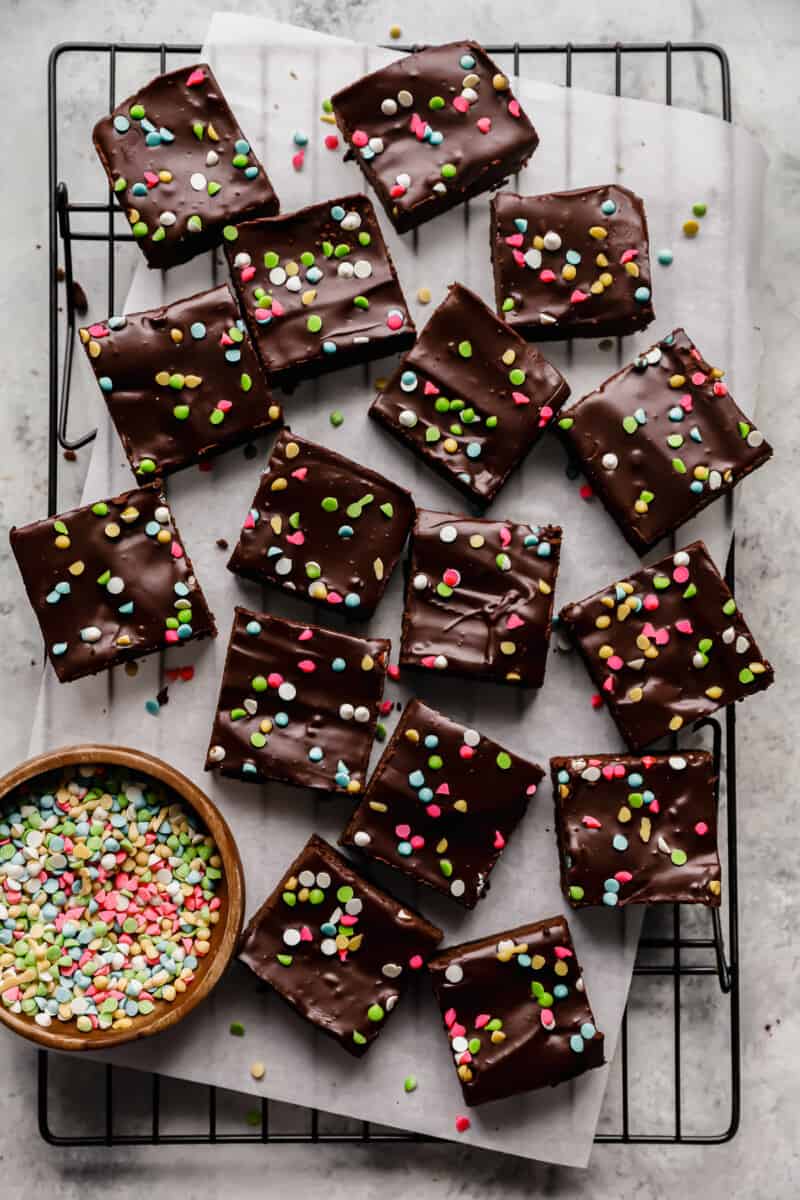 What are cosmic brownies?
Cosmic brownies are fudge brownies topped with chocolate frosting and candy-coated rainbow sprinkles. They were created in 1999 by Little Debbie to capitalize on the booming cosmic bowling trend.
Do cosmic brownies have nuts?
No, these brownies do not contain any nuts, but you could absolutely add some if you'd like. Chopped walnuts or pecans would be delicious!
Are cosmic brownies gluten-free?
No, these brownies are not naturally gluten-free. You could make them gluten-free by using a gluten-free 1:1 baking flour in place of the all-purpose flour.
Can I make cosmic brownies with oil instead of butter?
Yes, you can make these brownies with an equal amount of vegetable oil, canola oil, or coconut oil. Your brownies may turn out less fudgy and soft, though!
Why did my cosmic brownies turn out crumbly?
Your cosmic brownies may turn out crumbly if you don't measure your ingredients carefully. Be sure to spoon and level your dry ingredients for the most accurate results.
Where can I get rainbow candy-coated chocolate chips?
Unfortunately, I have not found these specialty candies in grocery stores. However, they are easily found on both Amazon and Nuts.com, or you can always substitute them for mini M&M's or regular rainbow sprinkles. If you choose to use rainbow sprinkles, I recommend nonpareils for the closest look to the original.
Homemade Cosmic Brownies are delicious as late night snacks and perfect for popping into lunch boxes! Make them for the kids, or keep them for yourself for a little bit of nostalgia.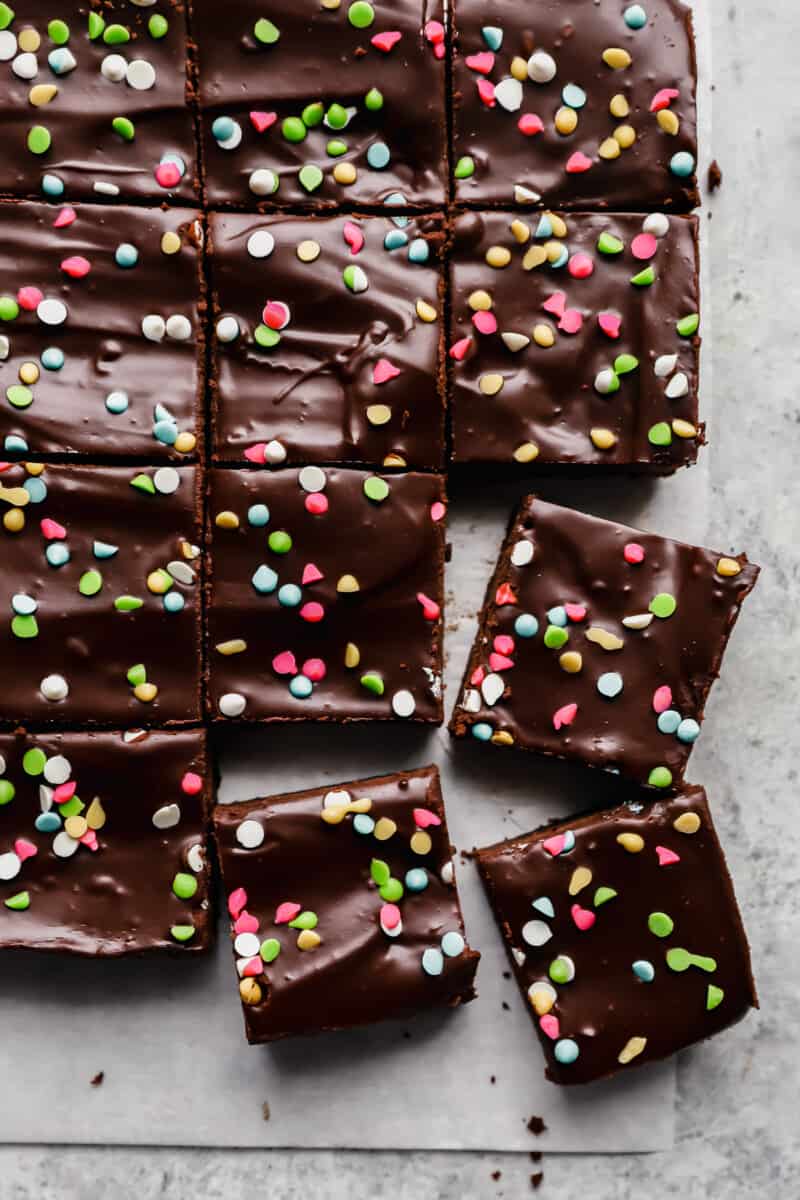 Make Ahead Instructions
You can bake these cosmic brownies up to 1 day in advance and frost them on the day you plan to serve them. Store the unfrosted brownies in an airtight container at room temperature until ready to frost and serve.
You can also fully assemble the brownies up to 1 day in advance and store them in an airtight container in the refrigerator until ready to serve.
Storage Instructions
Store leftover cosmic brownies in an airtight container in the refrigerator for up to 5 days. Although they are safe to store at room temperature, I do not recommend it, as the frosting tends to melt off in warmer temperatures. Bring the brownies to room temperature for about 10 minutes before serving.
Freezing Instructions
Freeze cosmic brownies cut into individual slices and wrapped in 2 layers of plastic wrap and 1 layer of aluminum foil for up to 2 months. Let thaw at room temperature before serving.
Substitutions/Variations
For gluten-free brownies, swap the all-purpose flour for gluten-free 1:1 baking flour.
You can use a neutral oil, such as vegetable, canola, or coconut oil, in place of the butter, but your brownies may not turn out as soft.
If using salted butter, omit the kosher salt.
You can use all brown sugar in place of the granulated sugar for a richer flavor.
Feel free to add up to 1 cup of mix-ins to these brownies, such as chocolate chips or nuts.
Feel free to use milk, semisweet, or dark chocolate chips in the ganache to make these brownies to your taste.
In place of the rainbow candy-coated chocolate chips, you can use mini M&M's or rainbow sprinkles.
Tips for the Best Cosmic Brownies
Do NOT skip lining your pan. A parchment paper sling will help you to more easily remove the brownies from the pan.
Take care not to overmix the batter; otherwise, your brownies may come out tough.
To cut these brownies cleanly, dip a knife in hot water, then wipe it off between slices.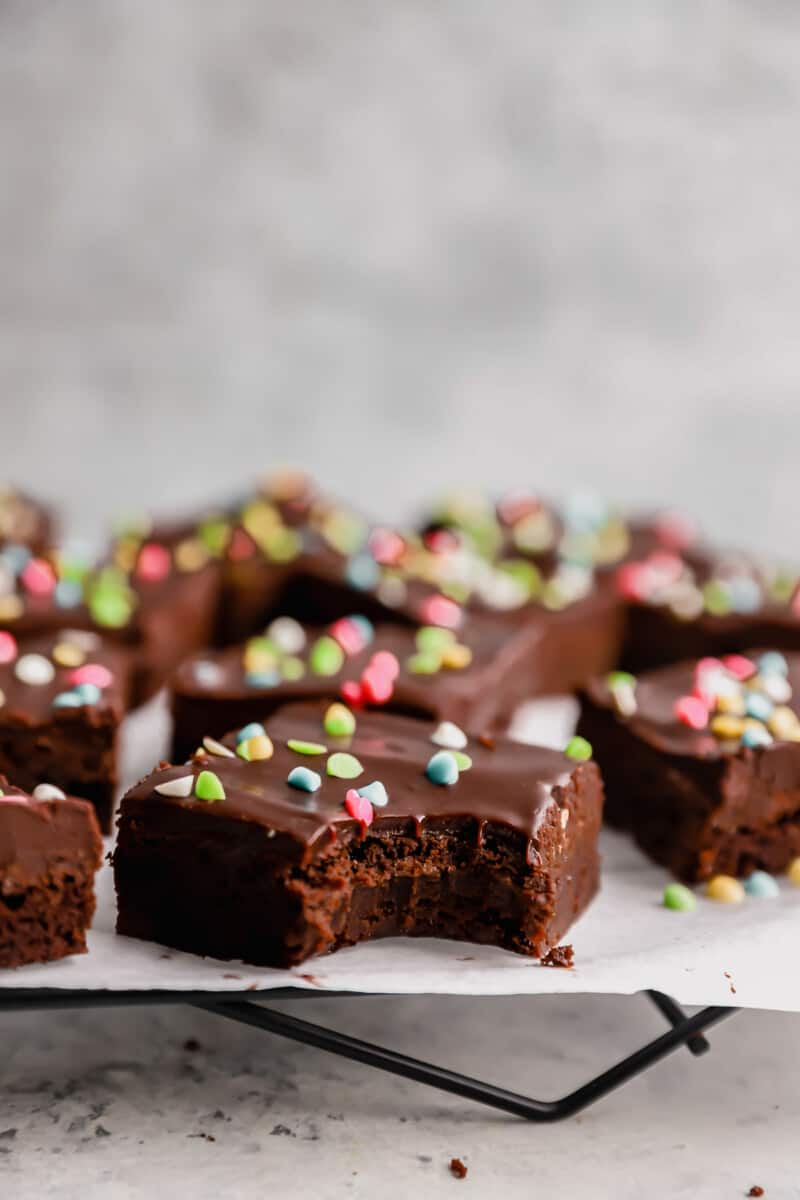 Impress everyone at the bake sale by bringing a big batch of homemade Cosmic Brownies! They're a recognizable dessert that everyone knows and loves. Be ready to share this recipe, because everyone will be asking for it!
If you make this recipe be sure to upload a photo in the comment section below or leave a rating. Enjoy! You can also jump to recipe.