Herby Cauliflower Salad with Chickpeas
Meet my new favorite cauliflower salad recipe. Thanks to a light lemony dressing and lots of fresh herbs, this simple cauliflower salad tastes surprisingly delicious and lasts in the fridge for days. Jump to the Herby Cauliflower Salad Recipe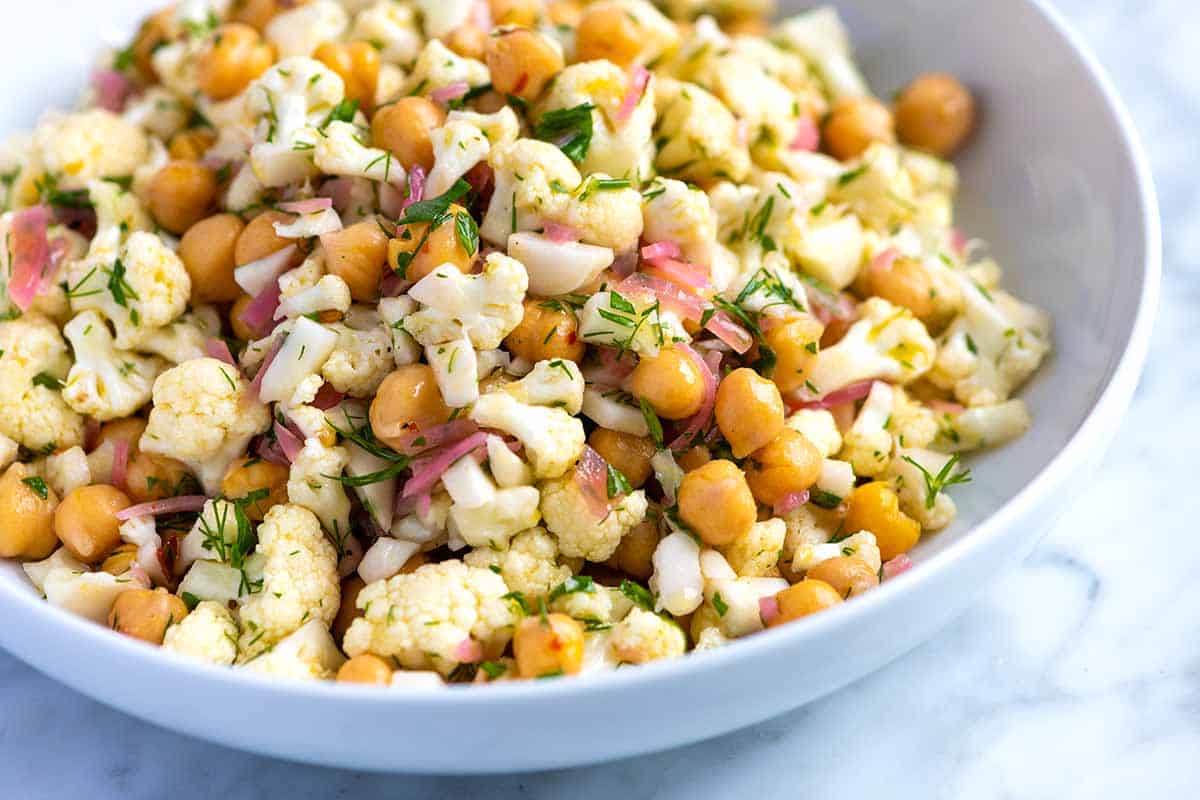 My New Favorite Cauliflower Salad
Here's the thing. I like cauliflower, especially if it's roasted, but to be completely honest, I don't LOVE raw cauliflower. That was until we were out at a restaurant and ordered a charcuterie plate. On the plate, there was a variety of meats and cheeses, but the thing that both Adam and I kept going back to was a raw, kind-of-pickled, cauliflower salad. It blew my mind. So that's how someone who wasn't the biggest fan of raw cauliflower, is here trying to convince you to try this raw cauliflower salad.
Here's another favorite cauliflower recipe for you to try: Chimichurri Cauliflower Steaks (they are so good!)
You might be sitting there saying there is no way this is going to be as good as she says, but trust me on this one. In fact, here's a list of why I think you need to make this cauliflower salad asap.
It's satisfying. We add chickpeas, which adds protein and makes the salad very filling.
It's delicious. Lots of fresh lemon juice, lemon zest, and an almost offensive amount of fresh herbs makes this cauliflower salads utterly delicious.
The cauliflower has less bite and becomes tender. Since the cauliflower is seasoned with salt and sits in a lemony herb dressing, it softens a little. So while it is raw, after some time in the dressing, it tenderizes just enough to take away the raw bite.
It's a great make-ahead salad. The salad keeps for days in the fridge. The last time we made it, it kept for about a week, making this perfect for make ahead lunches and dinners.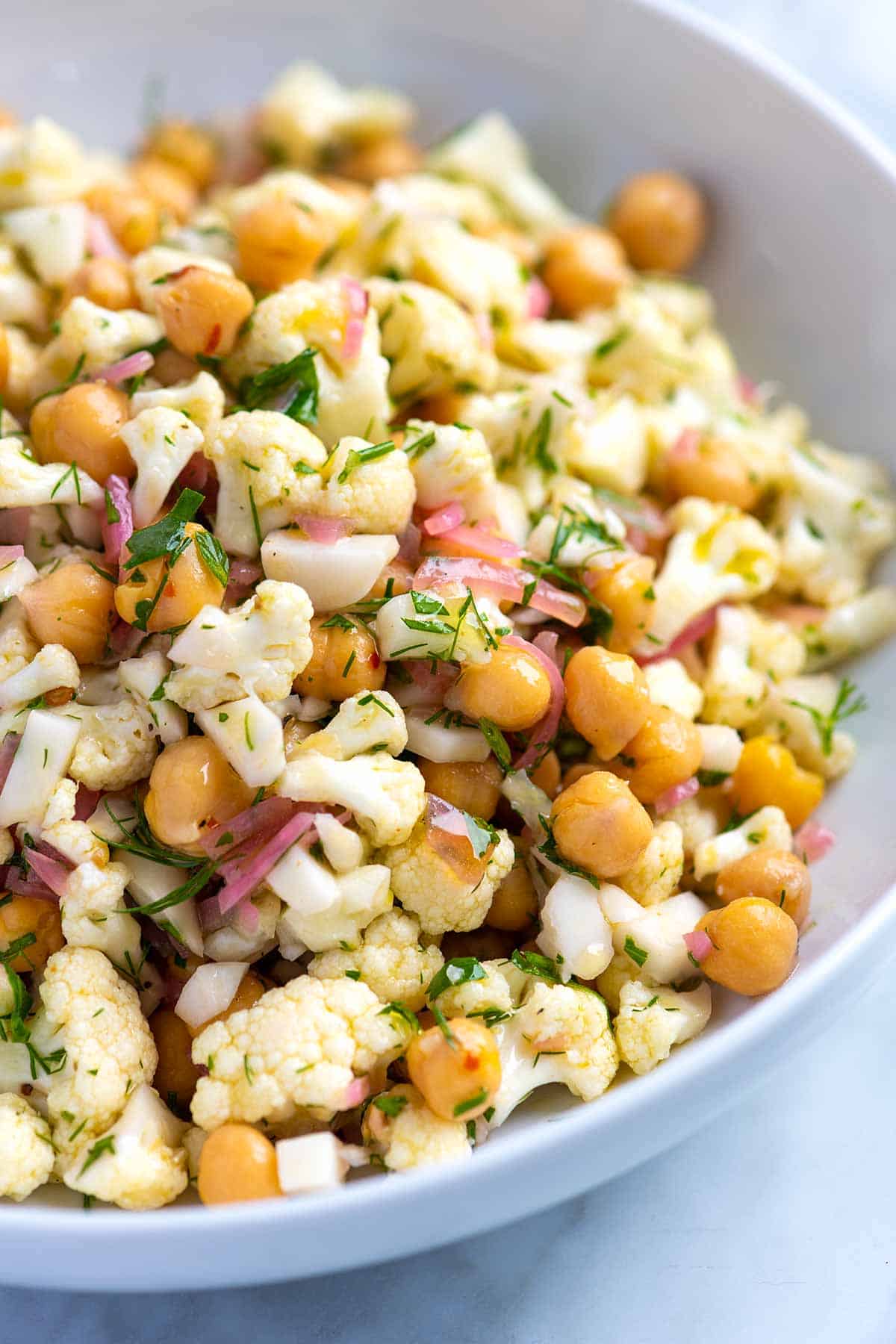 How to Make Cauliflower Salad
I love how simple this salad is. Let me walk you through how we make it (you can also watch the video to see us make it).
Step 1, Cut or pull the cauliflower into tiny florets or as Heidi from 101 Cookbooks calls them, "tiny trees." By breaking the cauliflower down into tiny trees, the salad is much more approachable and the lemony herb dressing has a chance to get into every nook and cranny. This does add an extra minute or two of prep time, but it is absolutely worth it! Another option is to use a food processor and make a chunky cauliflower rice. Take a look at our Herby Cauliflower Rice to see how we do it.
Step 2, Season the cauliflower with salt and pepper. You are probably used to seasoning meats with salt and pepper, but do you season your salads? In this case, tossing the cauliflower with a generous amount of salt and pepper before adding the dressing ensures that every single bite of the salad is well seasoned (which means delicious). I also think that the salt helps to tenderize the cauliflower a little, too.
Step 3, Make the lemon herb salad dressing. This dressing is a simpler version of the dressing we use for our Lemon and Herb Couscous Salad. To make it, we whisk lemon juice, lemon zest, olive oil, crushed red pepper flakes, and some salt together. We use a similar dressing to make this simple Bean Salad, but swap lemon juice for red wine vinegar.
Step 4, Toss cauliflower with chickpeas, lots of herbs, and the dressing. For the herbs, you can use any fine herbs that you have access to. My favorite herby trio is parsley, mint, and dill. I'd use all of them in this salad. In the recipe below, we suggest using 1/2 cup of fresh herbs, but honestly, when it comes to fresh herbs, I'm usually in the camp of the more the merrier. I don't think you can over do it — or at least I haven't yet? For another chickpea salad, take a look at our Curried Chickpea Salad Bowls.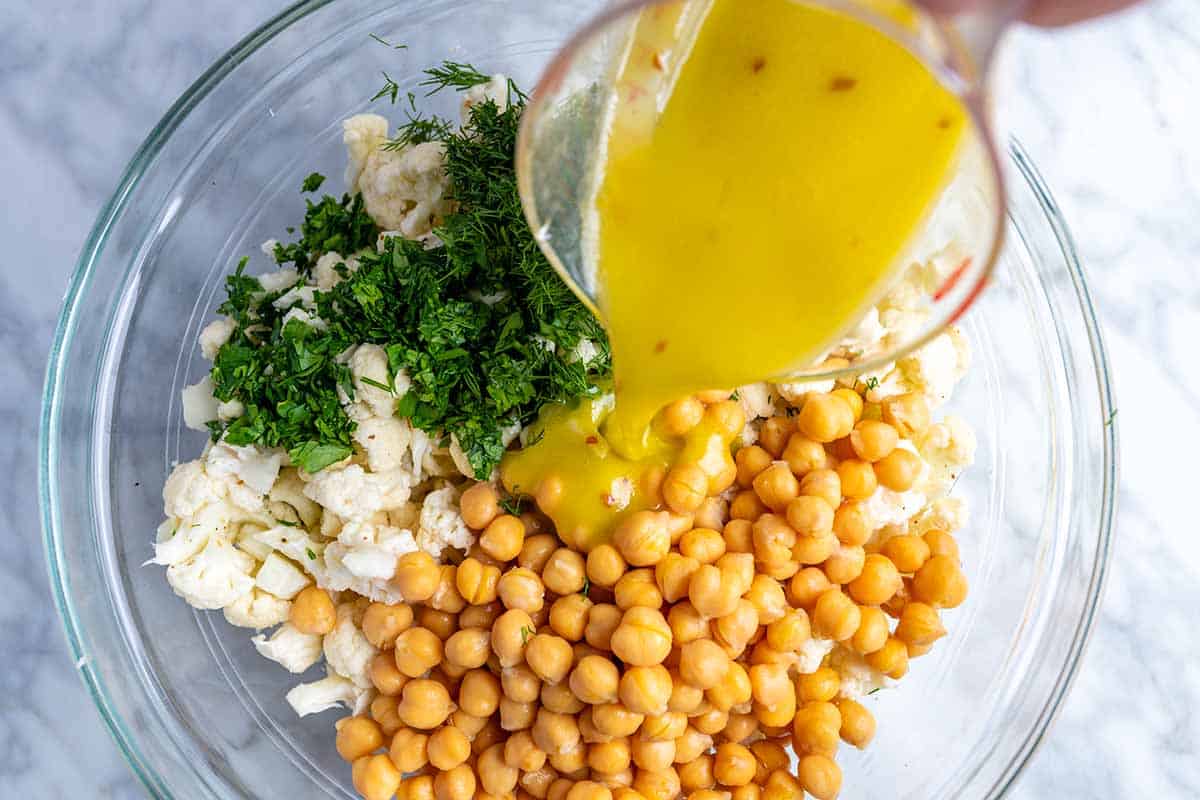 Step 5, Add pickled onions. Pickled onions are something we keep in our fridge most weeks. They are simple to make (here's our recipe for Pickled Onions for you to take a look at). If you don't have them, you can leave them out, but know that they do add a lovely pop of sweet pickled flavor. I haven't tried other pickles in the salad, but I do think chopped pepperoncinis would be a fun and spicy spin on the cauliflower salad.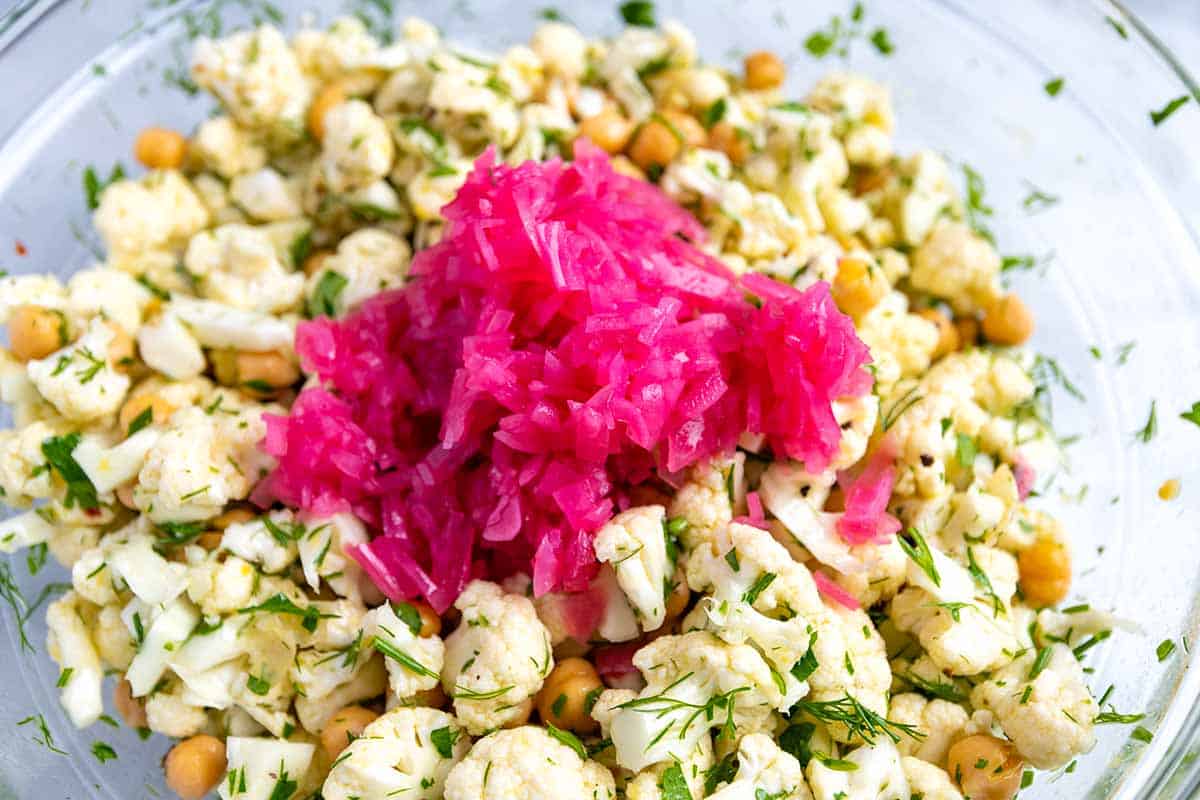 Step 6, Let the salad marinate before serving. The salad tastes good straight away, but if you leave it to sit and marinate for at least 30 minutes, it gets even better. In fact, I actually prefer this on day two! I told you that this is the perfect make ahead salad!
Pro tip: For a roasted cauliflower salad, roast the cauliflower florets tossed with a little olive oil, salt, and pepper. Then toss the warm roasted cauliflower with the salad dressing, herbs, and chickpeas. Serve hot or cold. For tips on roasting cauliflower, see our Easy Roasted Cauliflower.
What To Serve It With
The recipe below makes a large batch, so Adam and I have had the chance to enjoy it alongside a variety of meals. For lunches, I found myself spooning it on top of salad greens.
It's also excellent added to rice bowls, and even scattered onto tacos. I especially love it with these Shredded Chicken Tacos. It would also be the perfect side for Roasted Salmon, Pork Chops, and these Lemon Chicken Thighs.
More Easy Salad Recipes
Seriously Good Quinoa Salad is ultra-flavorful, satisfying, and packed with superfoods.
Easy Chickpea Salad with Lemon and Dill is quick to make and you can make it in advance.
Quick and Easy Pasta Salad is loaded with crisp vegetables, fresh mozzarella, and tossed with a simple homemade dressing.
Our Avocado Salad could not be simpler to make and can be enjoyed all by itself, as a side, as a chunky salsa or spooned on top of larger salads.
Mayo-Free Cilantro Lime Coleslaw Salad is packed with flavor. We add lots of cilantro, lime, scallions, and a healthy amount of minced serrano (or jalapeño) pepper.
Farro Salad with Apple and Arugula is made with cooked farro, sweet apples, greens, and a bright salad dressing. 
Herby Cauliflower Salad with Chickpeas
Thanks to a light lemony dressing and lots of fresh herbs, this simple raw cauliflower salad recipe tastes surprisingly delicious and lasts in the fridge for days. The pickled onions are an optional ingredient, but they do take the salad to the next level. Here's our recipe for pickled onions, so you can see how simple they are to make.
We break the cauliflower down into tiny florets, but another option is to use a food processor and make a chunky cauliflower rice. Take a look at our cauliflower rice recipe to see how we do it.
Makes about 10 cups
Watch Us Make the Recipe
You Will Need
1 medium head cauliflower, about 1 3/4 to 2 pounds (6 to 7 cups small florets)
1/2 teaspoon fine sea salt, plus more to taste
1/2 teaspoon fresh ground black pepper
1 teaspoon finely grated lemon zest (from 1 lemon)
1/4 cup fresh squeezed lemon juice, plus more to taste
1/4 cup extra virgin olive oil
1/4 teaspoon crushed red pepper flakes, optional for some heat
1 (15-ounce) can chickpeas, drained and rinsed (or use 1 1/2 cups cooked chickpeas)
1/2 cup fine fresh herbs like parlsey, dill, or mint, chopped
1/2 cup pickled red onions, chopped, optional, see our pickled onions recipe
Directions
Cut away leaves and the core from the cauliflower. Then cut or pull the cauliflower apart into little florets and add to a large bowl. Chop longer stems into small pieces, and then add to the bowl with florets.

Season with 1/2 teaspoon of fine sea salt and 1/2 teaspoon ground black pepper, and then toss the cauliflower around the bowl until all the florets have had a chance to be seasoned.

To make the dressing, whisk the lemon zest, lemon juice, olive oil, red pepper flakes, and a pinch of salt together until creamy and emulsified.

Add the chickpeas, herbs, pickled onions, and the dressing to the cauliflower. Toss until everything is evenly coated. Taste, and then season with additional salt, pepper or lemon juice.

The cauliflower salad does taste best when given some time to marinate. When possible, let the salad marinate, stirring from time to time, for at least 30 minutes before serving. The salad will keep, covered in the refrigerator, up to one week.
Adam and Joanne's Tips
In the dressing, we use both the zest and juice of one large lemon. A microplane makes quick work of zesting citrus, but you can also use a vegetable peeler to peel the thin zest (not the white pith) from the lemon, and then finely mince it before adding to the salad dressing.
Pickled onions take the salad to the next level in flavor. If you leave them out, you might find the salad needs a little extra lemon. Other pickled vegetables like green beans or pepperoncini peppers, would be a different, but delicious addition.
For a low carb or keto cauliflower salad, leave out the chickpeas and substitute with diced ham or turkey.
Roasted cauliflower salad option: Roast the cauliflower tossed with a little olive oil, salt and pepper until tender and light brown on the edges. Then toss with the remaining salad ingredients.
Nutrition facts: The nutrition facts provided below are estimates. We have used the USDA database to calculate approximate values.
If you make this recipe, snap a photo and hashtag it #inspiredtaste — We love to see your creations on Instagram and Facebook! Find us: @inspiredtaste
Nutrition Per Serving: Serving Size 1 cup / Calories 140 / Total Fat 7.2g / Saturated Fat 1g / Cholesterol 0mg / Sodium 237.7mg / Carbohydrate 15.8g / Dietary Fiber 4.9g / Total Sugars 2.7g / Protein 5.3g
AUTHOR: Adam and Joanne Gallagher