Outback Steakhouse Steak Seasoning – CopyKat Recipes
Outback Steakhouse Steak Seasoning is great for adding the best flavor to steaks. Homemade steak seasoning is also great for burgers, fries, and more! DIY steak rub is so much better than store-bought.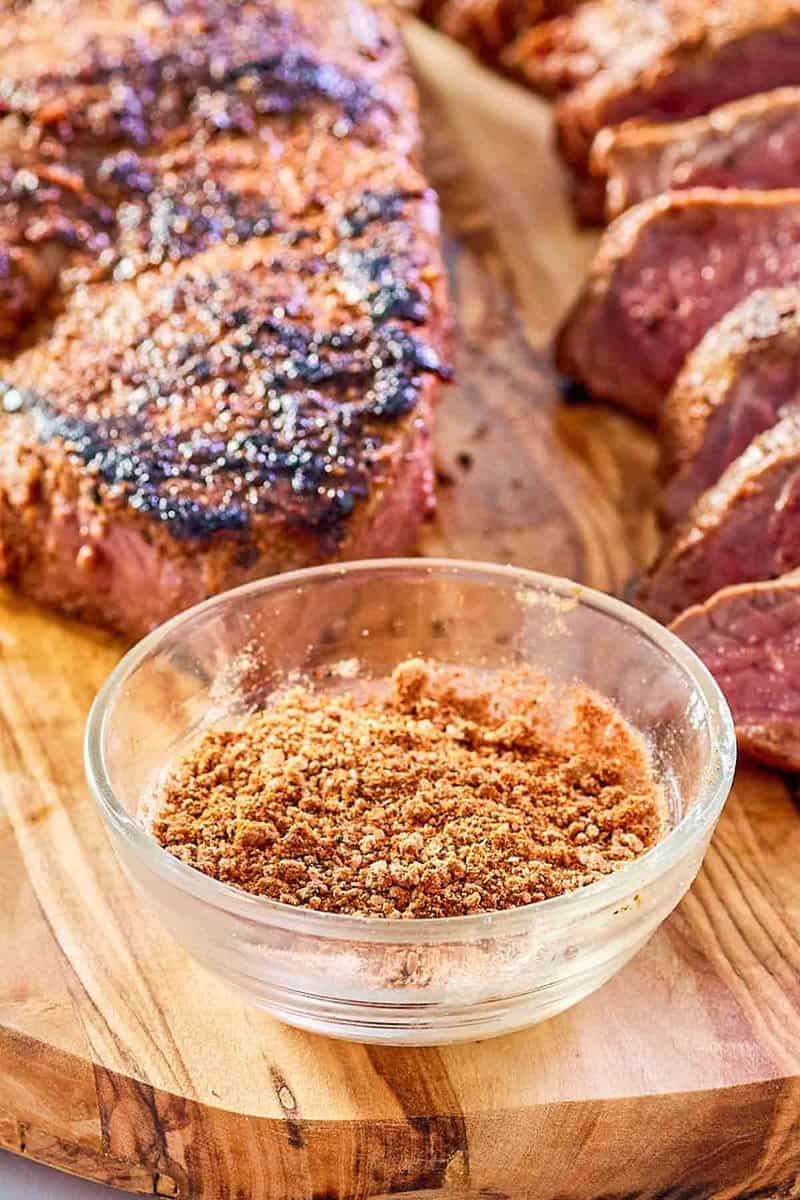 This post contains affiliate links. As an Amazon Associate, I earn from qualifying purchases.
Why Outback Steakhouse Seasoning Is the Best Seasoning For Steak
Outback Steakhouse serves up some incredible steaks. The restaurant can pack such intense flavor into their steaks by using good cuts of meat, proper cooking techniques, and a blend of amazing seasonings.
While this Outback Steakhouse Steak Seasoning mix may seem a bit more at home in New Orleans than in Alice Springs, it does offer steak lovers just the right amount of depth of flavor with enough pops of heat and salt to make an Outback Steakhouse steak stand out among all the competitors. 
Why Making Steak Seasoning at Home Is a Great Way to Flavor Your Steaks
Sure, you can buy premade dry seasoning for steaks in the store, but when you make homemade steak seasoning, you have the option to tweak the recipe to suit your taste.
Add more cayenne pepper for a little more kick. Hate garlic? Take it out completely. When you make this Outback Steakhouse Steak Seasoning recipe at home, you are in total control!
Ingredients 
To make this delicious steak seasoning, you'll need a few simple ingredients:
Smoked paprika 
Kosher salt 
Garlic powder
Onion salt 
Dried coriander powder
Ground black pepper 
Cayenne pepper powder
All of the ingredients in this seasoning mix are gluten-free.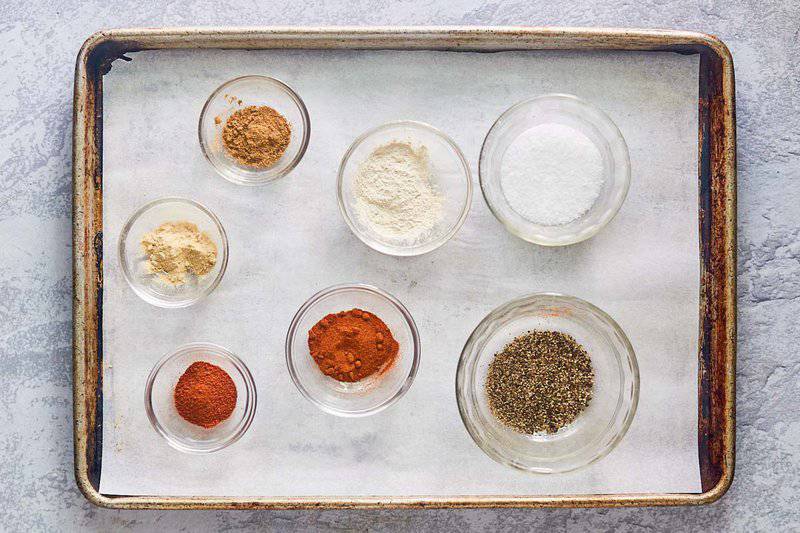 How to Make the Steak Seasoning 
To blend your steak seasoning at home:
Combine all the ingredients in a small mixing bowl. To bring out the most flavor in your seasoning, try toasting whole coriander seeds in a dry skillet until they become fragrant. Then you can let them cool and grind them fresh for this recipe.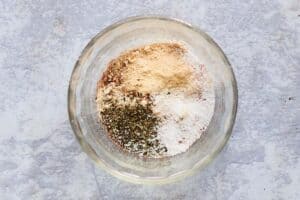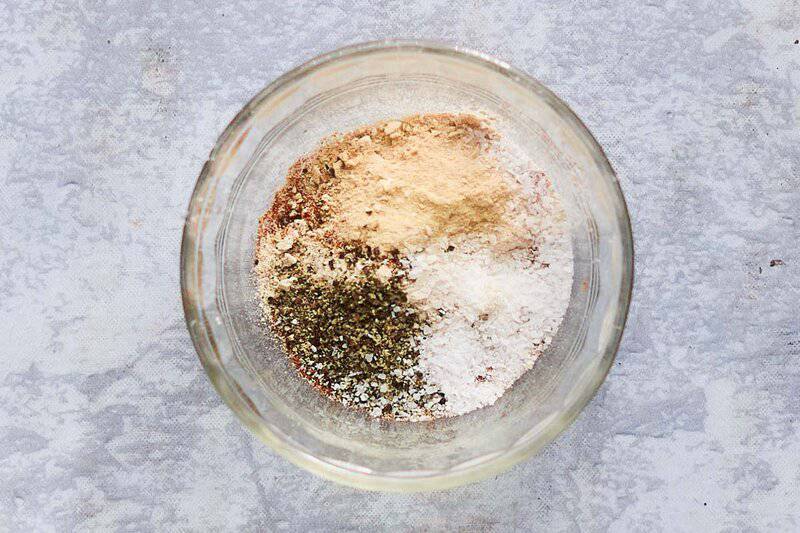 Whisk the ingredients together.
Store immediately.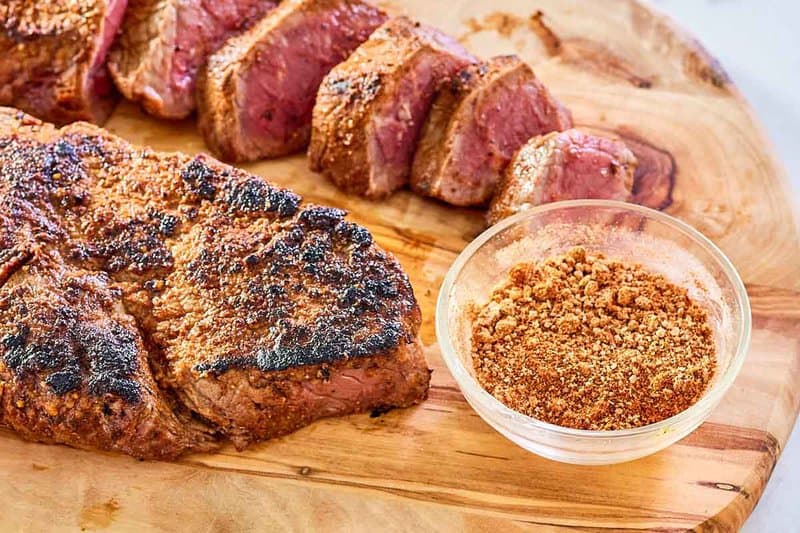 What Types of Steaks Can You Use This Seasoning On? 
You can use Outback Steak seasoning on just about any cut of beef, but it may be best to use it on sirloin and rib-eye. These hardier cuts have intense beefiness and can handle more robust flavors.
In addition to beef, this Outback Steakhouse copycat recipe adds incredible flavor to chicken, roasted potatoes, french fries, or onion rings. 
When Should You Season Your Steaks? Before/After Cooking? 
It is always preferable to season your steak before cooking. Seasoning before cooking gives the spices time to penetrate the meat.
The best way to season beef is to remove the meat from the fridge at least 45 minutes before cook. Doing this will allow the meat to come up to room temperature and prevent a charred exterior and a rare interior.
Once the steak is at room temperature, pat it dry with a paper towel and season its front, back, and sides liberally with a couple of teaspoons of seasoning.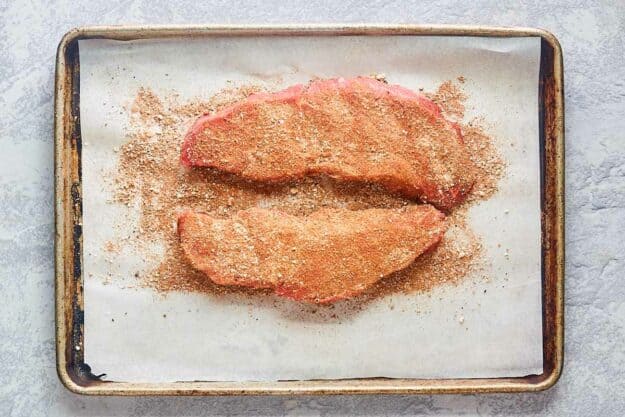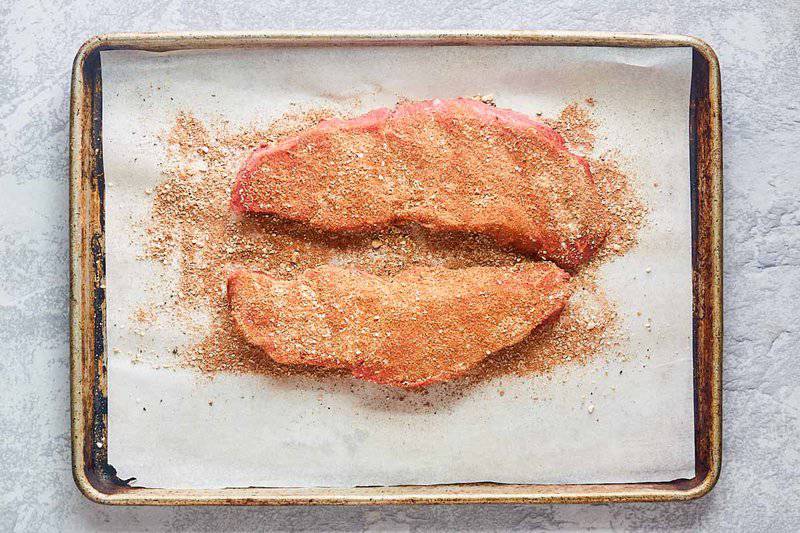 Most people tend to under season their meat when cooking at home. Don't make this simple-to-correct mistake, or your steaks will suffer.
If you are having trouble with the seasoning falling off your steak, some people find that coating the steak lightly with a cooking spray helps the seasoning stick.
Can You Make This Recipe in Bulk? 
Yes, you can make a large batch of this recipe. If you plan to make a bulk recipe, use the freshest spices you can find. 
How Should You Store Steak Seasoning?
Keep any extra seasoning blend in a cool, dark place inside a small, airtight container.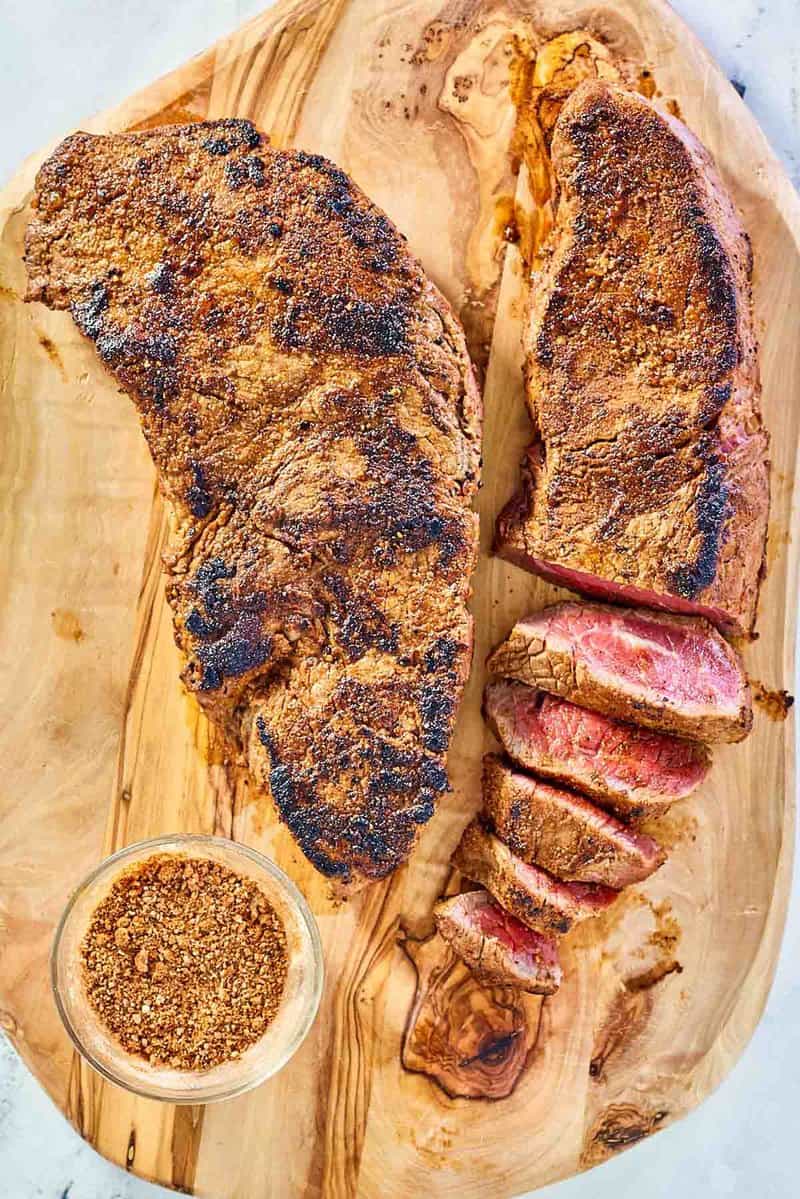 Love Outback Steakhouse? Try These Copycat Recipes
Favorite Seasoning Recipes
Check out more of my easy DIY recipes and the best copycat Outback recipes on CopyKat!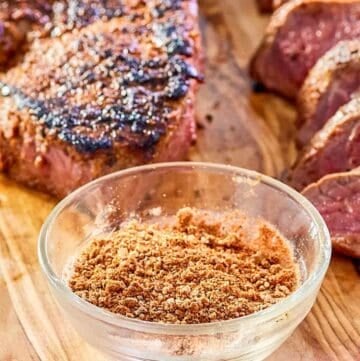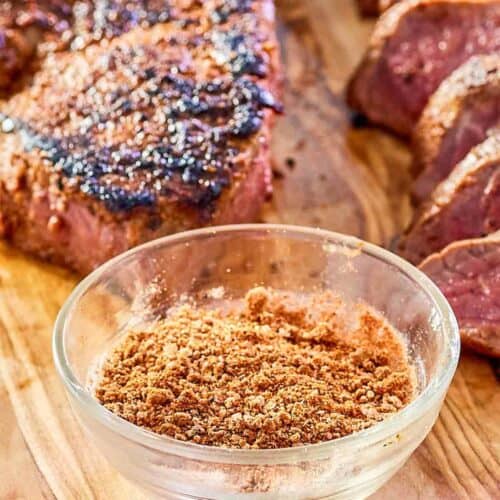 Outback Steakhouse Steak Seasoning
You can season your steaks like Outback steakhouse with this copycat seasoning mix.
Print
Pin
Rate
Add to Collection Go to Collections
Servings: 16
Calories: 1kcal
Ingredients
1

teaspoon

paprika

1

teaspoon

kosher salt

½

teaspoon

garlic powder

½

teaspoon

onion salt

½

teaspoon

dried coriander

¼

teaspoon

ground black pepper

⅛

teaspoon

cayenne pepper
Instructions
Place all ingredients in a small bowl.

Stir until well combined.

Sprinkle liberally on your steaks when you cook them.
Nutrition
Serving: 0.5teaspoon | Calories: 1kcal | Carbohydrates: 0.2g | Protein: 0.04g | Fat: 0.02g | Saturated Fat: 0.004g | Polyunsaturated Fat: 0.01g | Monounsaturated Fat: 0.003g | Sodium: 218mg | Potassium: 5mg | Fiber: 0.1g | Sugar: 0.02g | Vitamin A: 68IU | Vitamin C: 0.03mg | Calcium: 1mg | Iron: 0.04mg