Strawberries and Cream French Toast Casserole
Spray a 9×13-inch baking pan well with nonstick spray.
Place half of the bread cubes into the prepared baking pan. Set aside.
10 cups cubed bread (1-2 inch sized cubes)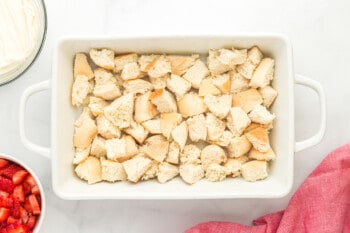 In a medium bowl, using a hand mixer, beat the cream cheese until smooth. Add the powdered sugar, heavy cream, and vanilla extract and beat until well mixed.
8 ounces cream cheese, ¼ cup powdered sugar, 2 tablespoons heavy cream, 1 teaspoon pure vanilla extract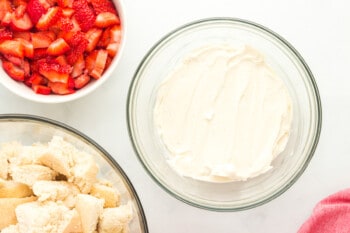 Spread the cream cheese mixture evenly over the bread in the prepared baking pan.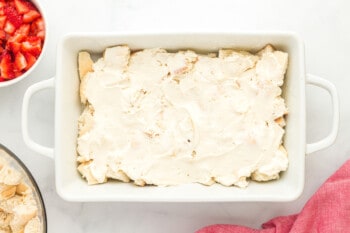 Sprinkle 2 cups of strawberries evenly over the cream cheese layer. Save the remaining 1 cup of strawberries for topping after baking.
3 cups sliced fresh strawberries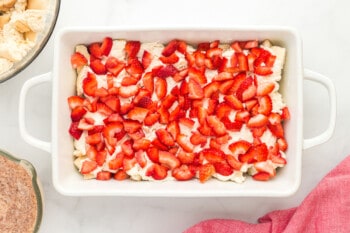 Evenly place the remaining half of the bread cubes over the strawberry layer.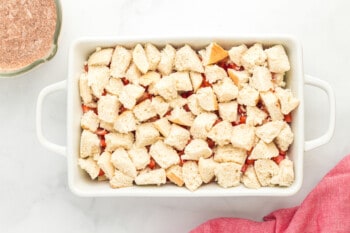 In a large bowl, whisk the eggs well, then add the milk, heavy cream, granulated sugar, syrup, vanilla, and cinnamon. Whisk until well mixed.
8 large eggs, 1½ cups milk, ½ cup heavy cream, ½ cup granulated sugar, ¼ cup pancake syrup, 1 teaspoon pure vanilla extract, 1 teaspoon ground cinnamon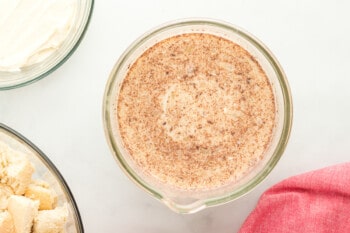 Pour the wet mixture evenly over the top bread layer. Use a spatula to lightly push all bread down into the wet mixture.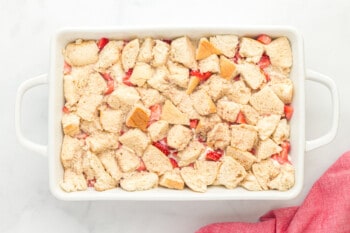 Cover the baking pan with plastic wrap and let chill in the refrigerator overnight (or at least 8 hours). This step is required so the bread has time to soak up all the liquid.
Preheat oven to 350°F. Remove the casserole from the refrigerator while the oven preheats.
For the crumble mixture, combine the brown sugar, flour, and melted butter with a fork. Use hands to evenly sprinkle this mixture over the cream cheese french toast casserole right before baking.
¼ cup all-purpose flour, ¼ cup brown sugar, 2 tablespoons unsalted butter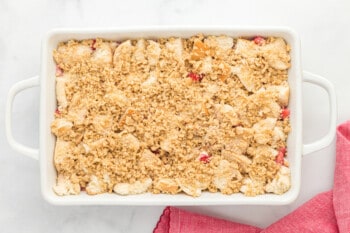 Cover the baking pan with aluminum foil and bake for 20 minutes. After 20 minutes, remove the aluminum foil and bake for an additional 35 minutes. After a total of 55 minutes of baking, the top should look lightly toasted and the middle of the casserole will no longer look wet. If the middle still looks wet, bake for an additional 5 minutes.
Sprinkle remaining strawberries over baked casserole before serving warm with pancake syrup, if desired.