20+ Healthy Thanksgiving Sides – Detoxinista
These healthy Thanksgiving recipes taste just as delicious as the traditional versions! They are made with easy, real food ingredients and are always a hit at the holidays.
You'll Love These Thanksgiving Side Dishes
When it comes to Thanksgiving, the side dishes are just as important as a perfectly cooked turkey.
This includes the classics, like mashed potatoes and gravy, but it's also fun to branch out with a new offering, like a delicious shredded Brussels sprout salad (trust me), or a velvety Butternut soup, which you can make ahead of time.
Catering to guests with special dietary needs? All of the options below are easily gluten-free, and there are several dairy-free & nut-free recipes, too.
Table of Contents
Thanksgiving Salad Recipes
If you're in charge of the salad this year, the salad recipes below will make everyone come back for a second helping of veggies. Salad dressings can be made up to 3 days in advance, to help save you some time and effort on the big day.
Holiday Salad with Apple Cider Vinaigrette
This salad has been dubbed the "holiday salad" because it's the salad I've been asked to bring to every holiday meal for years. It's tossed with a lightly sweet and tangy dressing, and the combination of crunchy pecans, tart cranberries, and creamy Gorgonzola is irresistible.
Serve the cheese on the side, if you want to give your guests a dairy-free option.
Shredded Brussels Sprouts Salad
This salad will convert anyone who is weary of eating Brussels sprouts.
Finely shredding these Brussels gives them a more appealing texture (without the need to cook them!) and this salad is tossed in a honey mustard dressing, with a hint of ginger, that everyone will love.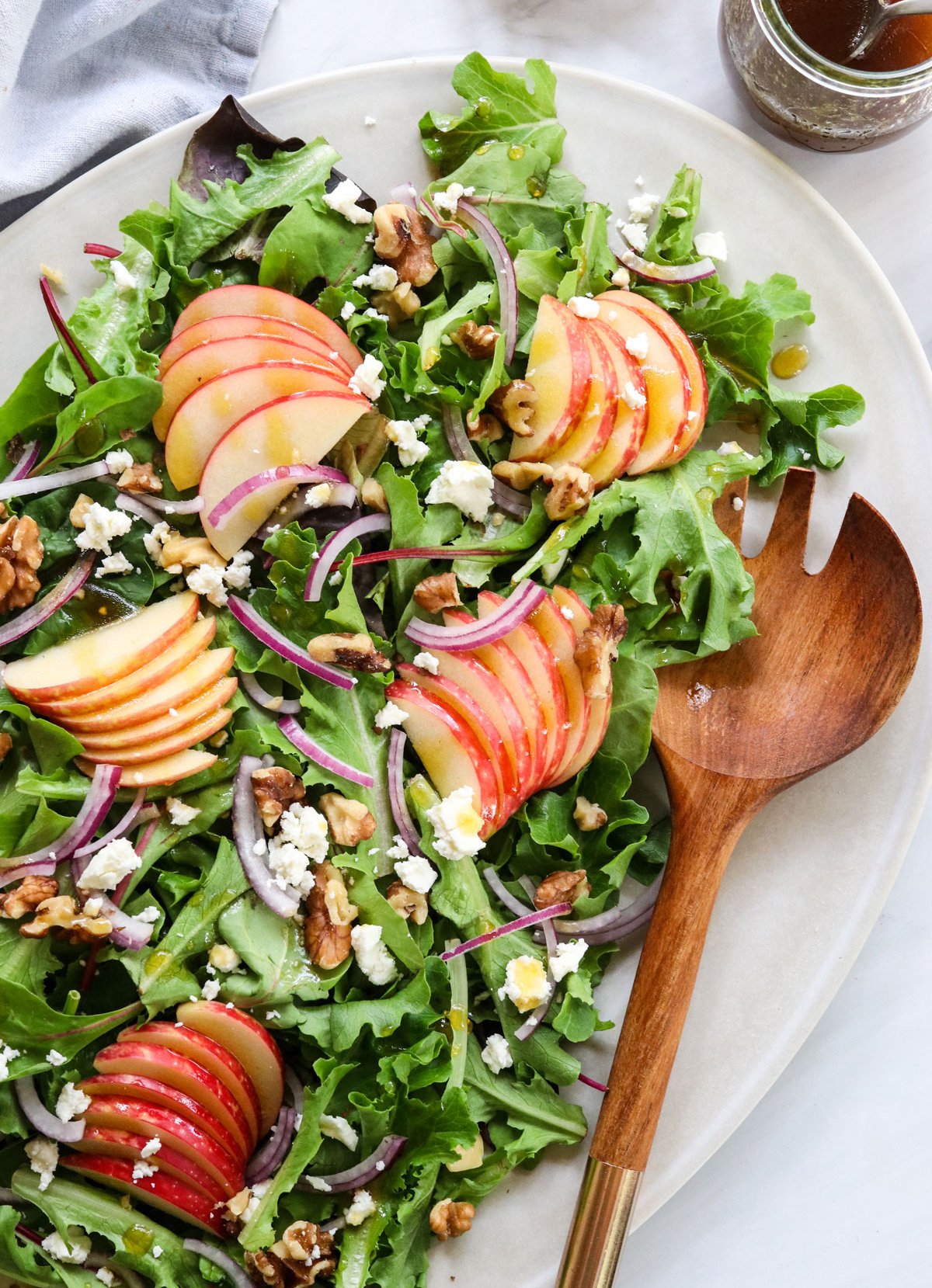 Apple Walnut Salad
This salad is gorgeous for serving, and is tossed with a delicious balsamic dressing. The walnuts add an appealing crunch, and the whole thing takes just about 10 minutes to assemble.
Be sure to cut the apples just before serving, or toss them with a little lemon juice to slow-down any browning, if you need to slice them early.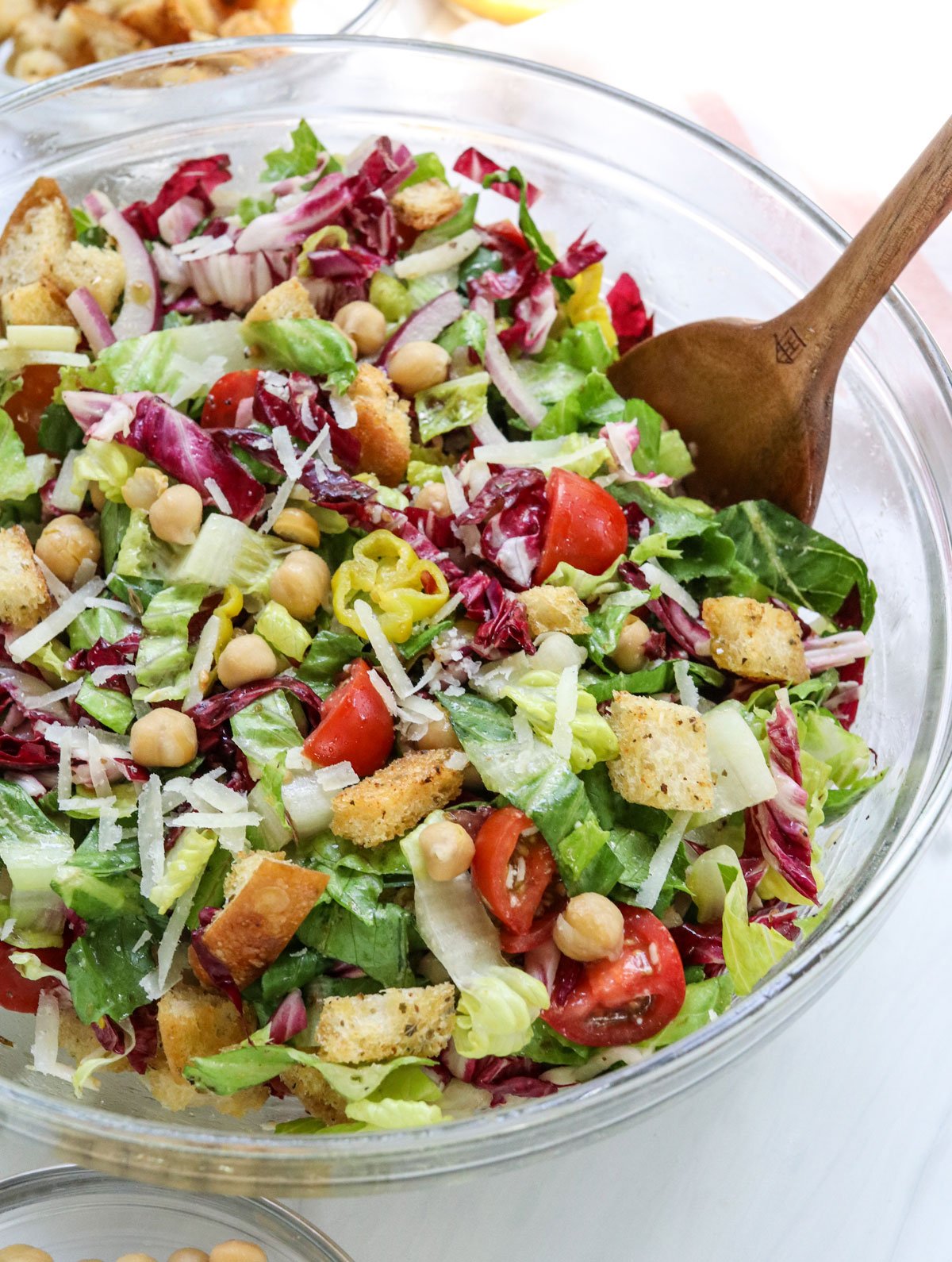 Classic Italian Salad
This easy Italian Salad is hard to resist! The dressing comes together in just minutes, and it pairs perfectly with all of your other favorite Thanksgiving side dishes.
Cozy Thanksgiving Soup Recipes
These soup recipes are an easy addition to your Thanksgiving menu, especially since they can be made ahead of time! Simply reheat them on the stove, or in a slow cooker, when you're ready to serve.
Roasted Pumpkin Soup
This creamy soup is the perfect way to use up a whole pumpkin! Roasting brings out this winter squash's natural sweetness, and then it's blended with cozy spices to help warm you up.
Roasted pumpkin seeds make the perfect crunchy topping!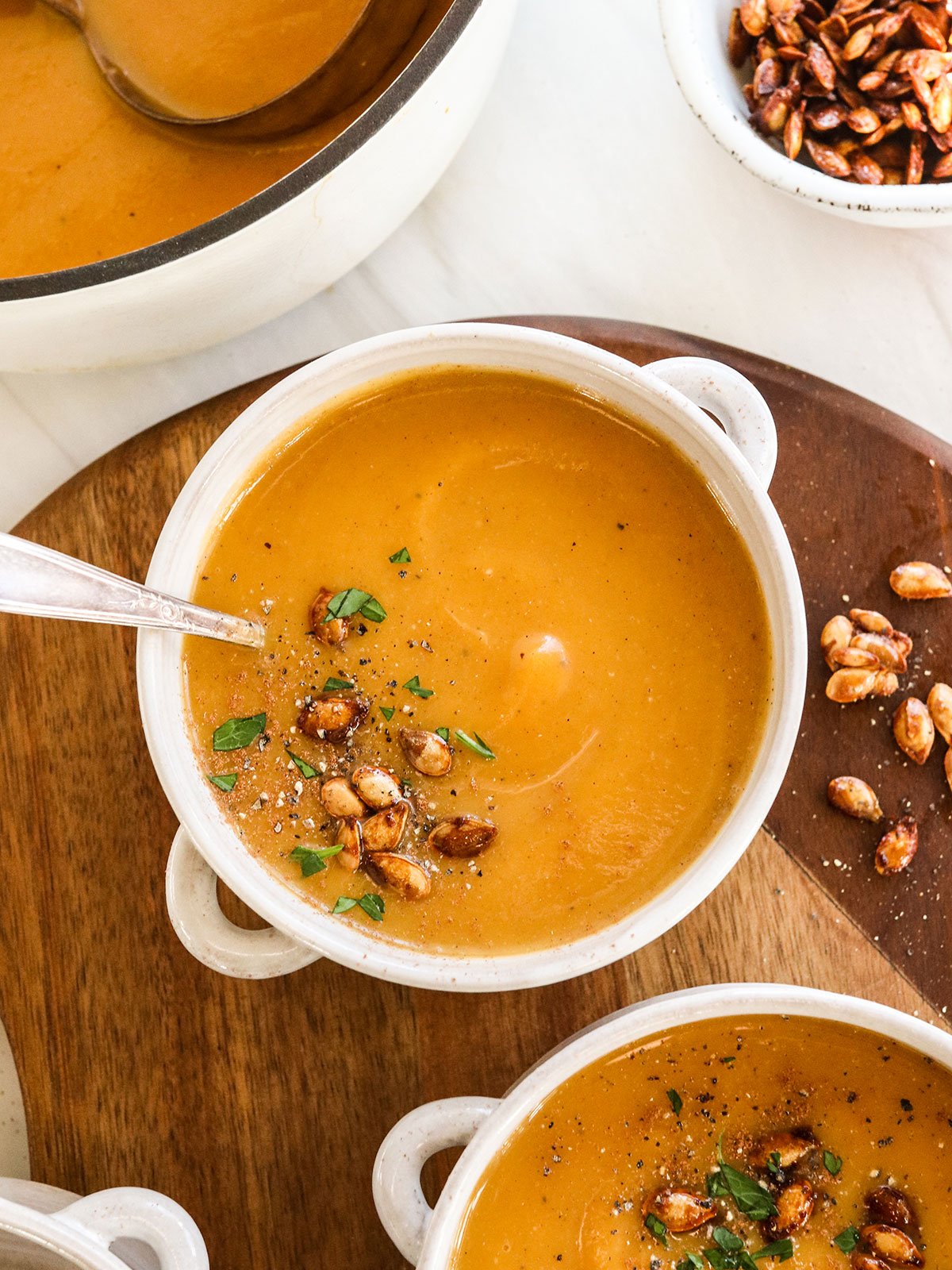 Butternut Squash Soup
This velvety soup is simmered on the stove top for an easy one-pot recipe. Made with sweet apples and cinnamon, it has a lightly spicy kick that will warm you up from the inside out.
No one would guess that it's naturally dairy-free!
Healthy Broccoli Cheddar Soup
This broccoli cheddar soup tastes like the kind you'd get at a restaurant, but it has a sneaky ingredient inside that makes it more filling!
None of your guests will be able to tell it's made without using flour or heavy cream, because it tastes so satisfying.
Cauliflower Cheese Soup
This soup packs a surprising amount of veggies into each bite, but it tastes like total comfort food. Feel free to use frozen cauliflower to cut-down on your holiday prep work.
Classic Thanksgiving Sides
These healthy side dishes will help to complete your Thanksgiving dinner table. They are lightened by using simple real food ingredients, but they pack tons of flavor in each bite.
The Best Cranberry Sauce
Homemade cranberry sauce is surprisingly easy to make, with just 5 ingredients. You can cook it ahead of time, and just grab it from the fridge when it's time to serve your big holiday meal.
The addition of orange juice and ginger take the flavor over the top! Be sure to try Cranberry Sauce Salad Dressing or Cranberry Crumble Bars if you have any leftovers to use up.
Instant Pot Mashed Potatoes
The electric pressure cooker will make the best mashed potatoes you've ever tasted! Made with a touch of olive oil and garlic, these spuds cook in just an 8-minute pressure cooking cycle, plus the time it takes the pot to pressurize.
Mashed potatoes are best served the same day you make them, but the Instant Pot will keep them perfectly warm until the rest of your feast is ready to go.
Mushroom Gravy
This vegan mushroom gravy is so flavorful, it's hard to believe it's made without turkey drippings, butter, or flour. In fact, it's mostly made from blended veggies!
Once you taste this recipe, it's hard to go back to traditional gravy.
Wild Rice Stuffing
Instead of using stale bread, this stuffing uses a wild rice blend as the base. (Plain brown rice will also work.) Paired with hearty mushrooms, sweet apples, and crunchy pecans, no one will miss the traditional version– especially if you need an easy gluten-free option!
Sweet Potato Casserole
This sweet potato casserole has a crispy oat topping, studded with pecans for extra crunch. It's not too sweet, and is a delicious way to serve sweet potatoes without marshmallows.
Creamy Green Bean Casserole
Instead of using a creamy canned soup, this recipe is tossed in a simple homemade sauce, made with blended white beans for creaminess. The whole thing takes just minutes to assemble!
The addition of fresh rosemary, and the crunchy (not fried) topping make this one of my favorite Thanksgiving sides ever.
Slow Cooker Mashed Potatoes
If you want to make a side dish in your slow cooker, this is an easy hands-off option! The potatoes will cook to perfection, and you won't have to drain them when you're done.
Mash and serve them directly from the crockpot, to save yourself some space on your stove top.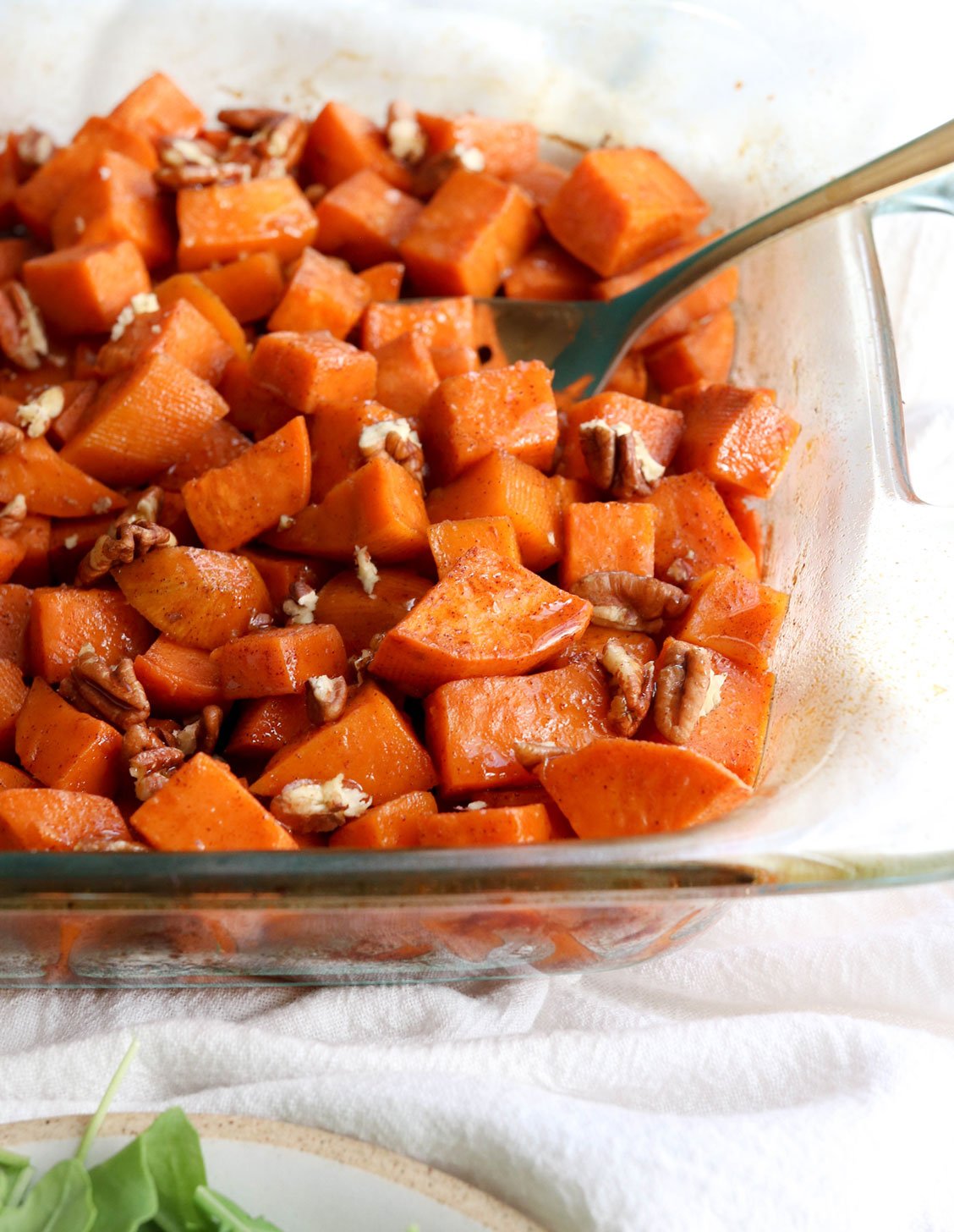 Maple Glazed Sweet Potatoes
These sweet potatoes are an easy one-pan side dish. They caramelize to perfection in the oven, and have the perfect crunchy texture, thanks to the addition of pecans.
Quinoa Pilaf
This easy quinoa dish has all the flavors of stuffing, and it cooks in just minutes on the stove top. You can make it up to 3 days ahead of time, and simply reheat it before serving if you need to offer a gluten-free side dish.
Dairy-Free Creamed Spinach
This dish tastes just as decadent as the type made with heavy cream and cheese, but instead it's made with a creamy cashew sauce. It's a delicious way to eat more veggies during a big holiday meal.
Cheesy Spaghetti Squash Casserole
This side dish tastes like the classic cheesy hash brown casserole my mom used to make! This version uses nutrient-rich spaghetti squash instead of frozen hash browns, and gets its creaminess from a mix of yogurt and melted cheese.
Thanksgiving Appetizers & Snacks
If you want to serve something for your guests to snack on before the big meal, these healthy options are easy and satisfying.
Vegan Spinach Artichoke Dip
I'll look for any excuse to make this dairy-free dip, just so I can eat it! It has a creamy texture, with all the flavor of the original, and is perfect for serving with tortilla chips or sliced veggies.
Roasted Squash Seeds
If you cut open a winter squash for your holiday meal, don't toss the seeds! When you roast them in a lightly sweet & salty coating, they become an irresistible crunchy snack.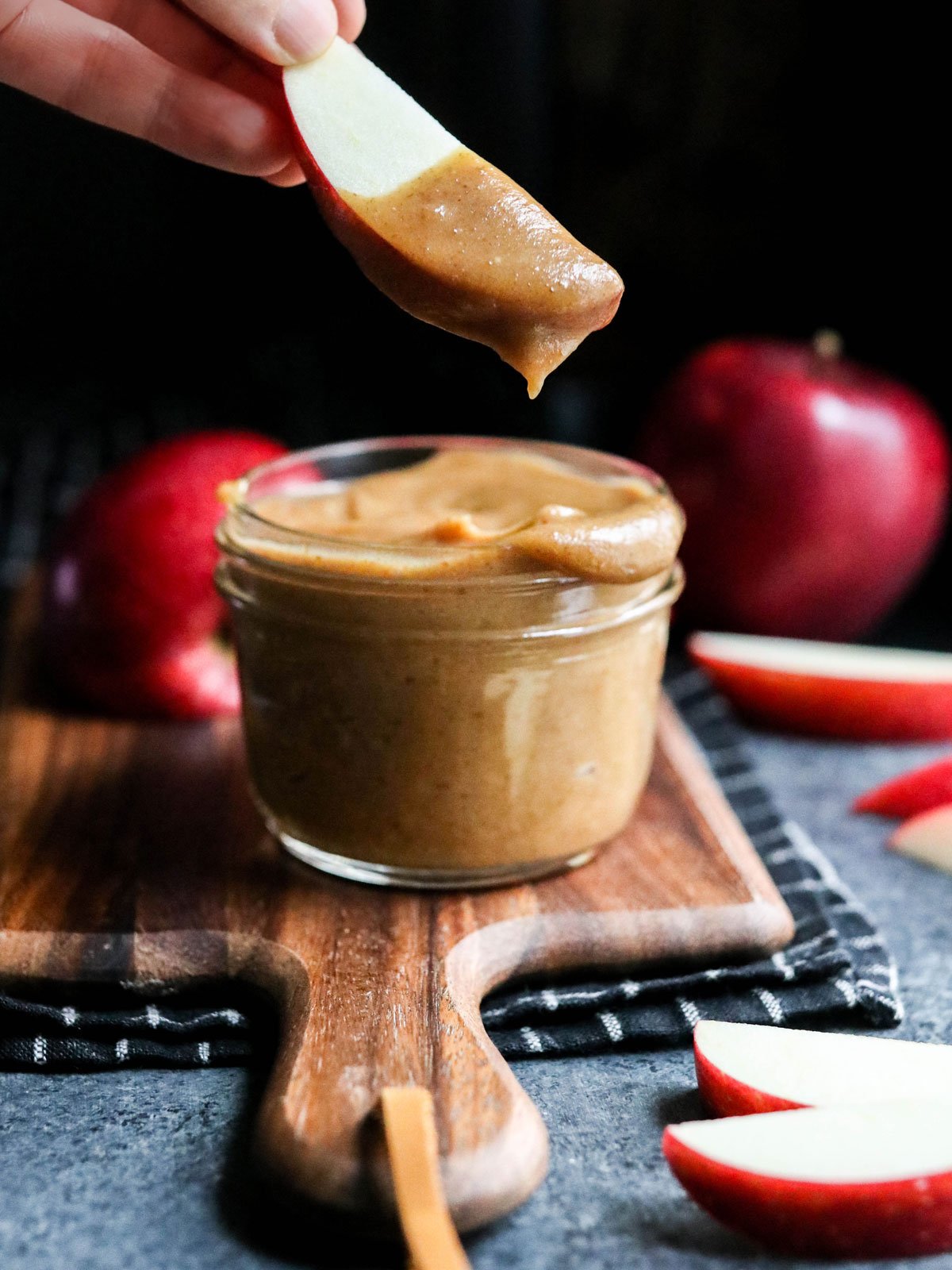 Date Caramel Dip
If you want something on the sweeter side, try this delicious caramel dip. You can serve it with salty pretzel sticks and sliced apples for an easy snack.
Healthy Thanksgiving Sides: Easy Mushroom Gravy
These healthy holiday sides taste just as delicious as the traditional versions, only they are made without flour or heavy cream.
Servings: 8
Ingredients
1

tablespoon

olive oil

1

yellow onion

, chopped

2

garlic cloves

, minced

4

ounces

cremini mushrooms

, sliced

1

(4-6 oz.)

Yukon gold potato

, cut into 1-inch chunks

2

tablespoons

tamari

(gluten-free soy sauce)

1

cup

water

½

teaspoon

fine sea salt

¼

teaspoon

ground black pepper
Instructions 
Heat the olive oil in a large skillet over medium heat and saute the onion until it starts to soften, about 5 minutes. 

Add in the garlic and mushrooms and stir for 1 or 2 minutes, just until the garlic is fragrant. Add in the potato, tamari, and water and bring the water to a boil. 

Once boiling, lower the heat to a simmer and cover the pan. Cook until the potatoes are fork-tender, about 10 minutes. (The smaller you cut the potatoes, the faster they will cook.)

Once tender, carefully transfer the contents of the pan to a high-speed blender or food processor, and add in the salt and black pepper. Blend until smooth, using a thin towel to carefully cover the vent at the top of your machine so that the steam can escape. (And not blow the lid off your blender!)

Adjust any seasoning to taste and serve warm over your favorite side dish or main course. Leftover gravy can be stored in an airtight container for up to 3-4 days in the fridge. It will thicken in the fridge, but will thin-out when reheated. You can always add an extra splash of water to thin it out even more, if needed, but don't add the water until the gravy is warm first.
Notes
Nutrition information is for roughly 1/4 cup of gravy, assuming you get 2 cups in total from this recipe. Nutrition information is automatically calculated, and is just an estimate, not a guarantee.
Nutrition
Calories: 44kcal, Carbohydrates: 6g, Protein: 1g, Fat: 2g, Saturated Fat: 0.3g, Polyunsaturated Fat: 0.2g, Monounsaturated Fat: 1g, Sodium: 401mg, Potassium: 186mg, Fiber: 1g, Sugar: 1g, Vitamin A: 1IU, Vitamin C: 5mg, Calcium: 12mg, Iron: 0.4mg
I hope this collection of healthy Thanksgiving sides will help make planning your holiday meal a little easier. Let me know what you decide to try in the comments below!