Deep Fried Turkey – The Cookie Rookie®
This deep fried turkey recipe is the perfect main course for any holiday meal. Start with an herb-filled wet brine, then fry it for a super crispy and juicy result. It's much quicker and easier to make than you might think!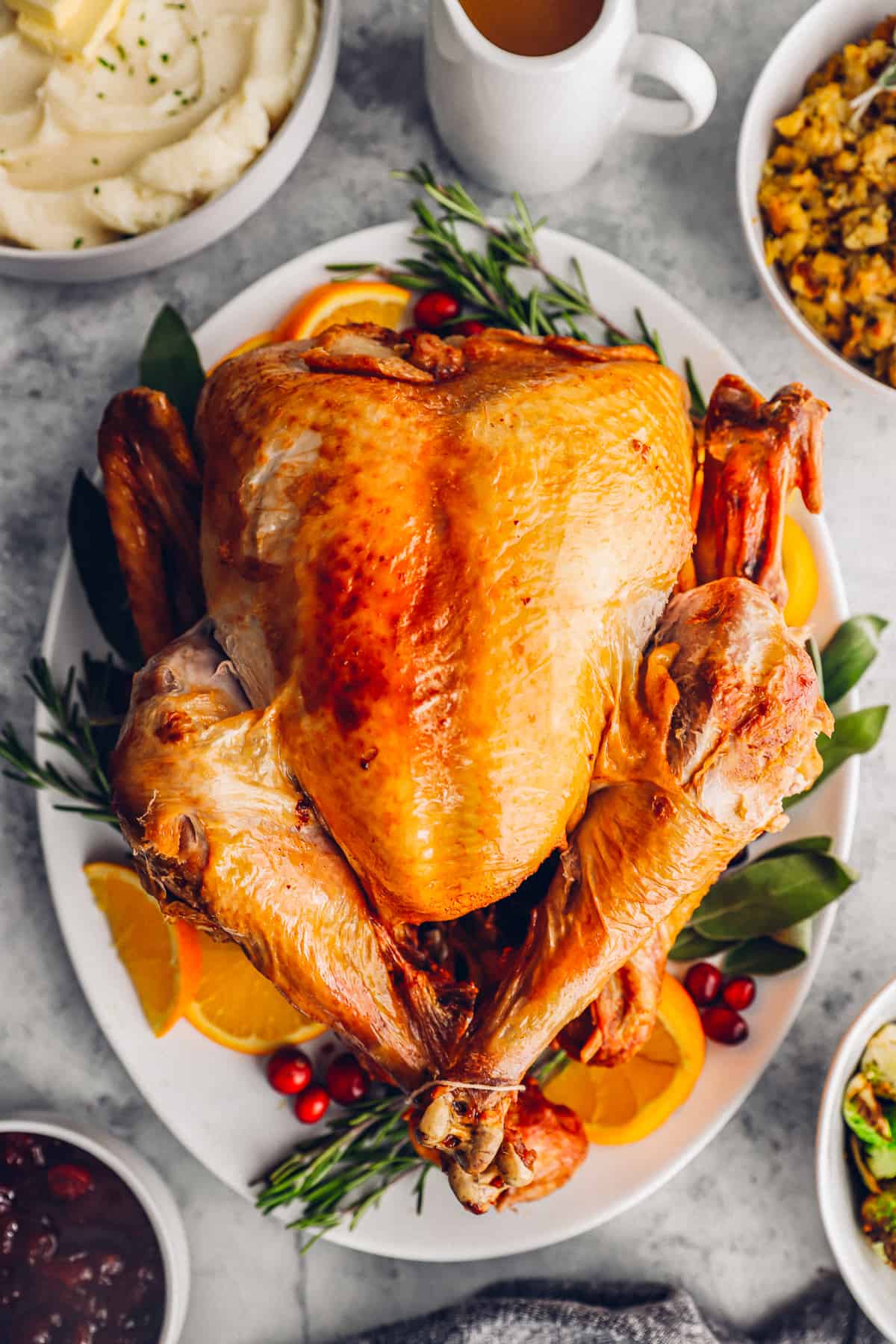 Fried Turkey
If you want to know how to deep fry a turkey for the holidays, this recipe will show you just how easy it is. You can get a juicy, crispy, savory turkey with just a few simple steps!
A classic fried turkey will certainly be a hit on Thanksgiving, but it's great for Christmas and other special occasions too. It goes with every side dish imaginable, and it's just so tasty.
Why You'll Love this Fried Turkey Recipe:
Flavorful: Wet brining the turkey with herbs, brown sugar, and garlic creates an amazing flavor that gets sealed in when it's fried.
Easy: Brine the turkey ahead of time, then just throw the turkey in the fryer and let it cook. It's so simple!
Holiday Favorite: Any holiday meal will be better with this deep fried turkey! It feed lots of people, it goes with your favorite sides, and it's sure to impress guests.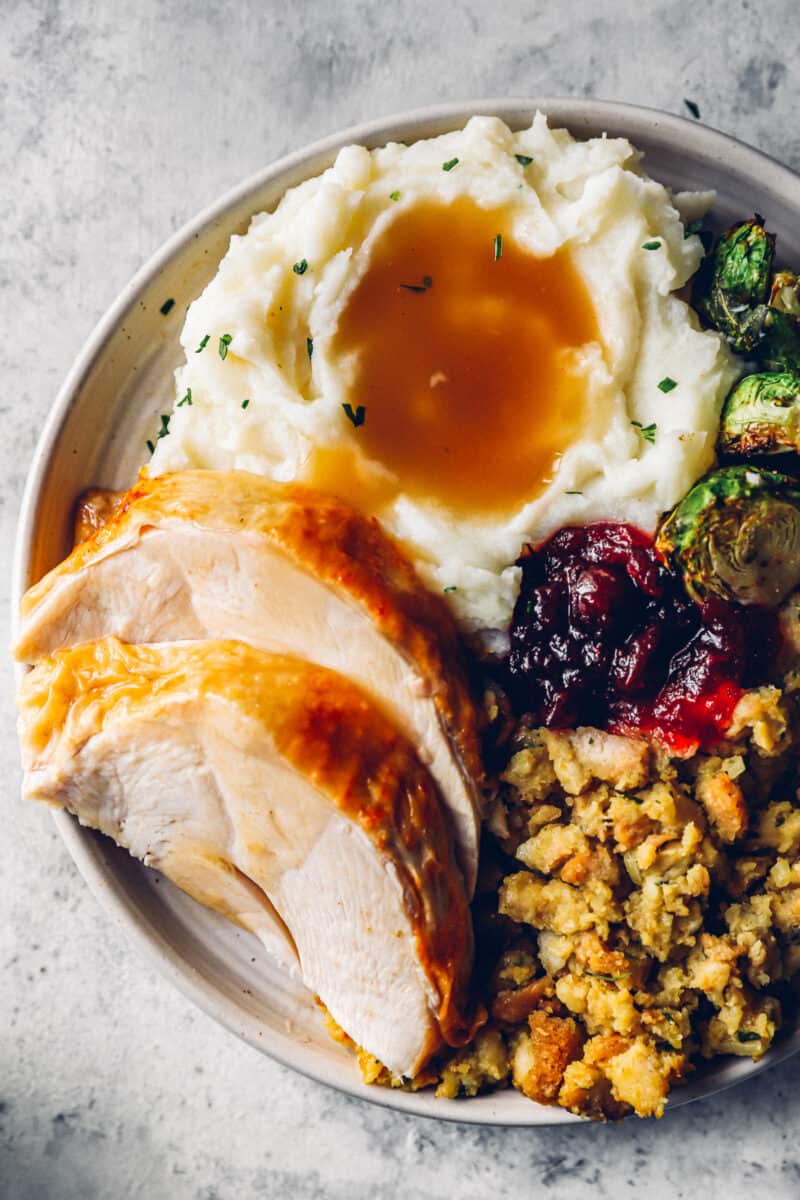 How to Deep Fry a Turkey
You can jump to the recipe card for full ingredients & instructions!
Brine: Combine wet brine ingredients in a large pot (large enough to fit the whole turkey). Then prep the turkey, submerge it in the brine, cover, and refrigerate.
Prep: Remove the turkey from the brine, drain and dry it out. Then add frying oil into a large pot and heat.
Deep Fry: Place the turkey in a strainer/frying basket, lower it into the pot of oil, and attach it. Then let it fry until fully cooked.
Serve: Remove it from the oil and let it rest. Then carve and serve!
Ingredient Notes
Turkey: This recipe is for a whole turkey. We used a 13 pound turkey, but you can adjust the cook time depending on the size of your turkey.
Oil: Vegetable oil is great for deep frying because it has a high smoke point, and it's cheap so you can get a large bottle (you'll need a lot).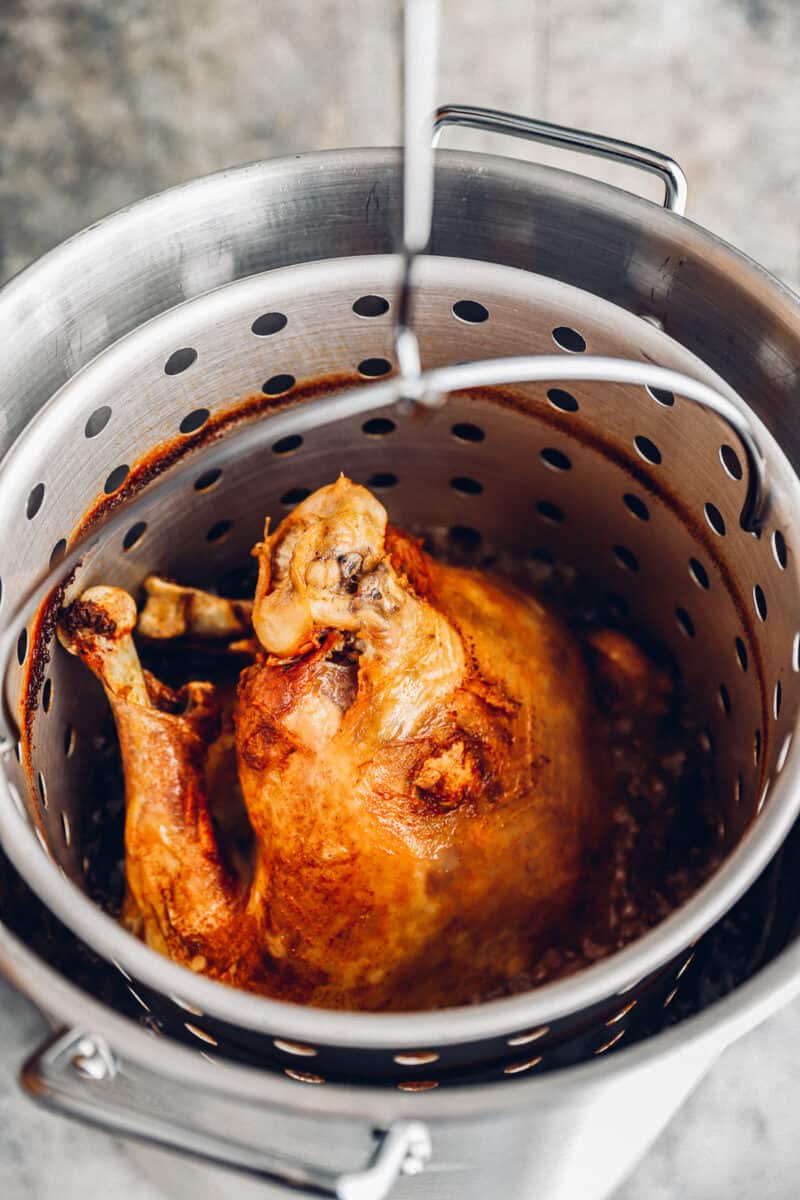 How should I season turkey for deep frying?
I like to wet brine my turkey before deep frying it, but you could also dry brine it instead.
What is a brine?
A wet brine involves submerging the meat in a bucket of salted and seasoned water to add moisture and flavor.
Why should I wet brine my turkey?
Turkey is notorious for being flavorless and dry. This wet brine method combats both of those issues by giving the herbs and salt time to penetrate the meat, leading to moist, flavorful turkey.
Can I wet brine a frozen turkey?
Yes, you can wet brine a frozen turkey. Simply place the frozen turkey in the wet brine and leave it in the refrigerator to defrost. The time it will take to defrost is roughly 24 hours for every 4 pounds of turkey. For a 13-pound turkey, expect to let it defrost for 72 hours (3 days).
How long does it take to deep fry a turkey?
It will take about 3-5 minutes per pound to deep fry a turkey. For a 13-pound turkey, deep frying should take 39-65 minutes. It's best to check the temperature of the meat with an instant-read thermometer so you know exactly when it is done cooking. The meat should read 165°F in the thickest part.
What kind of oil should I use to deep fry a turkey?
I used vegetable oil, but you can also use peanut, corn, or avocado oil.
How much oil do I need to fry a turkey?
You will need about 3 gallons, give or take, depending on the size of your bird.
Serving Suggestions
With this deep fried turkey at the center of the table, you can serve it with any side dishes you love. Try any of these easy Thanksgiving side dishes!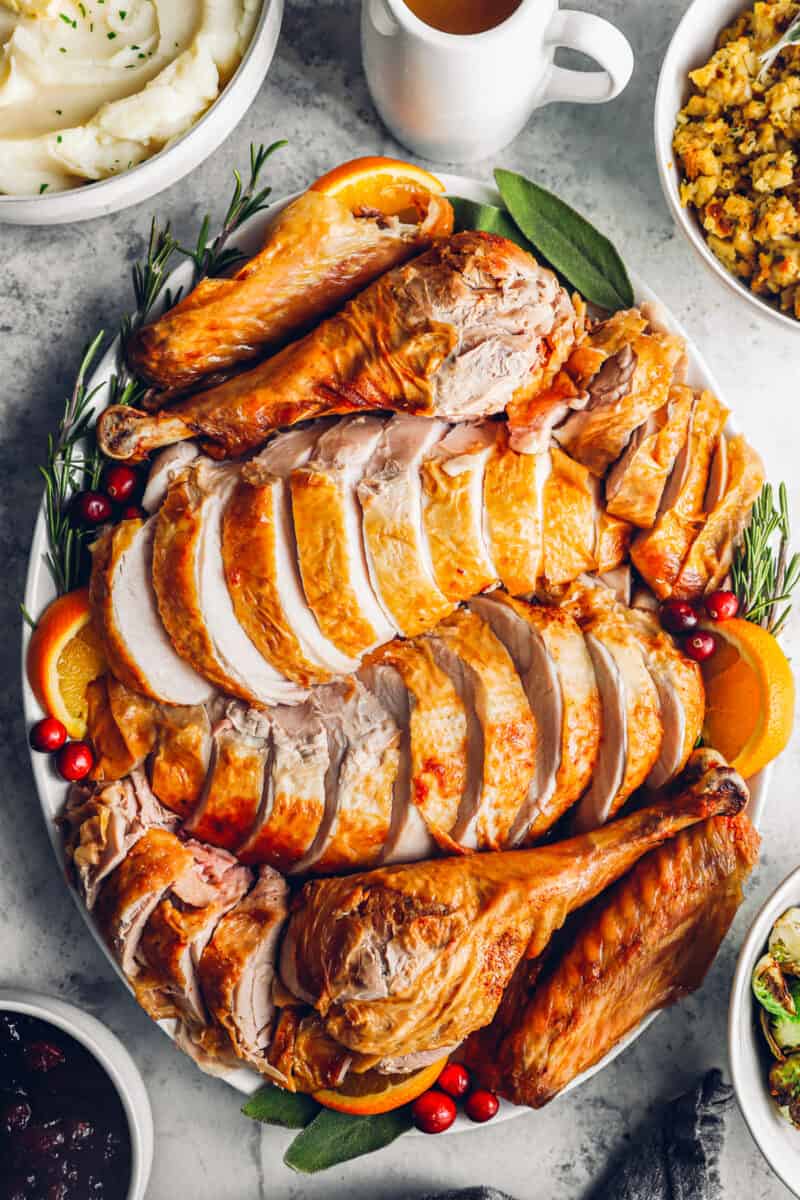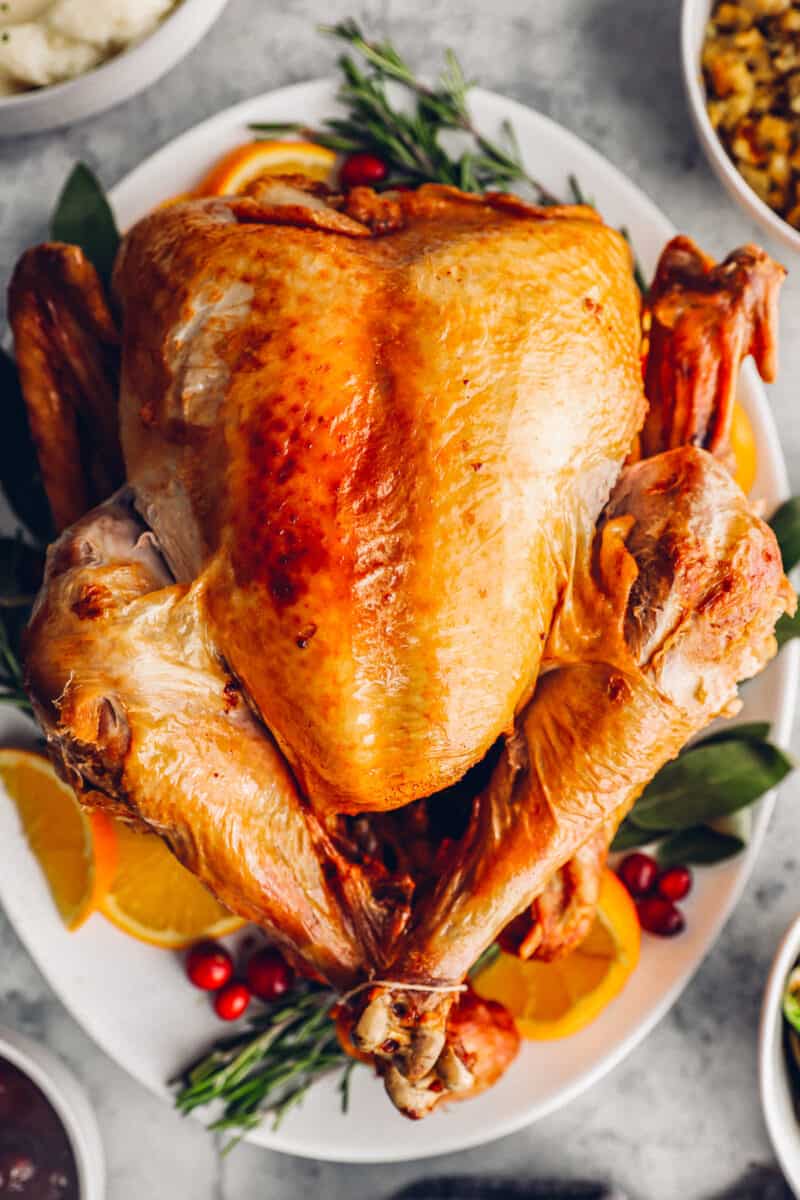 Make Ahead Instructions
You can wet brine the turkey for up to 48 hours (longer if frozen) before frying it. Cover and refrigerate the turkey until ready to roast.
Storage Instructions
Store leftover deep fried turkey in an airtight container in the refrigerator for up to 3 days. Reheat gently in the microwave or covered with foil in a 300°F oven for 20-30 minutes.
Freezing Instructions
Freeze fried turkey in an airtight container for up to 3 months. Let thaw overnight in the refrigerator before reheating. I do not recommend freezing a fried turkey whole; always cut it into portions first.
Substitutions
Instead of brown sugar, try granulated sugar.
Feel free to change up the herbs to suit your individual tastes. Basil, parsley, and chives are all great.
For a spicy brine, try adding a bit of cayenne pepper.
You can use peanut, corn, or avocado oil instead of vegetable oil.
Tips for the Best Fried Turkey
Don't use a pre-seasoned, kosher, salt-injected, or self-basting turkey. Using a salt brine on this type of turkey will make it too salty!
In general, the bigger the bird, the longer you should brine. Brine for a minimum of 12 hours or up to 2 days!
Use kosher salt or coarse sea salt; fine or table salt will make your turkey too salty!
Note that for every 1 pound of turkey, it should take about 3-5 minutes to fry. For a 13-pound turkey, it should take 39-65 minutes.
Check the internal temperature with an instant-read thermometer. It should be 165°F in the thickest part without hitting the bone.
Let the turkey rest for 15-20 minutes before slicing to lock in the juices.

You can fry the turkey outside using a burner suited for outdoor cooking or on the stove. A couple things to be extra cautious of during the frying process, especially if frying indoors, is the overflowing of oil and the splattering of oil. To avoid overflowing, make sure you are using a pot that holds at least 30 quarts, a turkey no heavier than 15 pounds, the same amount of water and oil for brining and frying (3 gallons each). To avoid splattering, ensure the turkey has been completely patted dry.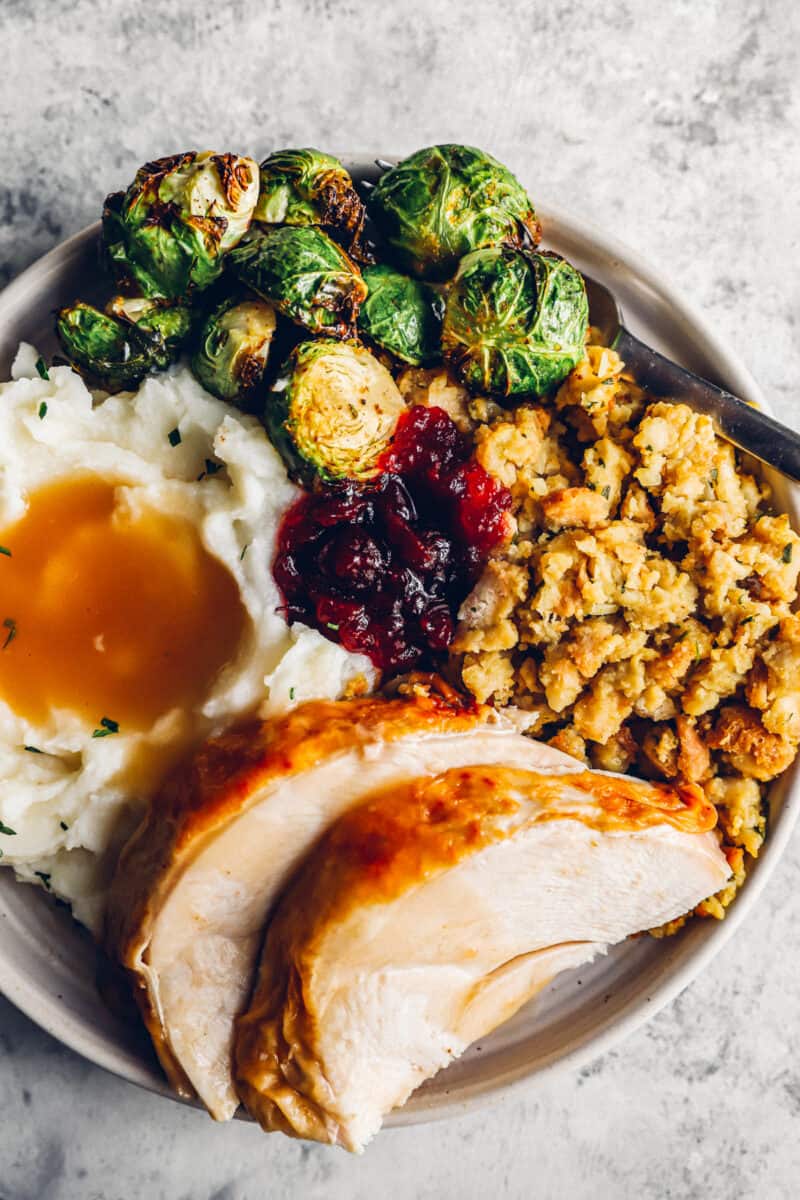 If you need main dish to serve this holiday season, this deep fried turkey recipe should be on your list. It's simple, delicious, and definitely impressive!
If you make this recipe be sure to upload a photo in the comment section below or leave a rating. Enjoy! You can also jump to recipe.