Dragon Roll | Easy Authentic Sushi Recipe
Learn how to make a dragon roll at home, the popular fusion style sushi! Ready in less than 10 minutes, they are easy to customize and taste incredible!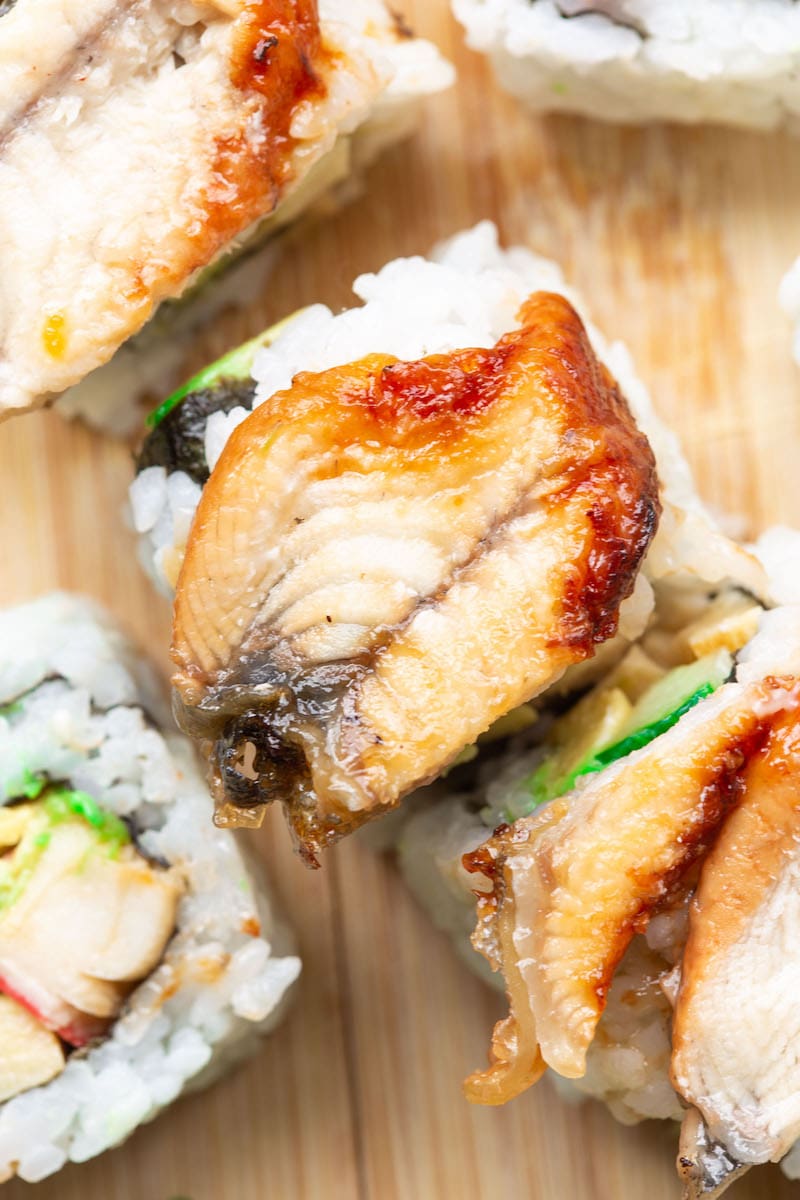 Is there anything better than homemade sushi? I think not.
We've covered the basics like a California roll or tempura chicken roll. We thought we were fancy when we made the Alaska roll, but friends, this Dragon roll is on another level! 
What are dragon rolls? 
Dragon roll is a type of sushi, although not a traditional Japanese version. While it has some characteristics of sushi (sushi rice and fillings), what makes it unique is the layer of unagi or eel that is wrapped around it.
It's popular in Western countries and is a delicious twist on the classic. 
Why this recipe will be a sushi favorite:
Quick and easy.

For such a fancy-looking roll, the recipe takes less than 10 minutes to make

.
Versatile. Serve this as a stunning appetizer or make it the star dish at a sushi party.
Easy to customize. Dragon rolls come in several versions and colors- Red, black, and gold.
What we adore about this recipe is just how affordable it is to make it ourselves! We've been regularly paying over $20 for one sushi roll at our local Japanese restaurant but now, we can make it for a fraction of that!
What is a dragon roll made of? 
This recipe calls for very simple ingredients and, if you've made any of our Japanese recipes before, you'd likely have everything on hand. Here is what you'll need:
Sushi rice- Make things easier and make a batch of instant pot sushi rice. If you want something quicker, simply steam some sushi rice and drizzle rice vinegar all over it. 
Nori sheets –

These are used as sushi wraps. 

Fillings-

Cucumber and avocado are a must, along with imitation crab meat. 

Unagi-

The special ingredient. We use freshly cooked

unagi

and let it cool to room temperature before adding it.

Spicy mayo-

To decorate on top and inside. 

Sauces– Optional, but to add in. Eel sauce or tempura sauce works well. 
How to make it
Once you've prepped the rice, there isn't much else that goes into making this recipe. Who is up for making some sushi?  
Step 1- Prep the sushi rice
Mix seasoned rice vinegar with the cooked sushi rice or use pre-made instant pot rice. 
Step 2- Make the rolls
Using a bamboo sheet, place a single layer of nori on top. Add the rice and spread it out horizontally on one side. Add your cucumber, avocado, and imitation crab sticks. If using sauces, drizzle them here. Roll the mat and press down to shape it firmly. 
Once the sushi has been rolled, add slices of unagi on top.
Step 3- Cut and serve!
Place the dragon roll on the cutting board, and cut it into pieces with the help of a damp knife. Top with mayonnaise, sesame seeds, and some optional tobiko.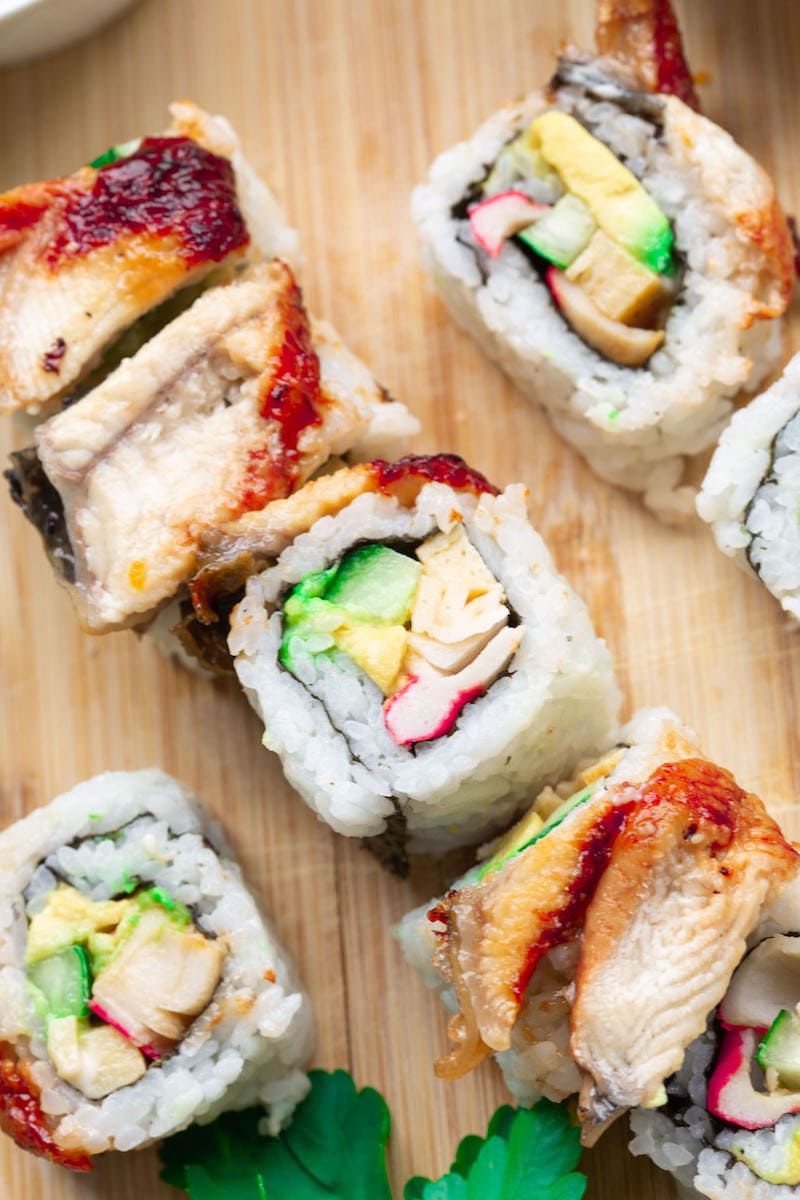 Tips to make the best recipe 
If making fresh sushi rice, let it cool to room temperature. 

Ensure your unagi is prepped and ready to go- you want to assemble the sushi in one go. 

Squeeze the rice and fillings well if you don't want your sushi rolls to fall apart. 

Wet your hands before handling rice to avoid it sticking to your fingers. 
Variations
The beauty of this particular sushi is that it comes with four fabulous versions. Here they are if you'd like to try:
Red dragon roll:

The topping has some red tobiko and masago. 

White dragon rol

l: The filling uses shrimp tempura instead of imitation crab. 

Golden dragon roll:

The topping replaces the unagi with slices of fresh mango. 

Veggie dragon roll:

Perfect if you follow a vegan or vegetarian diet. The animal protein is replaced with tofu. 
Storage instructions
It's best to enjoy dragon rolls immediately because the taste and quality will deteriorate with time. If you have leftovers, keep them in airtight containers to store in the fridge for up to two days, never more than this.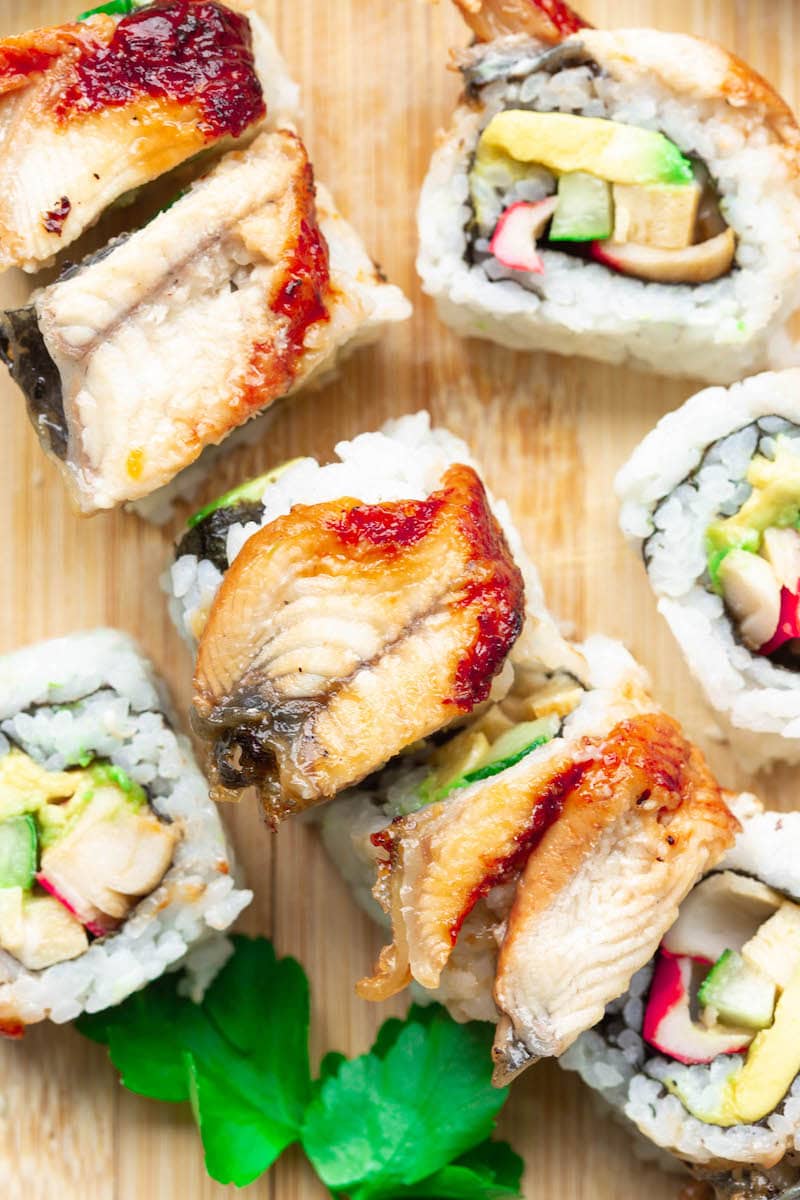 More sushi recipes to try
California roll
Spicy tuna roll
Tempura chicken roll
Frequently Asked Questions 
Does a dragon roll contain raw fish?
Unlike an Alaska roll, the dragon version has no raw ingredients in it.
Are these spicy?
You can add a spicy kick by using spicy mayo, but that is completely optional. 
Dragon roll sushi calories
There are 415 calories in one serving of dragon sushi.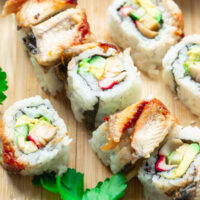 2

cups

sushi rice

cooked

2

sheets

nori

4

sticks

imitation crab meat

1/2

large

avocado

sliced

1/4

large

cucumber

sliced into match sticks

1/4

cup

spicy mayo

1

portion

unagi

sliced

1

tablespoon

eel sauce

to serve
Use a fork to mix the sushi rice to ensure it is still moist. If it seems a little dry, add a tablespoon of water.

Place one nori sheet on the rolling mat with the rough side facing up. Place half the sushi rice on one side of the nori sheet, allowing half an inch at the top to remain empty. Add the crab, avocado, cucumber, and drizzle two tablespoons of spicy mayo.

Grab both sides of the rolling mat and roll up the sushi tightly. If using a full fillet of unagi, place that on top.

Using a sharp knife, slice into eight equal pieces. Repeat the process to make one more roll. Drizzle with eel sauce.
TO STORE: It's best to enjoy dragon rolls immediately because the taste and quality will deteriorate with time. If you have leftovers, keep them in airtight containers to store in the fridge for up to two days, never more than this.
Serving: 1sushi | Calories: 94kcal | Carbohydrates: 19g | Protein: 10g | Fat: 8g | Sodium: 44mg | Potassium: 55mg | Fiber: 1g | Vitamin A: 29IU | Vitamin C: 1mg | Calcium: 4mg | Iron: 0.4mg | NET CARBS: 18g