Easy Pumpkin Dump Cake Recipe +VIDEO
Simple and delicious Pumpkin Dump Cake preps in minutes. With all of these earthy flavors, it's perfect all fall long!
We love dump cakes—because of the simplicity, but also the TASTE! Our favorite flavors include peach and cherry, but in the fall, this Pumpkin Dump Cake is the only cake we need!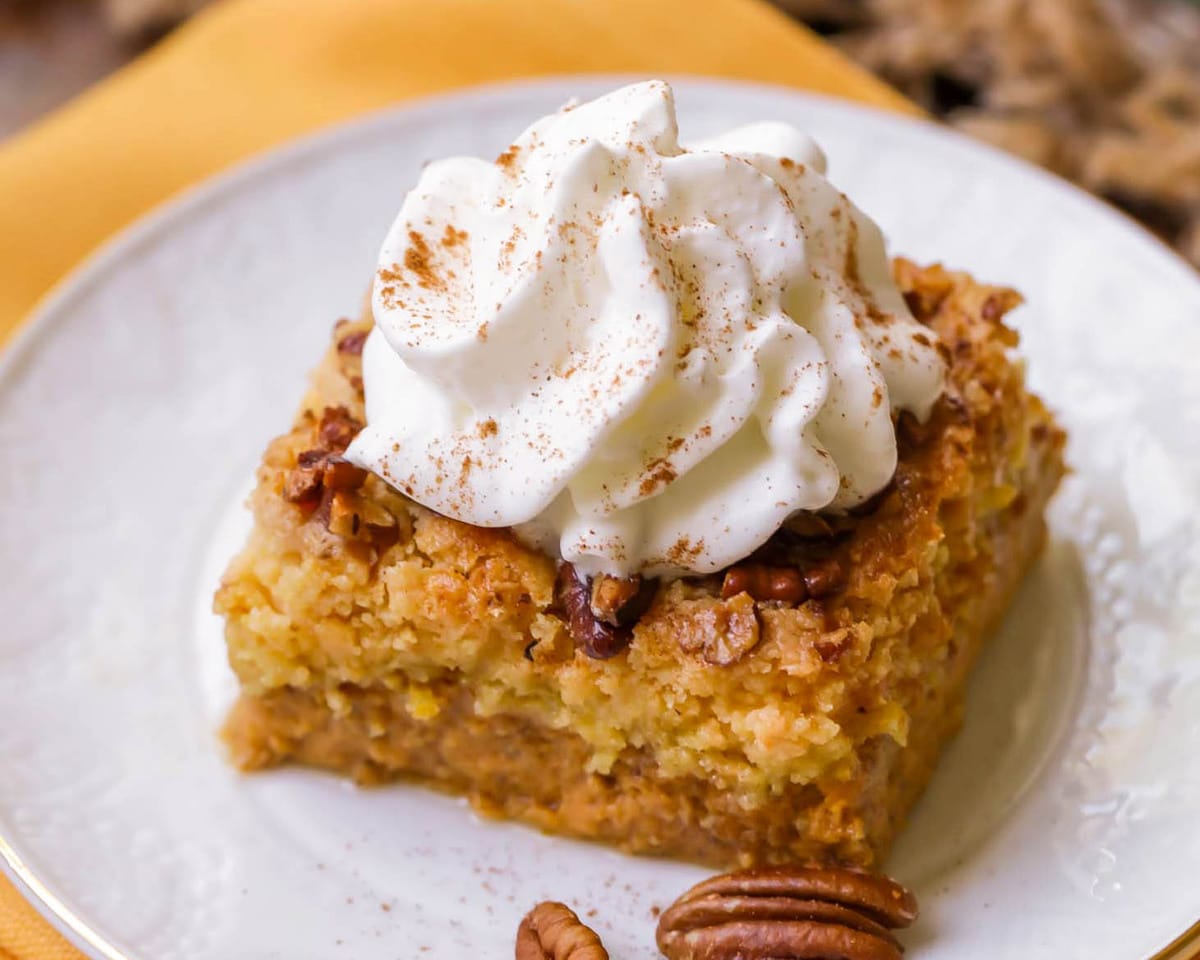 BEST Pumpkin Dump Cake
It's PUMPKIN time!! It's that time of year where pumpkin and soup recipes start popping up everywhere and fall is on it's way!
Today's pumpkin recipe was shared by a family member. We stopped by on Thanksgiving to say hi and after they fed us this fall dessert, we fell in love and had to give it a try!
It's called Pumpkin Dump Cake, because you literally dump it, bake, and enjoy! It is so simple, and literally is the BEST fall cake.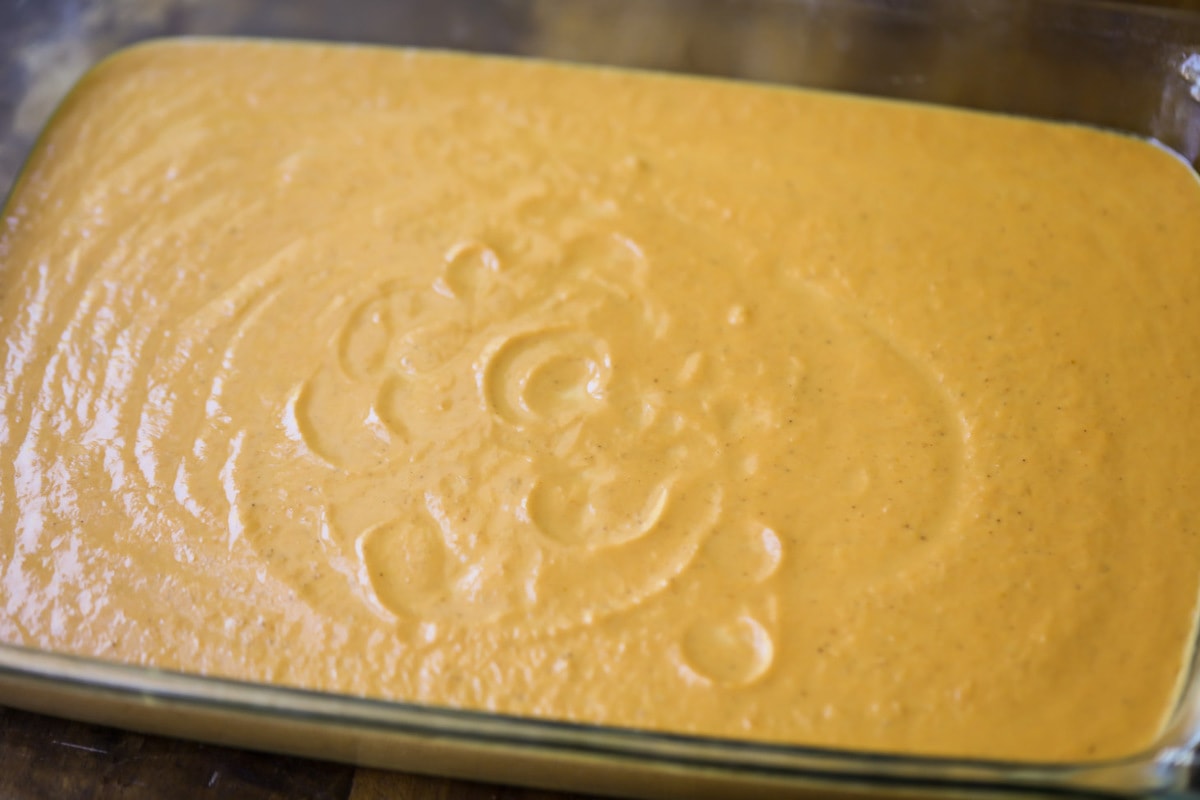 making a Dump Cake
"Dump" cakes are as easy as they sound! Just mix and dump layers in a pan. Hence the name. Dump cakes are similar to cobblers, but a cobbler uses a biscuit or pie crust as the topping. 
BATTER. Mix together the pumpkin, milk, ginger, cloves, sugar, eggs and cinnamon in a large bowl. Pour the pumpkin mixture into a greased and floured 9×13 baking dish.
TOPPING. Sprinkle the yellow cake mix and chopped pecans (if you want pecans) on top. Cut the butter very thin and place the slices all over cake mix.
BAKE + SERVE. Bake for 1 hour at 350°F. Serve warm topped with whipped cream or vanilla ice cream, and even a caramel drizzle if you're feeling extra fancy.
Additional Topping Ideas 
The pecans are totally optional, but if you aren't a fan of pecans try:
crushed graham crackers
toffee bits
substitute for another type of chopped nut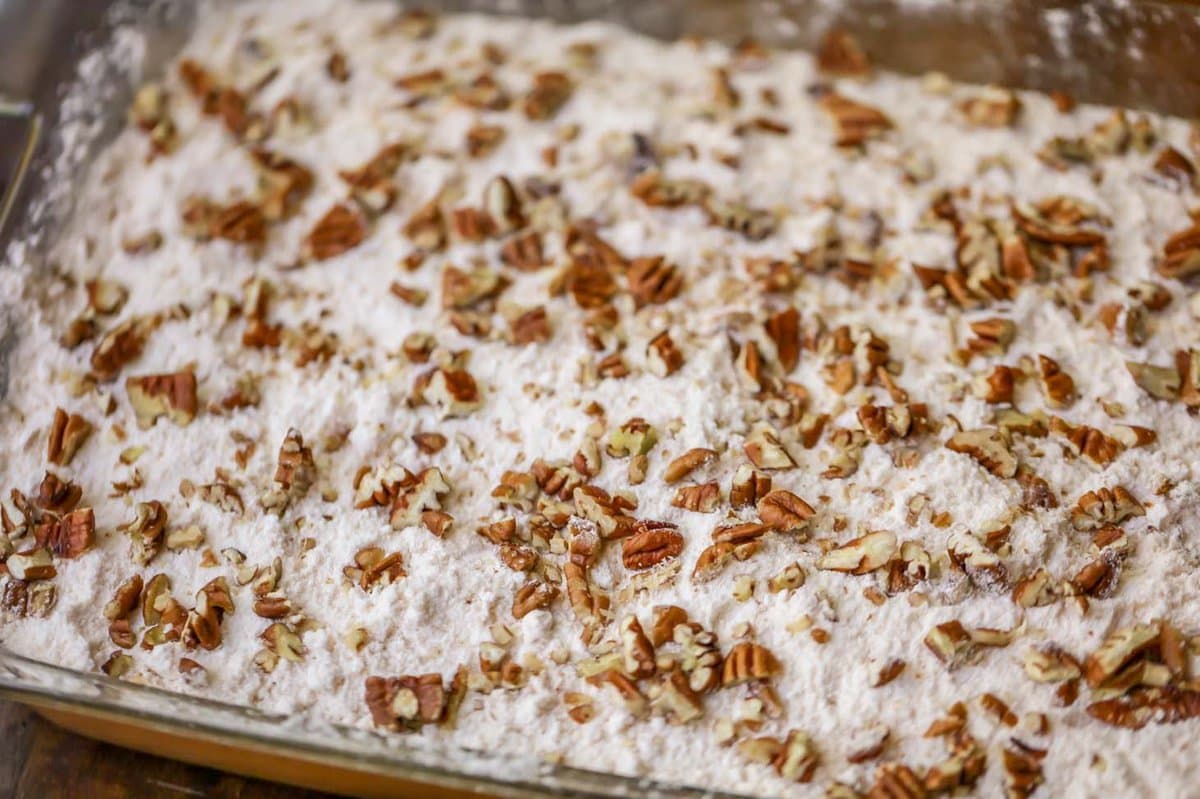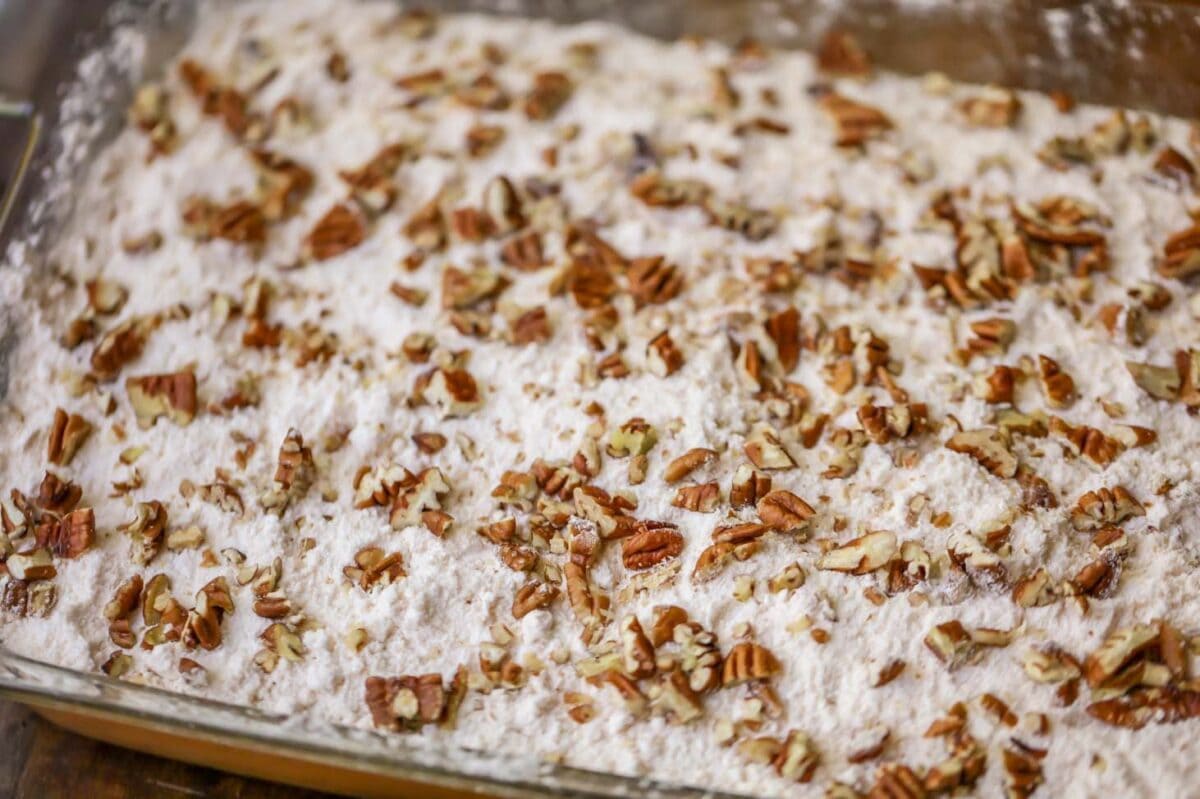 recipe tips
Cake mix alternative. You are only using the dry cake mix, and not making it into a cake batter. If you don't have yellow cake mix you can us a pumpkin spice cake mix, or make a homemade mix. Here's how:
Whisk together 2 ¼ cup all-purpose flour, 1 ½ cups granulated sugar, 3 ½ teaspoons baking powder, 1 teaspoon salt plus 4 tbsp butter (½ stick).
Use a pastry cutter to blend in the butter, and you've got a homemade yellow cake mix.
Variations:
Pumpkin Puree. Note that this recipe calls for a can of pumpkin puree and NOT canned pumpkin pie filling. The pie filling already has spices and other ingredients mixed into it. Whereas pumpkin puree is only pumpkin.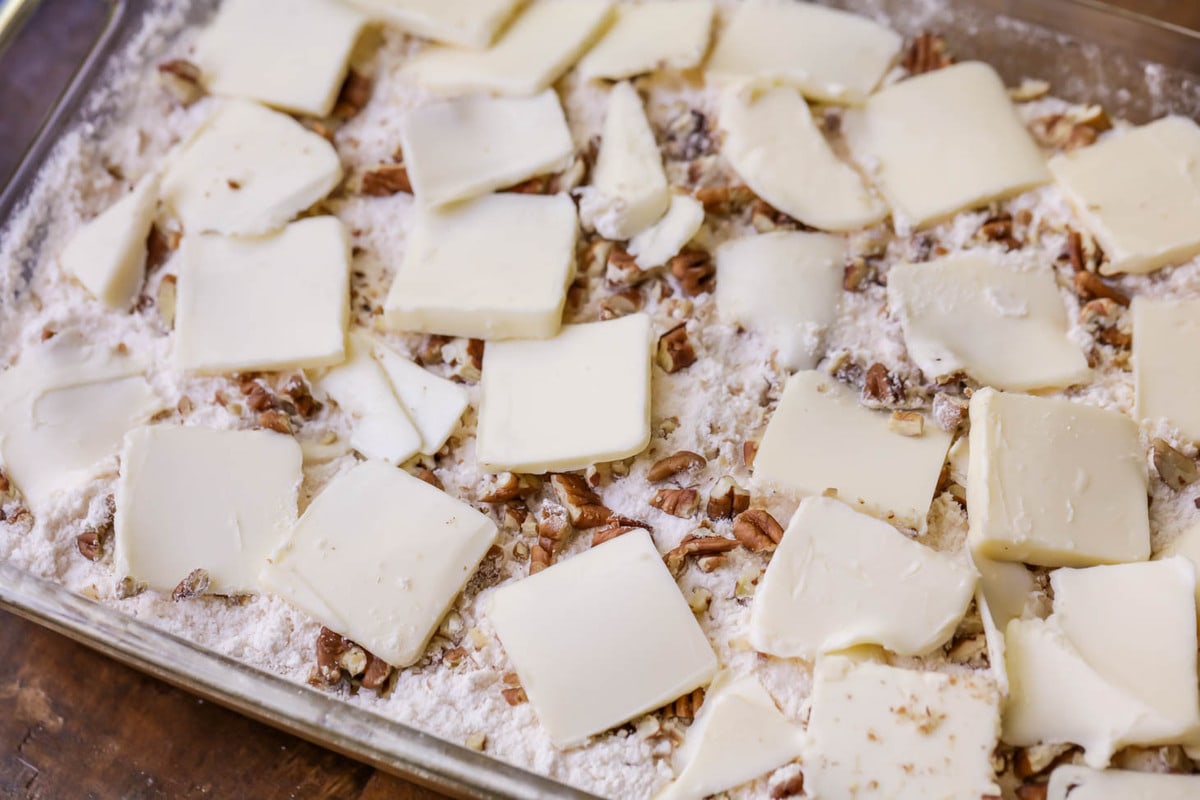 Storing info
STORE. We like to serve this warm, but if you have leftovers, be sure to keep it covered and stored in the fridge. It should last for at least 2 days. Reheat a slice by microwaving at 30 second intervals until it is the desired temperature.
FREEZE. To freeze a whole baked cake, wrap the entire pan with plastic wrap and again with foil.
For leftover cake, divide it into individual freezer containers. Thaw overnight in the fridge and serve chilled or reheat slices in the microwave.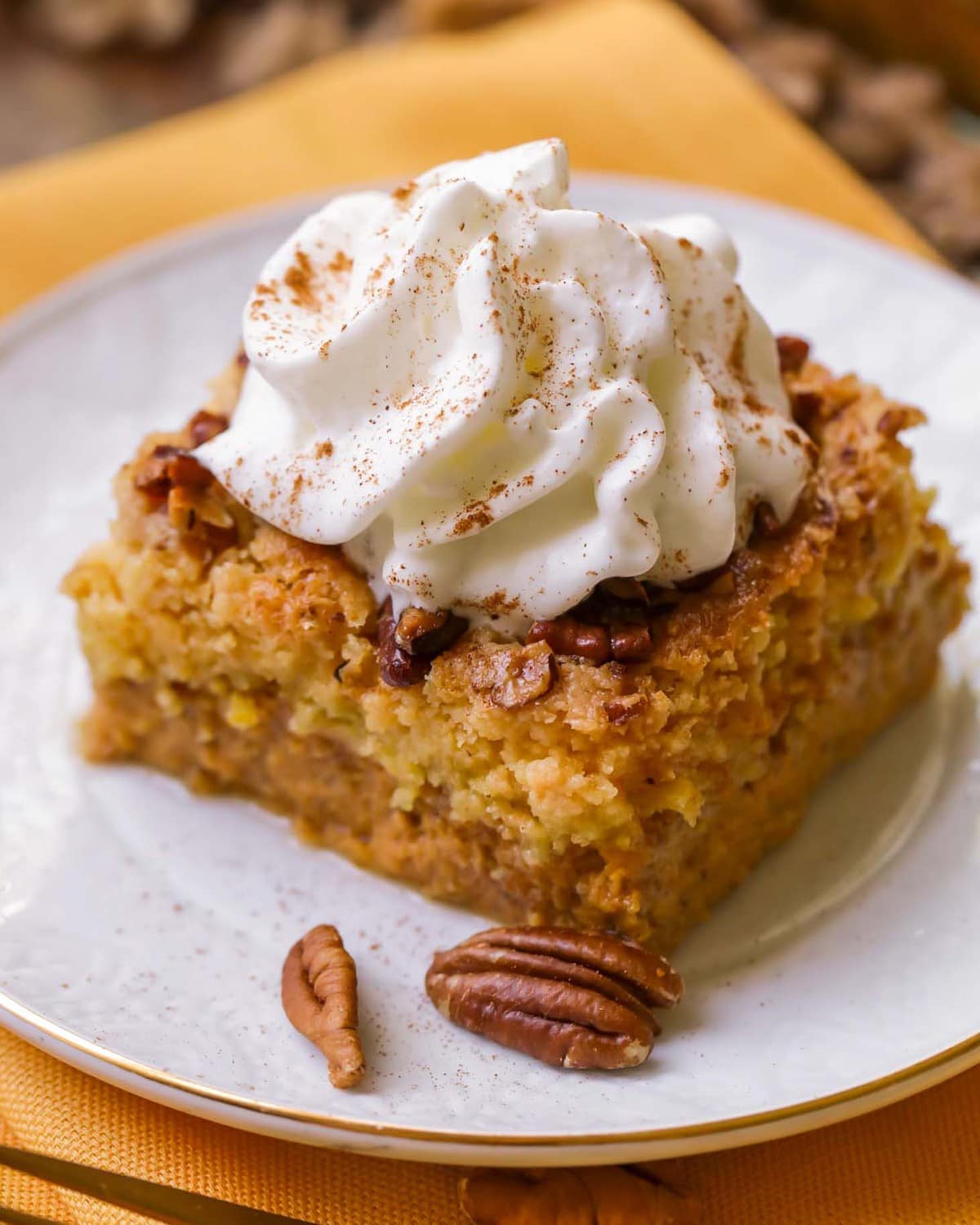 For more pumpkin cake recipes, check out:
Preheat oven to 350°F.

Mix pumpkin, milk, ginger, cloves, sugar, eggs and cinnamon in a large bowl. Pour into a greased and floured 9×13 pan.

Sprinkle cake mix and chopped pecans on top.

Cut butter very thin and cover all over cake mix.

Bake for 1 hour and serve warm with whipped cream. ENJOY!