Homemade Chocolate Candy Bars Recipe
Have you ever prepared homemade chocolate candy bars from scratch? It's far easier than you think.
Homemade Chocolate Candy Bars
This recipe for gluten free dessert starts with a luscious nougat mixture of honey mixed into creamy almond butter.
How to Make Dairy Free Candy Bars
The base is then enrobed in a heavenly dark dairy free chocolate and topped with a gorgeous sprinkle of salt.
Dairy Free Chocolate Bars
My Homemade Chocolate Candy Bars are:
Gluten Free
Dairy Free
Grain Free
And they're absolute perfection for those suffering from an intolerance to foods typically found in processed, store bought candy bars.
Intolerance to Foods? Problem Solved!
My boys and their friends adored this recipe for healthy dessert when they were little, and they still do.
Easy Recipes for Dessert for Kids
Back in the day, when I coached my older son's baseball team, I used to bring these Homemade Chocolate Candy Bars to games –they were something the whole team could enjoy.
Recipe for Gluten Free Dessert
When I made this recipe for gluten free dessert for a school treat, I simply omitted the pecans and used sunbutter instead of almond butter for those who were allergic to nuts.
Easy Chocolate Dessert
Healthy candy bars? Yes, this term is not an oxymoron when it comes to this easy chocolate dessert recipe that's sure to be your new favorite!
Homemade Chocolate Candy Bars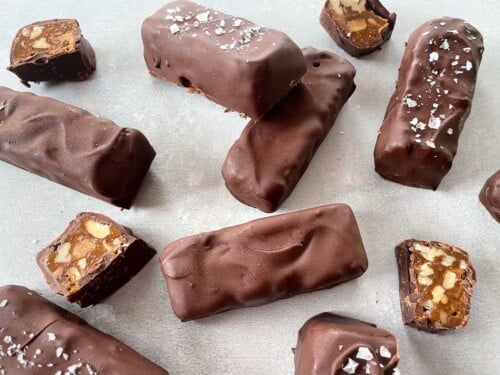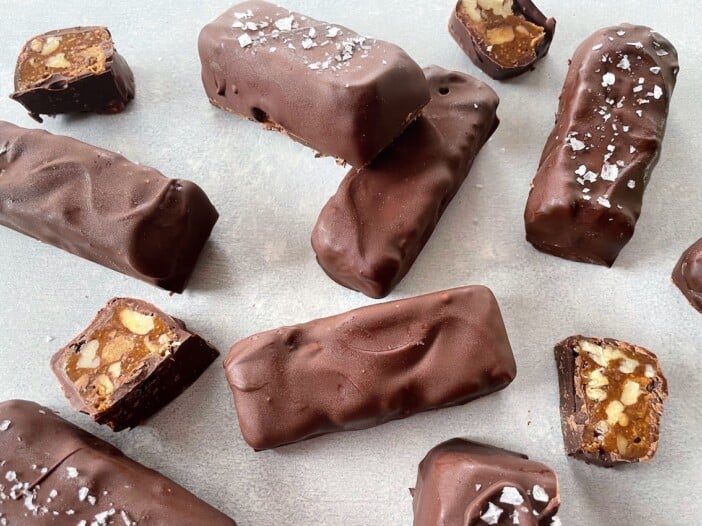 Print
Email
Pin Recipe
Instructions
Warm shortening and 1 teaspoon salt in a 12 inch saute pan over high heat

Add pecans to pan and cook for 4 minutes

Warm almond butter, honey, vanilla and ½ teaspoon salt in a saucepan over medium heat

Remove from heat and stir pecans into almond butter mixture

Scoop 2 heaping tablespoons of batter into each candy bar mold and freeze for at least 1 hour

Melt chocolate in separate saucepan over lowest heat possible

Coat each bar in chocolate

Garnish bars with salt if desired

Freeze 30 minutes

Serve
Prep Time 10 mins
Freeze Time 1 hour 30 minutes
Cook Time 16 mins
Total Time 1 hr 56 mins
Prevent your screen from going dark
Dairy Free Gluten Free Candy Bars
If you have an allergy to gluten you may be lactose intolerant as well. That's why I created a recipe that's also perfect for the dairy free diet.
My homemade gluten free candy bars deliver an exquisite dairy free chocolate option.
Chocolate Candy Bars
Homemade candy bars can be customized to individual palettes. The sky is the limit, try substituting your favorite nuts or adding other ingredients.
Homemade Gluten Free Candy
Like every household, ours has a fondness for sweets, and when the boys are home to visit, homemade candy seems to vanish quicker than I can make it.
When they were little, the Pantry Boys and their friends devoured my homemade gluten free candy, and my mind was at ease, given that the treats I created were full of nutrient dense food like almond butter.
Remember, just because it's gluten free does not mean it's healthy!
Recipes for Gluten Free Candy
Here are some of my other recipes for healthy, nutrient dense, gluten free candy.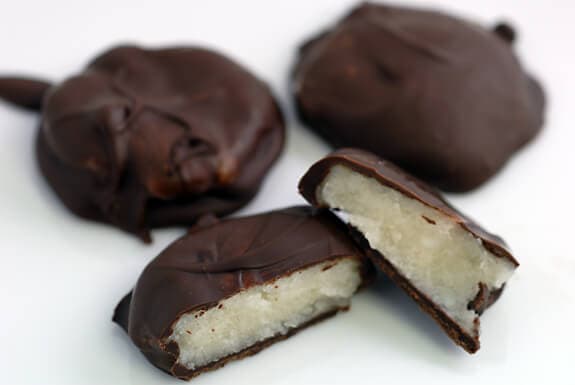 Mint Chocolate Homemade Candy
My homemade Peppermint Patty Candy is a super healthy low carb dessert that melts in your mouth.
This candy recipe is a great project to make with the kids, my boys loved helping me with it when they were little.
Mixing 3 ingredients –coconut oil, honey, and peppermint extract, then chilling and dipping this heavenly mixture in melted dark dairy free chocolate was a fabulous project for a delightfully fun afternoon.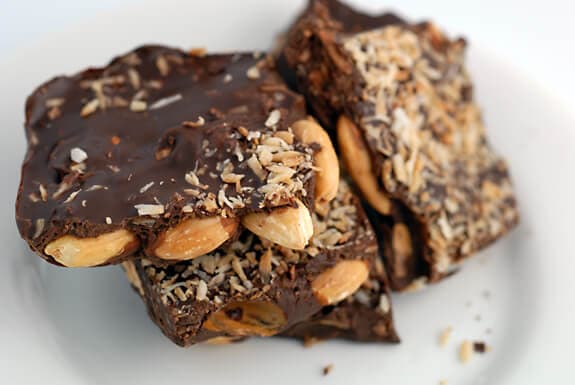 Low Carb Candy
My Almond Joy Chocolate Bark is a mouthwatering mixture of dark dairy free chocolate, toasted coconut, and earthy almonds.
This low carb candy recipe is super simple.
First, melt the dark chocolate chips and pour into a baking dish, then scatter the toasted coconut and almonds on the chocolate and refrigerate. That's it, really!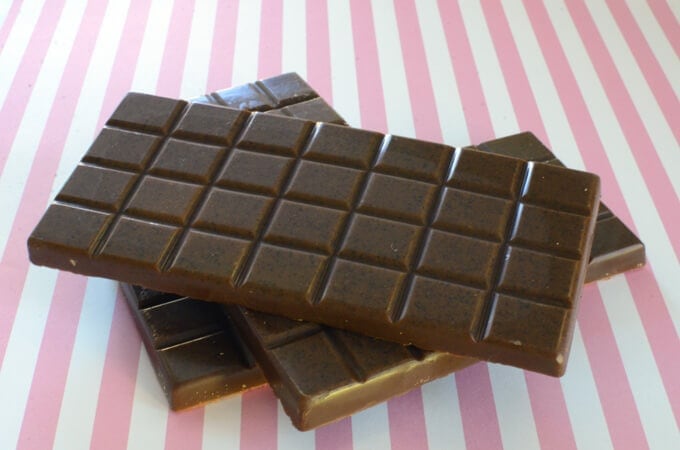 Healthy Homemade Chocolate Bars
I've enjoyed Chocolate Bars since I was a child.
When my son was diagnosed with celiac disease, I knew I had to turn all of my favorite childhood recipes into gluten free classics for those with diet restrictions.
This chocolate treat is my simply delicious answer to the question of dairy free, vegan candy bars made at home with the cleanest ingredients.
How to Make Chocolate Bars
As you can see from my quick and easy Chocolate Bar recipe above, making Healthy Homemade Chocolate couldn't be easier, and like just about everything else, tastes better from scratch.
Dark Chocolate Candy Bars
If I haven't inspired you to make chocolate from scratch, and you're in the mood for the store bought stuff, read my article on The Best Healthy Dark Chocolate Bars.
Is Chocolate Gluten Free
When you make chocolate from scratch, you can control the outcome and avoid unwanted allergens.
While cacao beans are gluten free prior to their handling, after that, it's in the processor's hands to ensure the product is gluten free.
Since I have celiac and am 100% gluten free, I'm always on the lookout for hidden ingredients like barley malt, a substance that contains gluten.
Allergy to Gluten
All in all, when purchasing food, it's incredibly important that we make a habit of regularly checking labels of the products we buy to make sure they're gluten free.
Easy Homemade Desserts with Chocolate
And that's why I love making these dairy free Homemade Chocolate Candy Bars, I know they're something I can safely eat. As for Mr. Pantry, I have to hide them from him. Yes they're that good.
As for the rest of the treats listed here? They're pretty incredible too. I hope you enjoy making, serving, and munching on these easy homemade desserts with chocolate as much as we do!
This post is an oldie but goodie from the archives. I first shared this Homemade Chocolate Candy Bars recipe in 2008.