Slow Cooker Pot Roast, Extra Tender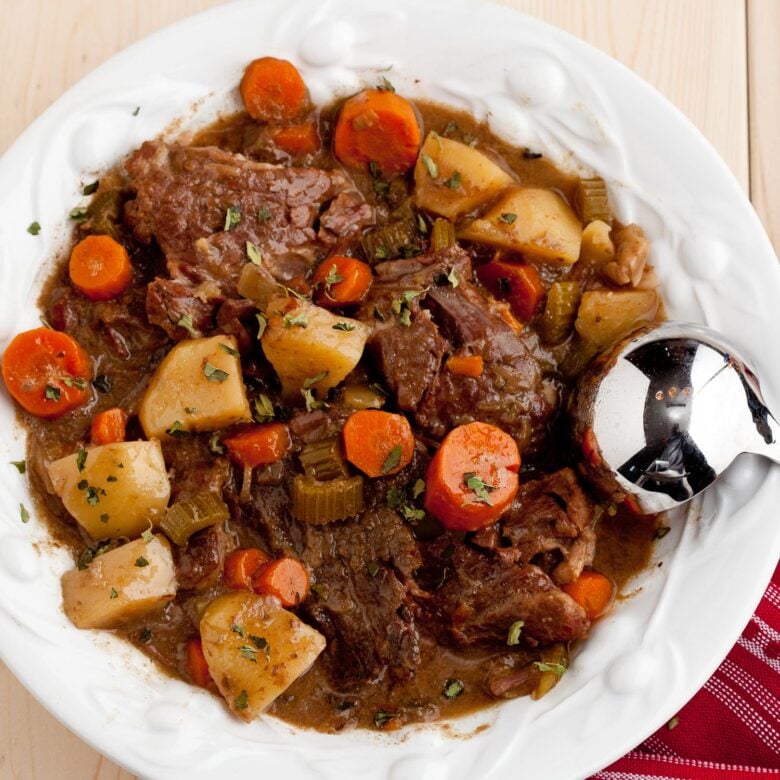 What Is Pot Roast? 
An American dish, pot roast is more of a method of cooking than an exact recipe. Most chefs have their own twist on pot roast using a variety of ingredients and methods of preparation like the Instant Pot, slow cooker, or even stovetop. However, no matter how it's prepared, every recipe is always comprised of a large, tough cut of beef such as a chuck roast, round roast, or brisket that is cooked long and slow in moist heat in order to help it tenderize. In addition, pot roast recipes almost always contain some kind of combination of vegetables like carrots and potatoes, making them a complete meal. 
Why You'll Love This Slow Cooker Pot Roast Recipe
High protein and made with plenty of veggies, this slow cooker pot roast recipe is an easy dinner you can feel good about serving. 
All of the ingredients combine in the slow cooker and can even be prepared the night before for a hands-off recipe that tastes like you spent all day in the kitchen. 
Savory, scrumptious, and melt-in-your-mouth tender, slow cooker pot roast is the perfect option for feeding a crowd and is always guaranteed to please. 
You can easily mix and match the veggies for a customizable comfort food that always hits the spot. 
Leftovers keep well in the fridge or freezer for easy meals throughout the week. 
Key Ingredients
Although it features typical ingredients you might expect to see in a slow cooker pot roast recipe, this version has a few stand-out items that make it out-of-this-world delicious and unlike anything you've ever tasted before! 
Beef Roast – Boneless beef chuck roast forms the base of this dish, cooking down to tender, juicy pieces of meat that are coated in sauce and absolutely mouthwatering.
Vegetables – Carrots, celery, and onion are included for a boost of flavor and extra nutrients, making this a complete meal all on its own. 
Onion Soup Mix – A dry packet of soup mix is included to achieve a scrumptious savory taste without the need to recruit a million herbs and spices. 
Soup – Our secret ingredients, both cream of mushroom soup and cream of celery soup, are added to the slow cooker to infuse the meat with even more flavor and create an ultra-rich and decadent gravy. 
All-Purpose Flour – This helps thicken the gravy so it clings to the meat and vegetables. If needed, use a 1:1 gluten-free flour instead. 
Beef Bouillon – The best shortcut to creating a savory pot roast gravy. 
Spices – Just a dash of garlic powder and ground pepper are all you'll need! 
Potatoes – Although they're optional, we often love to include Russet potatoes for a well-rounded meal.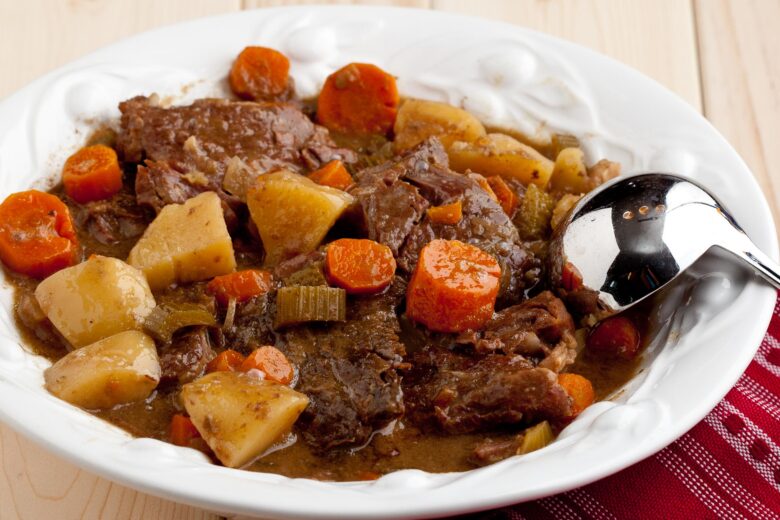 Types of Pot Roast Meat
When it comes to slow cooker pot roast (or any pot roast, really), tough cuts of meat work best. For this reason, we recommend using one of the following cuts of beef.
Chuck Roast – Used in this slow cooker pot roast recipe, chuck roast comes from the shoulder and neck region of a cow and is slightly fattier than other options. As a result, it has a richer taste and an extra tender texture. However, one thing to note is that chuck roast can be difficult to slice smoothly as it tends to fall apart. We love this about the meat, but it doesn't allow for leftover sandwiches or structured meals to be assembled easily. 
Brisket – Coming from the breast or lower chest, brisket is still plenty tasty. However, its fat content is primarily around the edges. This means that it is ever slightly less tender than chuck roast. However, this allows for easy slicing later, making it great for sandwiches the next day!  
Round Roast – Cut from the rear legs, round roast is the leanest of the three options. As a result, it's great for cutting but lacks some of the bold, beefy flavor and juicy texture we love about pot roast made from chuck or brisket. 
You're not going to believe how simple this recipe is to make! Hearty, comforting, and absolutely packed with flavor, it's one meal that will have even the pickiest of eaters begging for seconds. 
Arrange the meat and veggies. Slice the veggies, and place them in the bottom of the slow cooker. Then, use paper towels to pat the beef dry, and place it on top of the veggies. 
Create the sauce. In a separate bowl, combine the remaining ingredients except for the potatoes, and pour the sauce over the roast. 
Cook. Cover the slow cooker, and set it to cook on low for 10-12 hours. 
Add the potatoes. If you're using them, add the potatoes to the slow cooker for the last 5-6 hours of cooking but not before! Otherwise, they'll overcook. 
Serve. Use a meat thermometer to ensure the roast has reached an internal temperature of 145° Fahrenheit. Then, skim any excess fat off the top of the meat and liquid, and enjoy!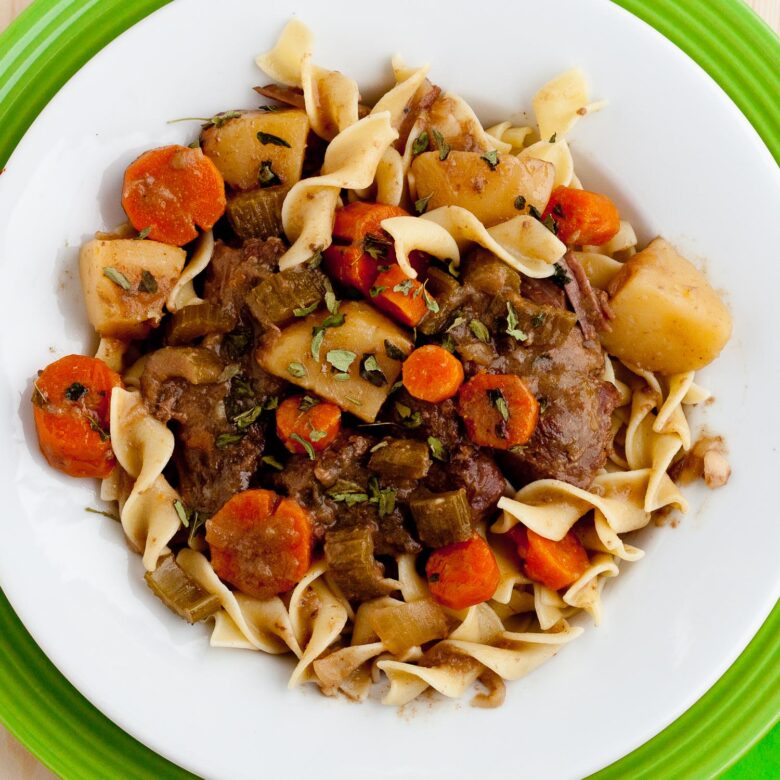 Serving Suggestions
One of the best things about this slow cooker pot roast recipe is that it's a complete meal all on its own, especially if you include potatoes! However, we love to serve it over a bed of tender egg noodles or even rice to soak up all the extra goodness from the gravy. 
Slow Cooker Pot Roast Commonly Asked Questions
Should my pot roast be completely covered with liquid in the slow cooker? 
No, the liquid helps lock in moisture and tenderize the pot roast, but you don't want the meat to be fully submerged. As long as ¾ to ½ of the slow cooker is full, your pot roast will turn out just fine. 
Do I have to brown the roast before adding it to the slow cooker? 
Given that we're cooking this pot roast in the slow cooker, searing the meat isn't necessary. The slow cooking process and rich gravy will lock in plenty of flavor without it! 
Can I prepare this slow cooker pot roast recipe in advance? 
Yes, if you want, you can combine all of the ingredients in your slow cooker the night before. Then, just plug it in in the morning, and come home to a delicious dinner. Or, feel free to prepare your pot roast completely, and store leftovers in an airtight container in the refrigerator for up to 5 days or in the freezer for 2-6 months. 
Is it better to cook my slow cooker pot roast on high or low? 
The key to creating a succulent pot roast is to cook it on low heat for a long amount of time. 
Can I make this recipe in the oven? 
We don't recommend making this slow cooker pot roast recipe in the oven, but we do have a great sheet pan roast tenderloin option you'll love! 
---
More to Cook and Eat
---
---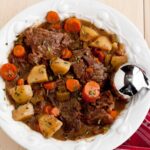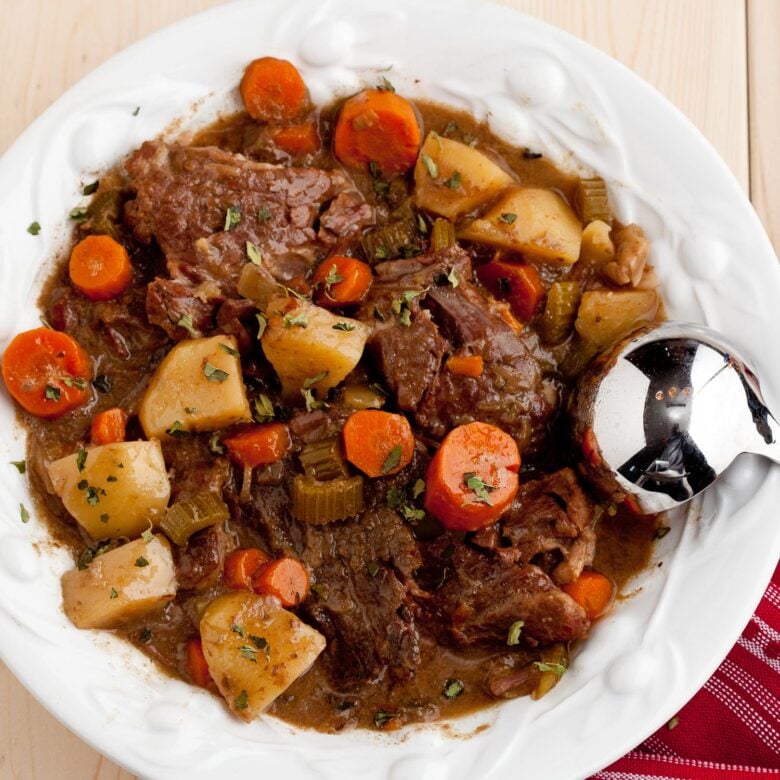 Slow Cooker Pot Roast, Extra Tender
This slow cooker pot roast recipe is melt-in-your-mouth tender, hearty, and full of veggies for an easy yet succulent weeknight meal even the pickiest of eaters will love. Add potatoes to the mix, or serve it with tender egg noodles for the ultimate comfort food!
Servings: 8
3-4

lbs

chuck beef roast,

boneless, divided into 3 or 4 pieces

1

lb

carrots,

peeled and thickly sliced

1

lb

celery,

sliced

2

whole onions,

peeled and sliced

4

oz

dry onion soup mix

10.5

oz

cream of celery soup

10.5

oz

cream of mushroom soup

2

soup cans' worth of water

6

TB

all purpose flour,

or gluten-free flour

5

cubes

beef bouillon,

see note

2

tsp

garlic powder

2

tsp

black pepper,

freshly ground

3-4

whole

russet potatoes,

peeled and cut to bite size, to be added during last half of cooking time
Place cut-up vegetables into slow cooker. Dry chuck roast pieces with paper towel and place on top of veggies.

Combine all remaining ingredients (except potatoes) in a bowl, and mix by hand until incorporated. The bouillon cubes may not dissolve, which is fine.

Pour the sauce evenly over the chuck roast, ensuring that it is as covered with liquid as possible. Cover, and cook on low for 10-12 hours. Add the potatoes the last 5-6 hours, if using.

Skim any excess fat from the meat and gravy. Adjust seasonings to taste.

Serve with warm buttered egg noodles, rice, or mashed potatoes.
I use 5 of the small, perfectly cubed bouillon cubes (similar size to a dice)

If you're using the larger rectangular bouillon cubes (i.e., Knorr), reduce to 3 cubes.

Never add potatoes at the beginning of cook time, or they will break down and become starchy and mushy. If you need to, you can omit potatoes. 
Tips for Meal Prep:
Carrots, celery, and onion can be cut and kept in an airtight container in the fridge for several days in advance. 
Potatoes can be peeled and cut several hours prior to using; immerse them in water to prevent oxidation/turning brown. 
If you enjoyed this recipe, please come back and give it a rating ♡
Serving: 1serving | Calories: 490kcal | Carbohydrates: 34g | Protein: 40g | Fat: 23g | Saturated Fat: 10g | Polyunsaturated Fat: 3g | Monounsaturated Fat: 11g | Trans Fat: 1g | Cholesterol: 123mg | Sodium: 23202mg | Potassium: 1175mg | Fiber: 6g | Sugar: 3g | Vitamin A: 3011IU | Vitamin C: 24mg | Calcium: 94mg | Iron: 6mg
Did you make this?
Leave a comment below and tag @chewoutloud on Instagram