Holiday Gift Guide – Mel's Kitchen Cafe
Well, it's that time of year again! This gift guide is one of my favorite posts to put together all year!
Just like last year, I condensed my gift guide into one comprehensive guide instead of doing three separate holiday gift guides.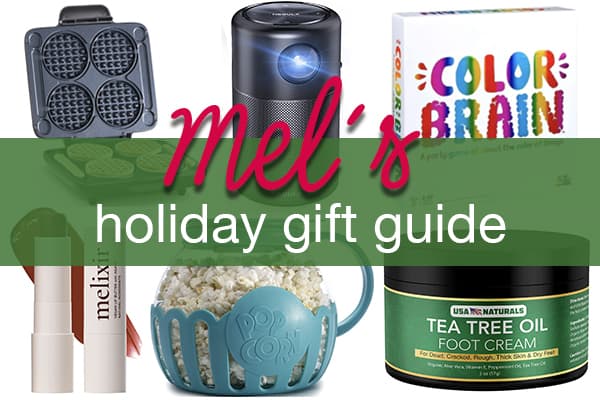 If you're new here, these gift guides aren't meant to be comprehensive. Instead they are a bit random…and hopefully kind of fun.
And since we're game-obsessed, the game gift suggestions always come first (I know that's the part many of you look forward to every year!).
My gift guides are unique in the sense that instead of searching for highly rated items on Amazon to suggest, every single item on these gift guides has been bought, used, and loved by us.
I'm very careful about what I include on these gift guides! Many, many products don't make the cut.
If you need even more gift-giving inspiration, remember there are many other gift guides in the archives with some of our favorite things as well! Don't forget to look through those, too.
As always, if YOU have something amazing to recommend, please do so in the comments. I love hearing your suggestions, too!
All the Amazon links below are affiliate links meaning I earn a small commission if purchases are made through that link. PLEASE feel free to shop around for the best price.
Games, Games, Games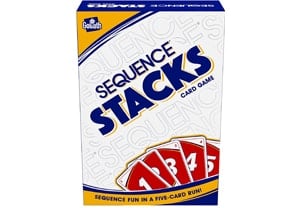 Sequence Stacks: this might be my favorite of all the games today. It has a Skip-Bo vibe with a few different unique twists. We pull this one out to play a lot!
Genius Square: this game is completely mind-blowing to me. My 10-year old beats me every time. It's fun…and it makes my brain hurt in a good way!
Stomple Marble Game: we love this simple marble game because it is easy to learn and fast to play! It's the perfect game when short on time but we want to play a quick game. We also have the Rock Me Archimedes game from the same company.
Bamboozled: this game is fun for the whole family (ages 10-45), and we quickly learned who can bluff the best…and who…well…does not have a good poker face. 🙂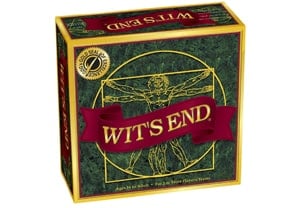 Wits End: this might be my favorite trivia-ish game ever! The questions aren't just trivia – there are brain teasers and riddles, and the trivia questions seem much more approachable than the Trivial Pursuit games. It's challenging, but we love playing it! (My 10-year old gets in on the fun and does quite well on the riddles, but it's probably best for 14/16 and up.)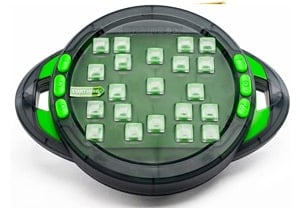 Brain Bolt: this is a one-person memory, problem-solving game that is great for kids (6+), teens and adults! If you're an adult, you might quickly realize, like me, how slow your brain has become.
Chronology: ok, I guess I have a lot of favorites, because this is another. I LOVE this game. It is extremely simple to learn, and even though we are far from world history experts, it is really fun trying to figure out the correct timeline. Highly recommend!
Color Brain: my 10-year old would like to tell you this is her favorite game of all time! I think we played it every night for two months straight (got through all the questions!). Apparently the Disney version is even more fun, and since my daughter doesn't read my blog, I know what she's getting for Christmas this year!
Kendama: my teenage boys are obsessed with these and are constantly having competitions about who can complete some intricate circuit of tricks with it. It's fun to watch! (No, I don't participate all too often 😉).
ROKR Assembly Treasure Box: my kids have been gifted and put together a lot of ROKR 3-D puzzles and structures over the years (big fan of all of them!), and this treasure box was a hit last Christmas with my 13-year old who loves building and figuring out things.
Kitchen + Cooking + Baking
Wüsthof Gourmet Spreader: I know we all have knives that are adequate at spreading, but this unique spreader is exceptional for cream cheese on bagels and really for spreading anything on bread/sandwiches, etc. Would make a great stocking stuffer!
Microwave Popcorn Maker: not only is this microwave popcorn maker exceptionally cute, but it works amazingly well (we don't use the option to melt the butter on top). It comes in several colors!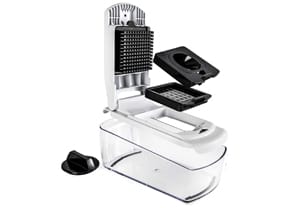 Chopper: I was skeptical I would actually use this chopper when a knife and cutting board has always done the job just fine, but I use it all the time! For onions, veggies for soup, etc. Totally worth it!
Taco Holders: I bought these taco holders for these crispy shrimp tacos because we make them all.the.time. Turns out, we use these taco holders for that recipe AND any time we make tacos. Very handy!
DASH Multi Mini Waffle Maker: we love our DASH waffle maker (we have the single version). I've given this multi mini version as gifts to several people, and I include a little printed booklet of our favorite waffle recipes. Such a fun gift!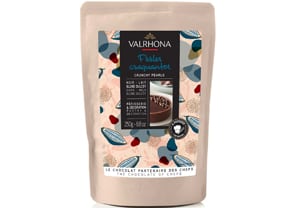 Crispy Chocolate Pearls: every time I post about these crispy chocolate pearls, they sell out almost immediately! They are a) extremely delicious and b) the perfect topping for cakes, cupcakes, cookies (or just eating by the handful). Orson Gygi sells them in larger bags here.
Acacia Wood Board: this wood board makes a great serving platter or cutting board. AND it's perfect to give as a gift with the next item in the gift guide. The board and book are one of my favorite gifts to give people this year!
Beautiful Boards Book: I have this book (and have gifted it to several friends!), and while I'm pretty low maintenance at holidays, I'm finding I love the inspiration to make things a bit fun and festive, and this book is such a great place to start (and you can easily make lots of adaptations to the ideas!).
Bread Lame: this is the best bread lame I've used (and I've used several). It comes with several razor blades, and makes slicing the top of bread dough (like, for this French bread) a dream.
Large Serving Bowls: these large, shallow serving bowls are perfect for salads, fruit, pasta, bread…so many things! They are pretty and unique (you can choose different size combinations).
Everything Else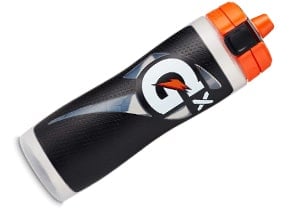 Gatorade Bottle: all of my kids have one of these (they come in a million colors!) and they all agree: best water bottle ever.
Glow-in-the-Dark Basketball: this basketball bounces perfectly but it also has a superior glow-in-the-dark factor that makes it extra fun! We gifted this to my nephew for his birthday, and it's the first thing my kids want to play with when we go over there in the evening.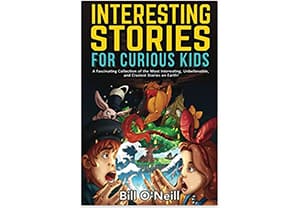 Interesting Stories for Curious Kids: we got this book when we were traveling a bit this summer, and it was a hit (read: fought over) by everyone!
DayBetter LED Lights: My 10-year old daughter got these for her birthday this year, and immediately had us help her put them around the perimeter of her bedroom. She loves them! They change color with music/sound and add a fun touch to her room.
DIY Journal Kit: this customizable journal kit is so cute, especially if you have a crafty, journaling kiddo in mind. We've gifted this to several friends for birthdays and it has been a well-loved gift.
Chain Bracelet: I am a super (super super) simple jewelry wearer. This linked chain bracelet is one of my favorite pieces of jewelry. It is elegant and pretty but still casual and understated. Gold version here.
Carryon Backpack Suitcase: how handy is this backpack carryon that opens up like a suitcase? My son took this to Brazil and it is a staple for travel! Easy to carry and much more functional than stuffing clothes into a regular backpack.
Foldable Bluetooth Keyboard: this keyboard is great for anyone who uses their phone/tablet to type notes, emails, or longer-than-a-text communication. I use it all the time to journal and write down impressions from morning scripture studies (sidenote: I keep it all stored in the Evernote app). It connects seamlessly!
Kikkerland Multi-Tool: I love all the Kikklerand products. They are so unique and clever! I always look for them to add to stockings. This hammer multi-tool is one of our favorites. Search "kikklerand" on Amazon and prepare to be wowed.
AeroGarden: my friend told me about this unique indoor garden and I had to try it out. LOVE IT. The key is to continuously trim the herbs and use them (or freeze them). Mine is in my office and I often find myself just starting at it. It's amazing how quickly the plants grow!
Massage Gun: Brian got this for Father's Day this year, and it is used constantly by sore high school wrestlers and basically everyone else around here (except me: I'm a weirdo and can't stand massage-y anything).
Modern Manners Book: I can't say enough about this modern manners book. We have volume 1 and 2. It sits open to the current week's manner in our kitchen, and we use it as part of our family council each Sunday. It has opened up a lot of conversations with our kids (and their friends who see it!).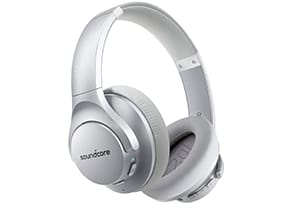 Noise Canceling Headphones: my 17-year old wanted really expensive headphones for the gym. After a lot of research (and because the ones he wanted were out of stock), I ended up getting him these (over 40,000 five-star reviews) for his birthday, and he has only great things to say about them.
Laneige Lip Gloss: at the risk of sounding completely cliche, I'm obsessed with this lip gloss. I have the grapefruit gloss, and it is truly amazing. Glossy without being super sticky. This would make a great stocking stuffer!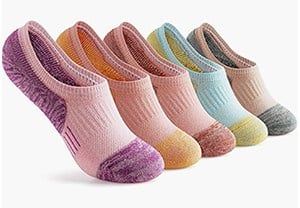 My Favorite Socks: I know these look like "just socks" but they are my FAVORITES. They don't slip down in the heel when wearing with shoes. They are thick without being bulky. And I wear a pair of them every single day in the fall/winter instead of slippers.
Face Masks: I keep these on hand to give as gifts to friends that have birthdays. And…I can't help but use them now and then for myself. I love the variety AND how they make my skin feel!
Tea Tree Oil Foot Cream: I am mentally allergic to crusty heels. Enter this foot cream. It is AMAZING. I put it on at night and my feet feel like new little miracles each morning.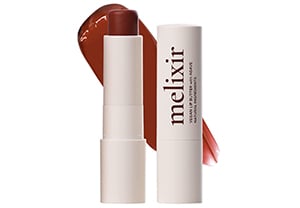 Melixir Tinted Lip Balm: I don't like the thick smeariness of regular lipstick. But sometimes my lips need a boost of color. This tinted lip balm is perfect for giving a hint of color without being lipstick. It's light in texture, and it doesn't dry my lips out either! Another great stocking stuffer. I have the nude crumble color.
Capsule Projector: this tiny wi-fi mini projector is quite the fun little gadget. On the pricey end, it's a great investment for those that like to throw movies up on the wall (or side of the house!). It gets GREAT reviews !
Noco Boost Plus: pure functionality, this portable car battery pack can jump start a dead battery in just seconds and makes a great gift for anyone who owns a car and drives!
Cardigan: this comfy cardigan comes in a million colors! I have it in black and smoky blue, and it's the perfect outfit to dress up or down.
Saranoni Outdoor Blanket: Saranoni blankets are some of the highest quality, most luxurious blankets ever (and the company is family-owned and run with the type of integrity I wish every company had). Their new outdoor blankets are exceptional! We've used ours nonstop this fall. They are definitely a splurge for a blanket…but 100% worth it! I keep ours in the car so we always have it to sit on or bundle up with at fall sporting events.
Tons of other gift guides here if you need more gift-giving inspiration! Happy Holidays!
Disclaimer: I am a participant in the Amazon Services LLC Associates Program, an affiliate advertising program designed to provide a means for me to earn fees by linking to Amazon.com and affiliated sites. As an Amazon Associate I earn from qualifying purchases.