The Best Frittata Recipe (Baked in the Oven)
This frittata recipe is packed with vegetables and is an easy recipe to make for brunch or breakfast for the week. Pop it in the oven and it's ready in no time.
Do you love eggs as much as we do?  Check out some of our other healthy breakfast ideas that include baked eggs, poached eggs, healthy oatmeal recipes, and tasty smoothie recipes!
The Easiest Frittata Recipe
The key to making the perfect frittata is to keep it simple. 
You don't have to make a crust when you are making a frittata (that's a quiche), which makes making a frittata a bit easier.
All you have to do is decide on what vegetables you want to use and what your flavor profile is going to be. The thing I love most about making a frittata is that I can use whatever vegetables I have in my fridge to whip up a delicious breakfast that will feed my family!
why you'll love this Frittata
This healthy frittata is made with peppers, onions, zucchini, and onions. Super accessible vegetables that you can find in most grocery stores.
Frittatas are a great multipurpose recipe! Meaning, you can make a frittata for a healthy meal prep breakfast throughout the week or you can make a fancy frittata to serve to guests on the weekend. You can make it for any occasion!
You can freeze a frittata for later.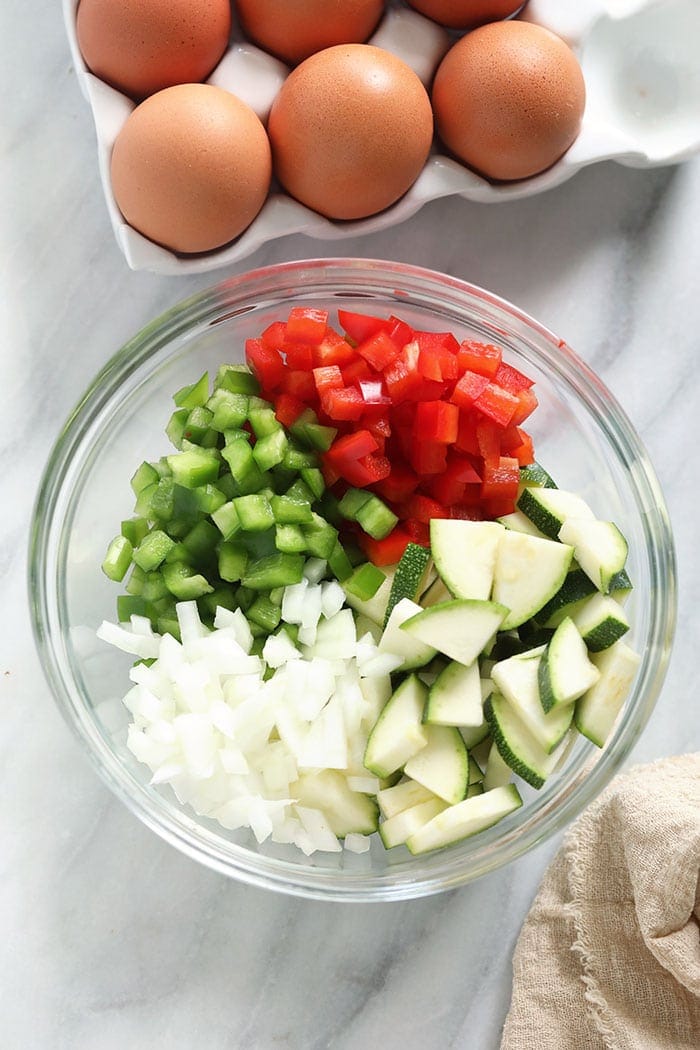 Frittata FAQ
Before you decide to whip up a healthy frittata recipe check out everything you need to know about making a frittata below to make it super easy!
What type of pan do I bake my frittata in?
We used a 10-inch nonstick pan for this frittata. If you are baking a frittata, use a non-stick, oven-safe pan similar to the pan that we use from this set! I repeat, do not use any pans with rubber, fabric, or plastic.
You don't want to have a frittata tragedy where your frittata sticks to the pan. It would be terrible!
Why is my frittata watery? 
Nobody likes a watery frittata. If you find yourself with a watery frittata it's probably because you did not cook down your vegetables enough. When you place raw vegetables into a frittata the water is drawn out and access water is left in your frittata.
Be sure to saute whatever vegetables you are using with a little salt until they are cooked down, especially mushrooms!
What do I serve with frittata?
You can serve frittata with anything your little heart desires. Try any of the healthy sides and toppings below!
Toppings:
Breakfast salad
Crunchy toast
Breakfast Potatoes
Bacon
Breakfast sausage
Can I freeze frittata? 
Yes, you can freeze a frittata. Wait until the frittata has cooled completely and cover with plastic and then tin foil and place into the freezer for up to three months.
Remove the frittata from the freezer when you are ready to serve and let thaw in the refrigerator. Then, set the oven to 350ºF and bake for about 10 minutes.
Tips + Tricks
Whisk those eggs. Whisk your eggs until the egg yolks and egg whites are blended. It's a thin line, but try not to under-whisk or over-whisk your eggs!
Use your favorite vegetables. The beauty of any frittata is that you can decide what vegetables you want in your frittata. We used peppers, onions, and zucchini. Feel free to use any of your favorite vegetables!
Just remember you have to cook the vegetables before you put them into a frittata. Why? You want to cook access water off from the vegetables and it gives you the opportunity to add delicious flavor to the vegetables before baking them into the frittata!
Use any of the vegetables below in your frittata! The key is to cut them all about the same size!
Potatoes
Sun-dried tomatoes
Squash
Carrots
Asparagus
Mushrooms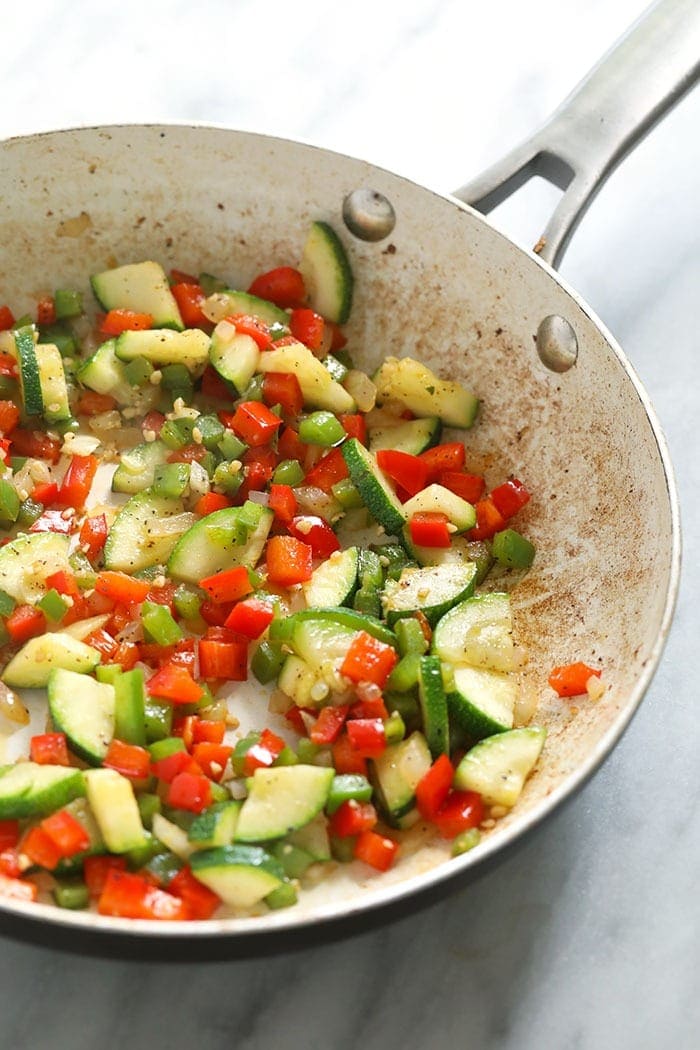 How to Make Frittata
Step 1: Prepare
Preheat the oven to 375ºF.  Prepare the vegetables by dicing them into bite-sized pieces. Set aside.
Then, whisk the egg whites and egg yolks together until they are combined. Then add in the almond milk and whisk until combined. Set aside.
Step 2: Saute 
Next, heat a 10-inch no-stick skillet over medium/high heat. Add olive oil to the pan. When olive oil is fragrant add garlic, onion, peppers, and zucchini to the pan along with salt and pepper. Saute the vegetables until the onions are translucent.
Here's a tip–> If you want to add extra flavor to the frittata add a couple of teaspoons of your favorite seasoning mix (try our fajita seasoning) to the vegetables while they're cooking. It adds great flavor!
Step 3: Bake + Serve
After the vegetables are cooked, spray the sides of the pan one last time with cooking spray. Pour the egg mixture over the vegetables and place into the oven and bake for 16-18 minutes!
Remove from the oven and serve with a breakfast salad, toast, or top with your favorite cheese or hot sauce.
Storage
Let the frittata cool completely before placing it in an airtight container. Store it in the refrigerator for up to 5 days.
Reheat Instructions: place the frittata on a baking sheet and let it bake in the oven at 350ºF for about 20 minutes.