Traeger Shepherd's Pie Recipe – Or Whatever You Do
Fire up the grill and get cooking because today we're making Traeger Shepherd's Pie! This hearty dish is full of ground beef, gravy, vegetables, and topped with hasselback potatoes instead of mashed potatoes. It is a great twist on a traditional shepherd's pie.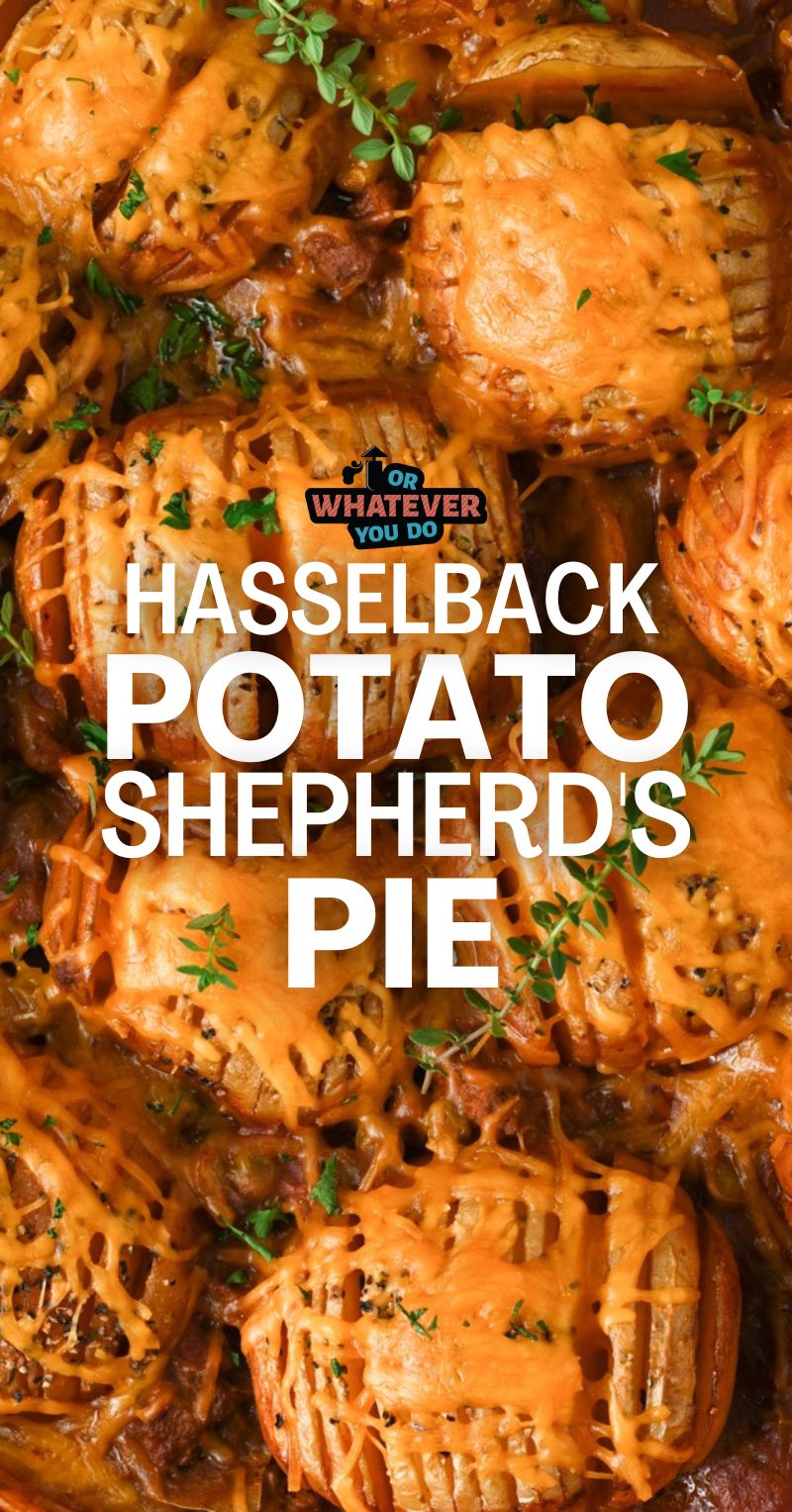 Traeger Shepherd's Pie with Hasselback Potatoes
So, technically, shepherd's pie is made with lamb. I know. But work with me here. This is probably more like a cottage pie than a shepherd's pie, but here in the US these terms are used pretty interchangeably. If you have minced lamb, feel free to use that if you'd rather. I'm not here to tell you what to do, and as always, I encourage you to experiment. I can't make a recipe as written to save my life, so I'm not going to be mad at you if you can't either.
If you don't have a pellet grill this recipe can also be made in the oven. If you DO have a smoker or pellet grill, I hope you try it in there! I love what live wood fire does to casseroles like this. At higher temps, it doesn't give it a super strong smoke flavor, but you can definitely taste that it was cooked over wood. (and yes – offset smoker snobs, cooking with pellets is still cooking with wood.)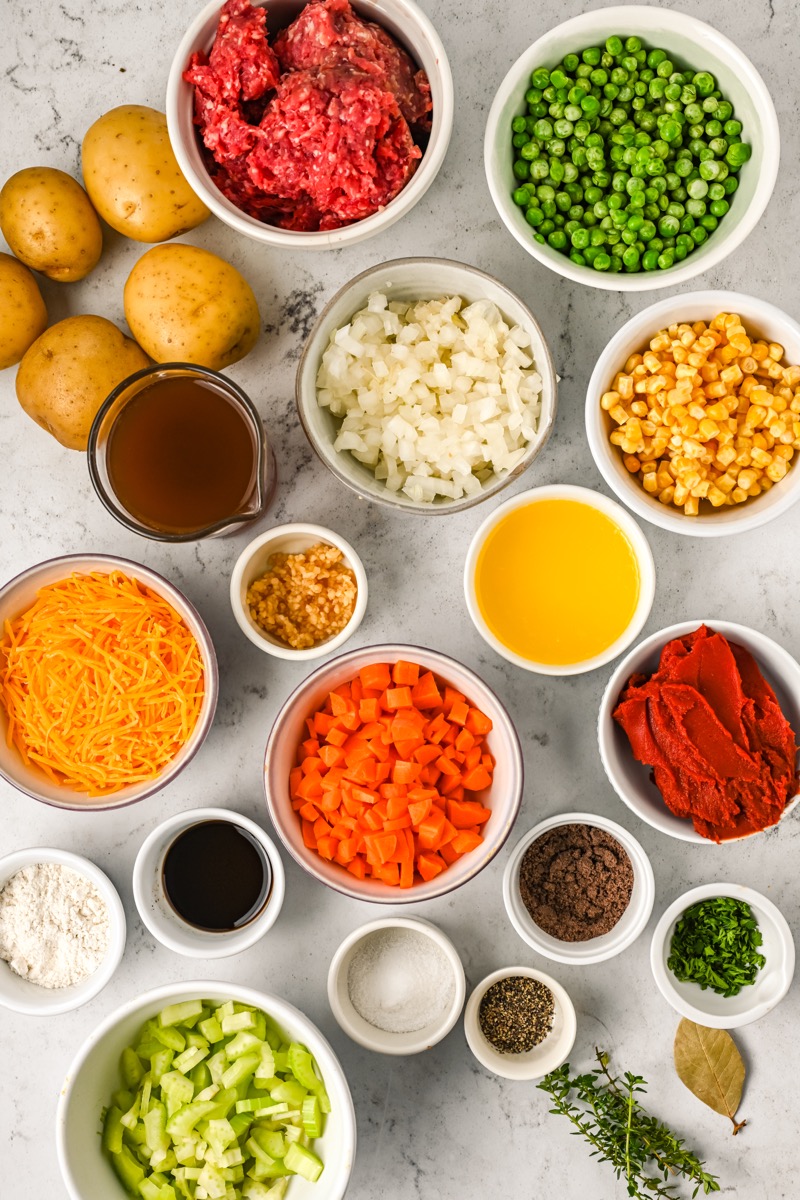 Traeger Shepherd's Pie shopping list
Wondering if you have to hit the store? Here's the list of items you'll need to make this recipe. For specific amounts, please refer to the printable recipe card at the bottom of the post.
Ground Beef 
Onion 
Garlic 
Celery stalks
Carrots
Thyme leaves 
Bay leaf 
Tomato paste 
Worcestershire sauce 
All purpose flour 
Beef bouillon 
Beef broth 
Sweet peas 
Corn 
Potatoes 
Butter 
Salt 
Pepper 
Cheddar cheese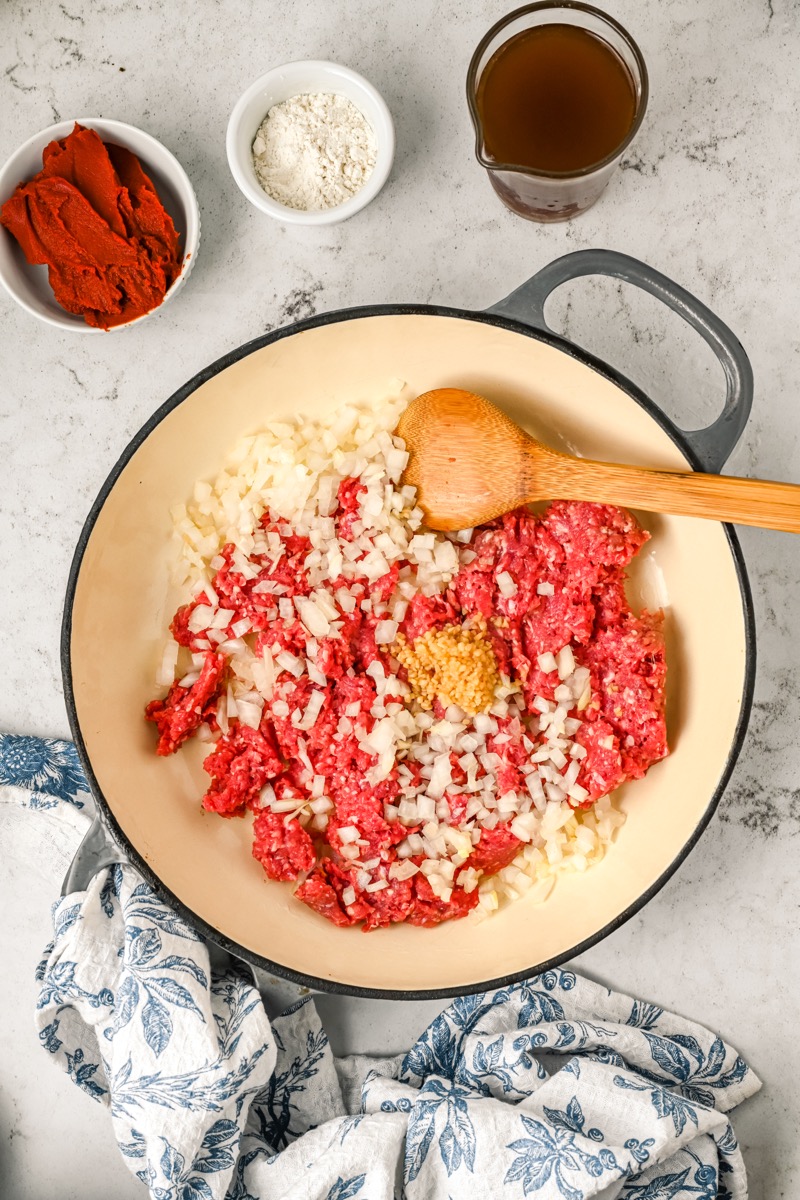 How to make Traeger Shepherd's Pie
This is just the overview so you can see what you're actually getting into here. When you are cooking, you'll want to use the full recipe at the bottom of the page.
Preheat
Preheat your pellet grill to 350°F.
Make the filling
Whip up the filling for your pie on the stovetop.
Slice
Slice the potatoes between two chopsticks to make hasselback potatoes.
Assemble
Pour your filling into a grill-safe pan. We like to use our 12 inch cast iron skillet. Put the potatoes on top.
Grill
Put the pan on the Traeger and grill for around an hour, or until the potatoes are tender. Top with cheese and grill until melted.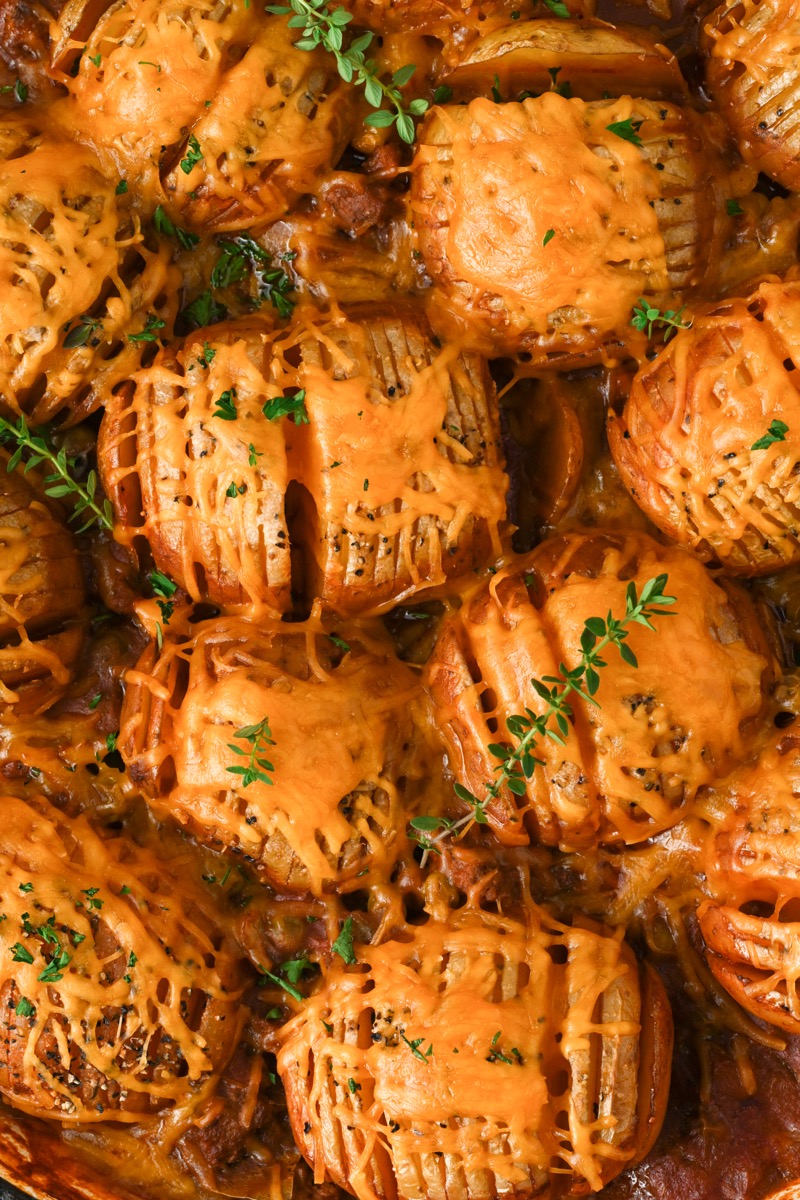 Traeger Shepherd's Pie FAQ
How do you store leftovers?
Store these in the fridge, covered, for 3-4 days.
What's the best way to reheat leftovers?
These leftovers reheat really well in the microwave. If you don't have a microwave, an oven, air fryer, or back on the grill works well too.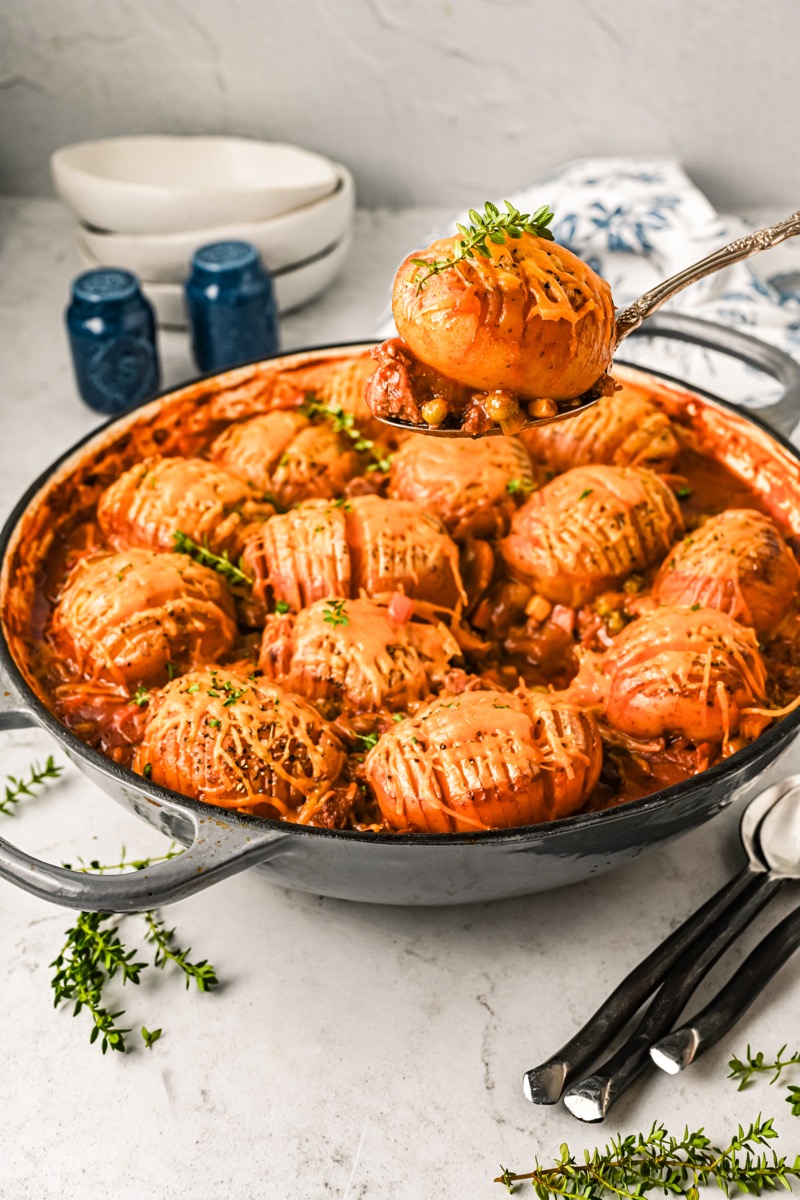 Get more Traeger recipes using ground beef
More great recipes to love
Prep Time
30 minutes
Cook Time
1 hour
Total Time
1 hour 30 minutes
Ingredients
1 1/2 pounds ground beef
1 cup diced onion
1 tablespoon minced garlic
2 celery stalks, diced
2 carrots, peeled and roughly chopped
6 tablespoons tomato paste
1 tablespoon worcestershire sauce
2 tablespoons all purpose flour
1 teaspoon beef bouillon
2 1/2 cups beef broth
2 teaspoons fresh thyme leaves
1 bay leaf
1 cup frozen sweet peas
1 cup frozen or canned corn
2 pounds medium to small size potatoes
4 tablespoons melted butter
1 teaspoon salt
1 teaspoon pepper
1 cup cheddar cheese, shredded
Instructions
Preheat your Traeger to 350°.
Cook the beef, onion, and garlic until the beef is no longer pink.  Add the celery and carrots and cook for 4 minutes.
Add the tomato paste and worcestershire sauce and stir.  Stir the flour into the meat, then mix in the broth.  Add the thyme and bay leaf and Simmer until it begins to thicken.
Stir in the peas and corn and pour into a 2 quart grill-safe pan or a 12 inch cast iron skillet.
Place the potatoes between two chopsticks and slice down to the chopsticks, making sure not to cut all the way through.  Slice very thin slices.
Add the potatoes around the shepherd's pie, then brush them with melted butter. Sprinkle with salt and pepper.
Place in the pellet grill (or oven) and bake for 1 hour, or until the potatoes are cooked through. Sprinkle with cheese and continue cook until melted.
Serve hot with crusty bread.
Notes
This recipe is saucy on purpose. It'll cook down and also soak into the potatoes some. Go with it.
Recommended Products
As an Amazon Associate and member of other affiliate programs, I earn from qualifying purchases.
Nutrition Information:
Yield:
8
Serving Size:
1
Amount Per Serving:
Calories: 431Total Fat: 26gSaturated Fat: 12gTrans Fat: 1gUnsaturated Fat: 11gCholesterol: 105mgSodium: 912mgCarbohydrates: 19gFiber: 3gSugar: 6gProtein: 31g
Nutrition data provided here is only an estimate.