Wendy's Chili Recipe (best copycat recipe!)
Say hello to this homemade Wendy's Chili recipe! It's so easy to make this Wendy's Copycat Chili in your own home.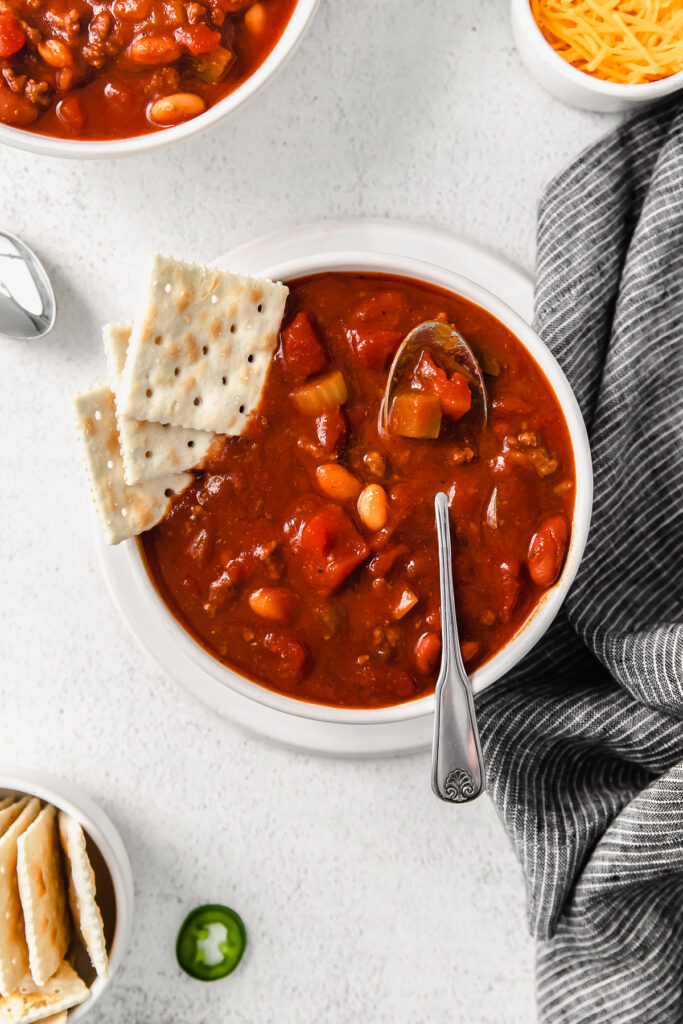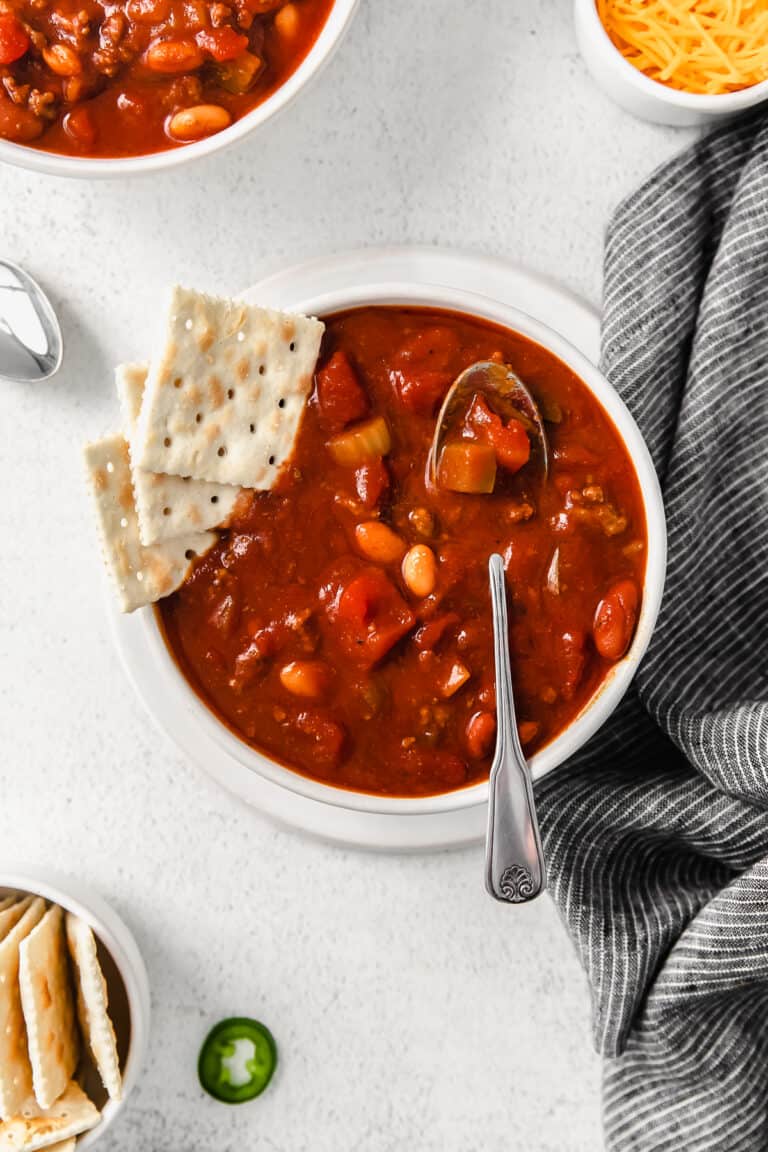 Wendy's Copycat Chili
I'm a tried and true Wendy's chili lover. A cup of chili plus one of their baked potatoes is seriously what dreams are made of.
Today we're sharing our at-home version of Wendy's Chili that you can make right in your own kitchen. The good news for you is that this chili is super basic and doesn't call for any crazy ingredients.
It's made with ground beef, beans, tomato products, a simple chili seasoning, and a little brown sugar.
Why you'll love it!
Tastes just like the chili from Wendy's!
Ready in 30 minutes
Freezes well
Serves a crowd
No weird ingredients/fillers!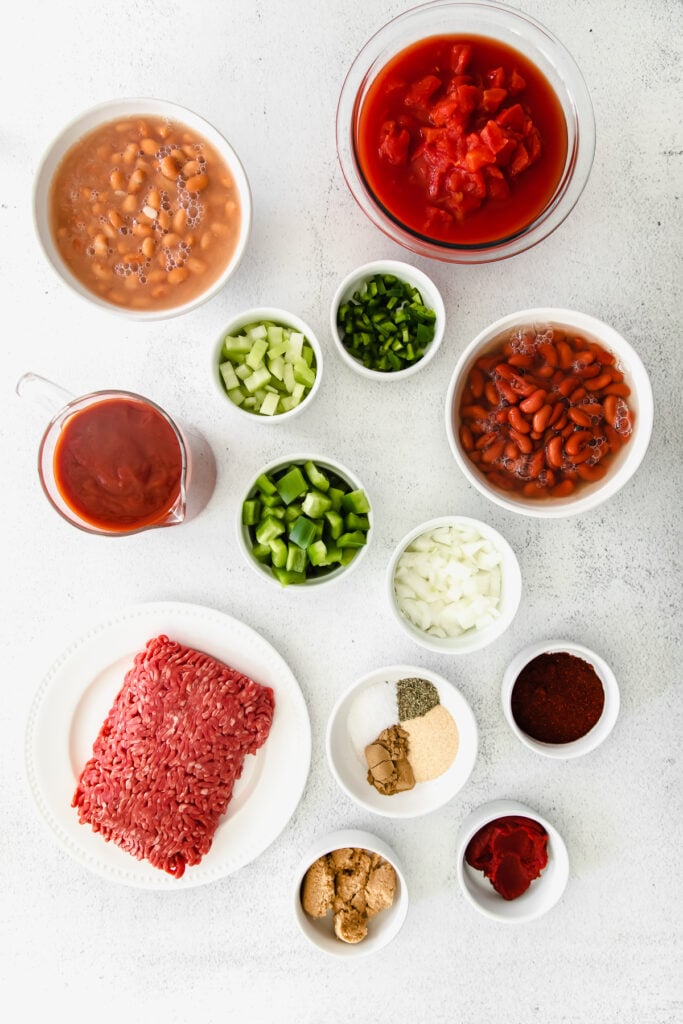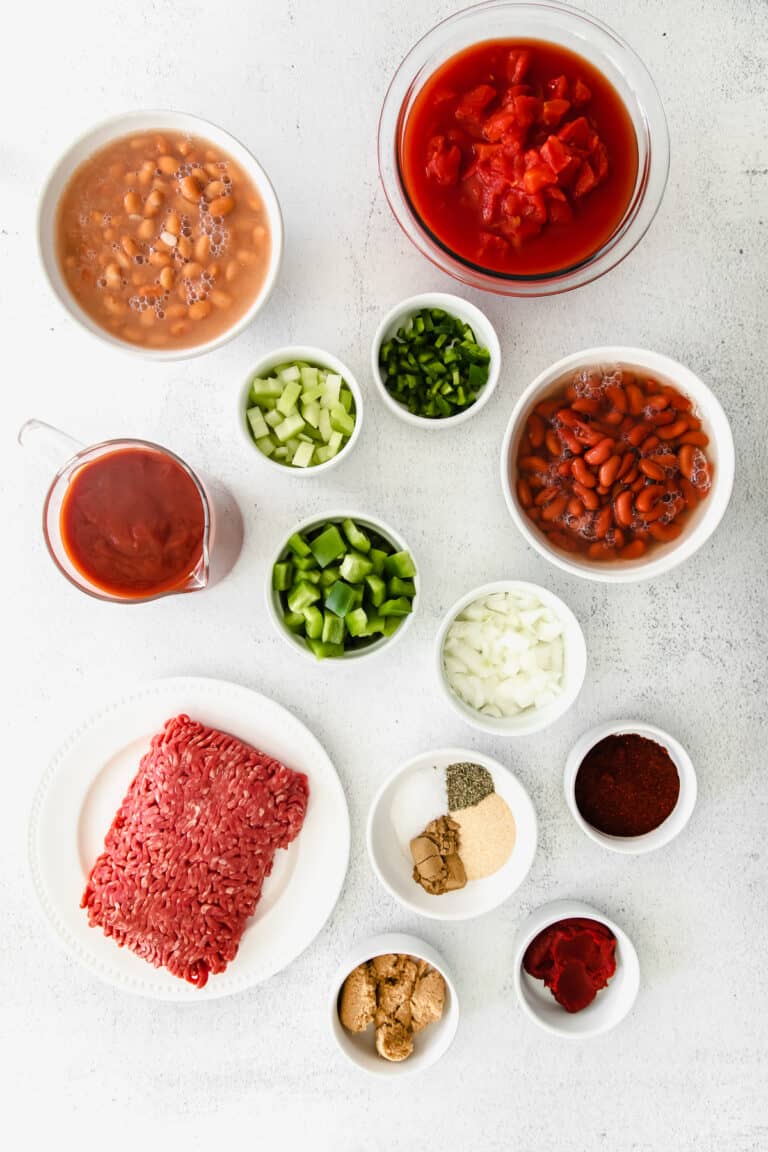 What You Need
Ground beef: Wendy's uses ground beef in their chili, so that's exactly what we did. Try and find a beef that has a little bit more fat, so that it tastes better!
Beans: the two types of beans that Wendy's uses are red kidney beans and pinto beans. You can find both types for less than $1.00. SCORE.
Veggies: You can see on their ingredient list, that their chili includes onions, celery, and green pepper.
Tomato products: tomato products are the base of most chili recipes. Here we are using tomato sauce, diced tomatoes, and tomato paste.
Spices: chili seasoning is what makes a chili unique. In our opinion, we NAILED, the chili seasoning to taste just like Wendy's! Here's what you need:
chili powder
garlic powder
ground cumin
ground oregano
salt
Brown sugar: last but not least, Wendy's chili has "sugar" written in their ingredient list and we love how brown sugar is light and bright and truly brings out all the amazing flavors of this chili recipe.
Can I use a store-bought chili seasoning?
If you're really trying to nail the flavor of Wendy's chili, we recommend using our spice mix listed in the recipe card.
Why don't you drain the beans?
We know that most people are accustomed to draining their beans, but for this recipe, we decided not to. The liquid adds flavor and liquid to the chili. If you're so keen on draining the beans, add about 1/2 cup of beef broth or water.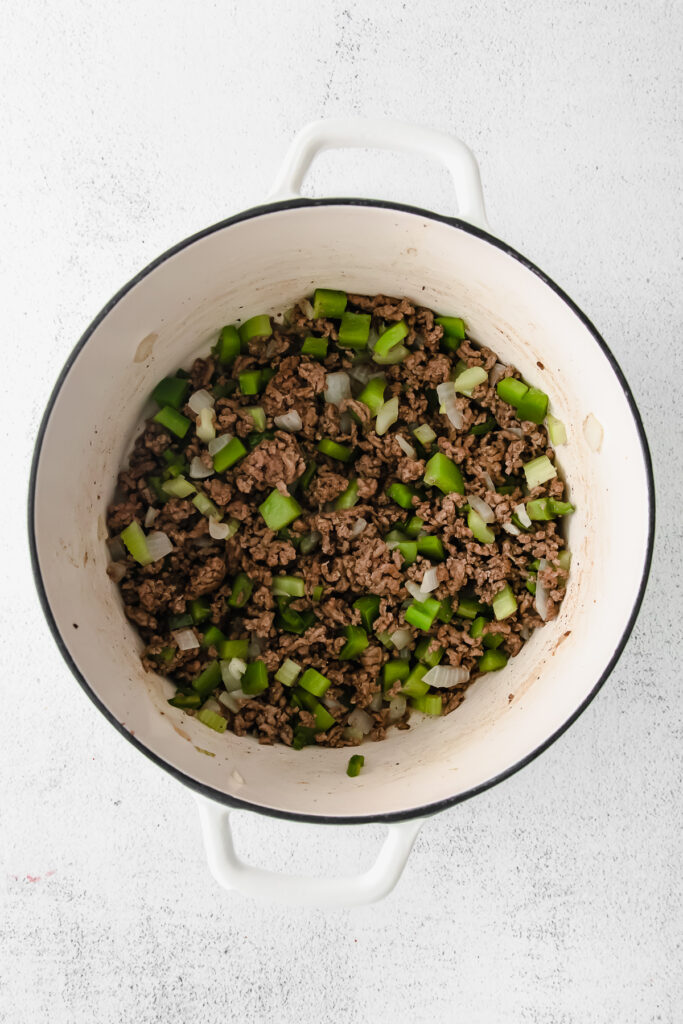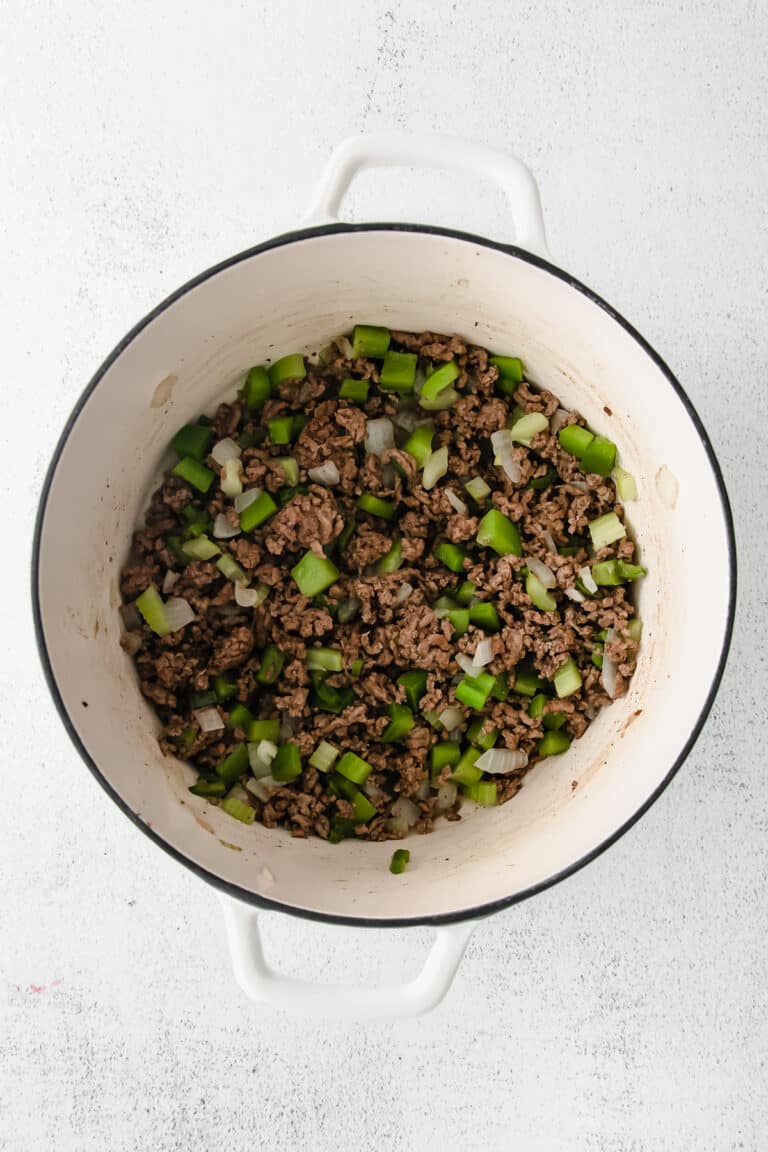 How to Make Wendy's Chili Recipe
Cook Beef
First, brown the ground beef in a large stockpot or Dutch oven (what we used) for 1 to 2 minutes.
Add Veggies
Add onions, celery, and green pepper, and continue cooking for another 5 minutes.
Add Tomato Products and Spices
Add in all of your tomato products, beans, and spices and mix to combine.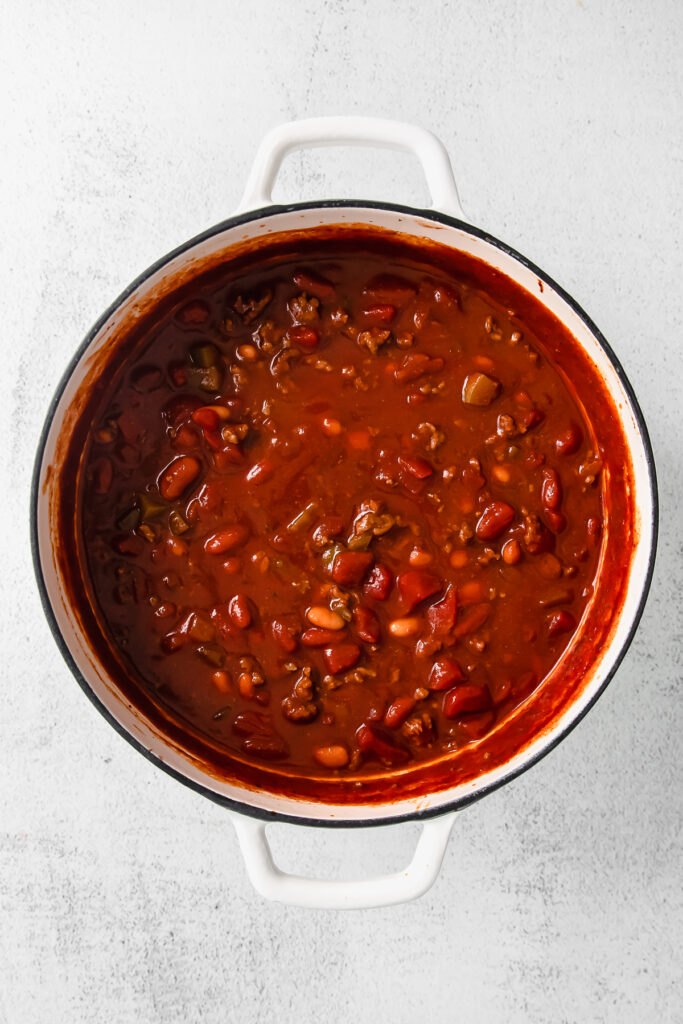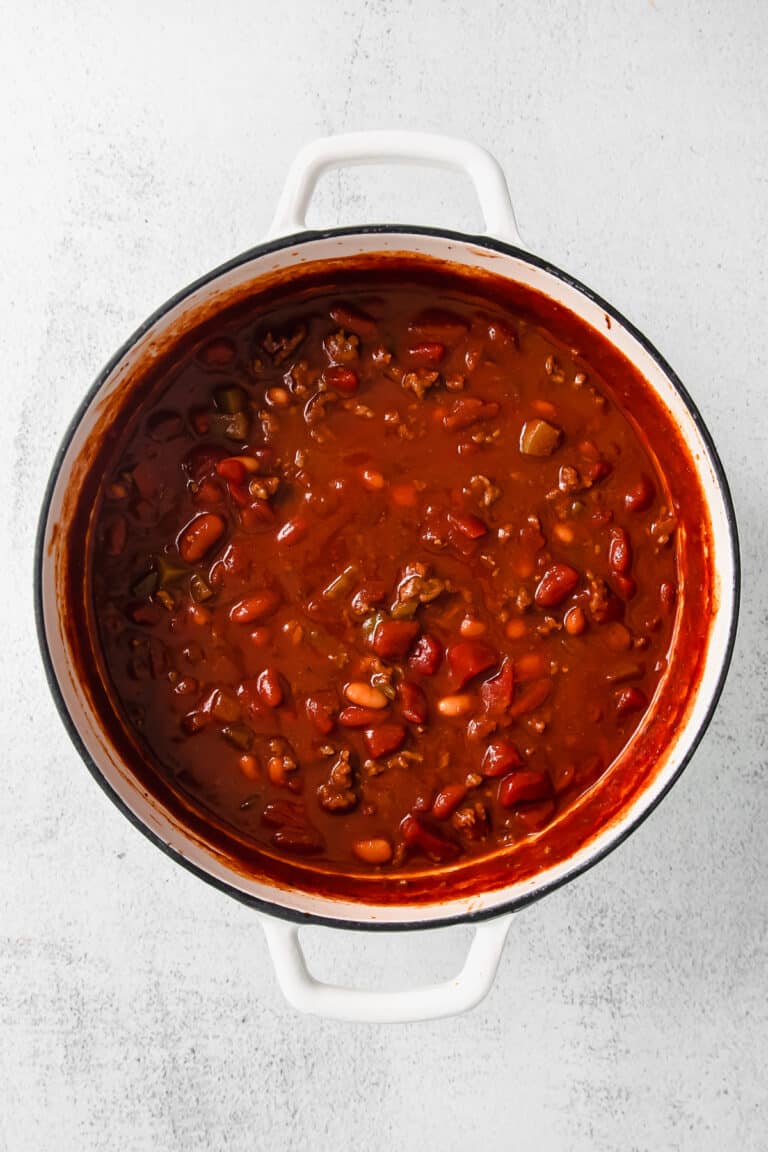 Bring to a Boil
Bring chili to a boil over medium/high heat.
Let Simmer
Turn the heat down to low and let simmer for 10 minutes.
Serve
Serving Suggestions
Bored of plain old chili? Here are some interesting serving ideas of how you can serve your Wendy's chili.
Baked Potato: Top your baked potato in foil or slow cooker baked potato with this chili.
Chili Cheese Fries: make our favorite air fryer sweet potato fries and then top them with a big scoop of chili.
Chili Nachos: I've done this countless nights at home with leftover chili. Top tortilla chips with chili and cheese and broil it for 2-3 minutes.
Chili Mac: we have an epic recipe for chili mac and cheese on Fit Foodie Finds. Swap out our beef chili for this chili!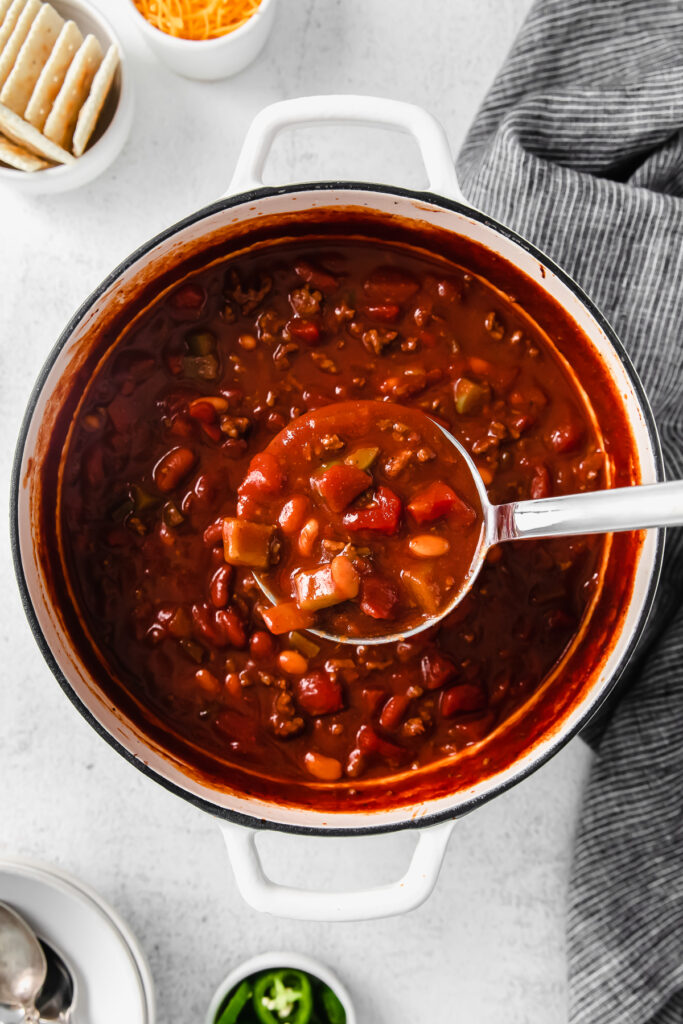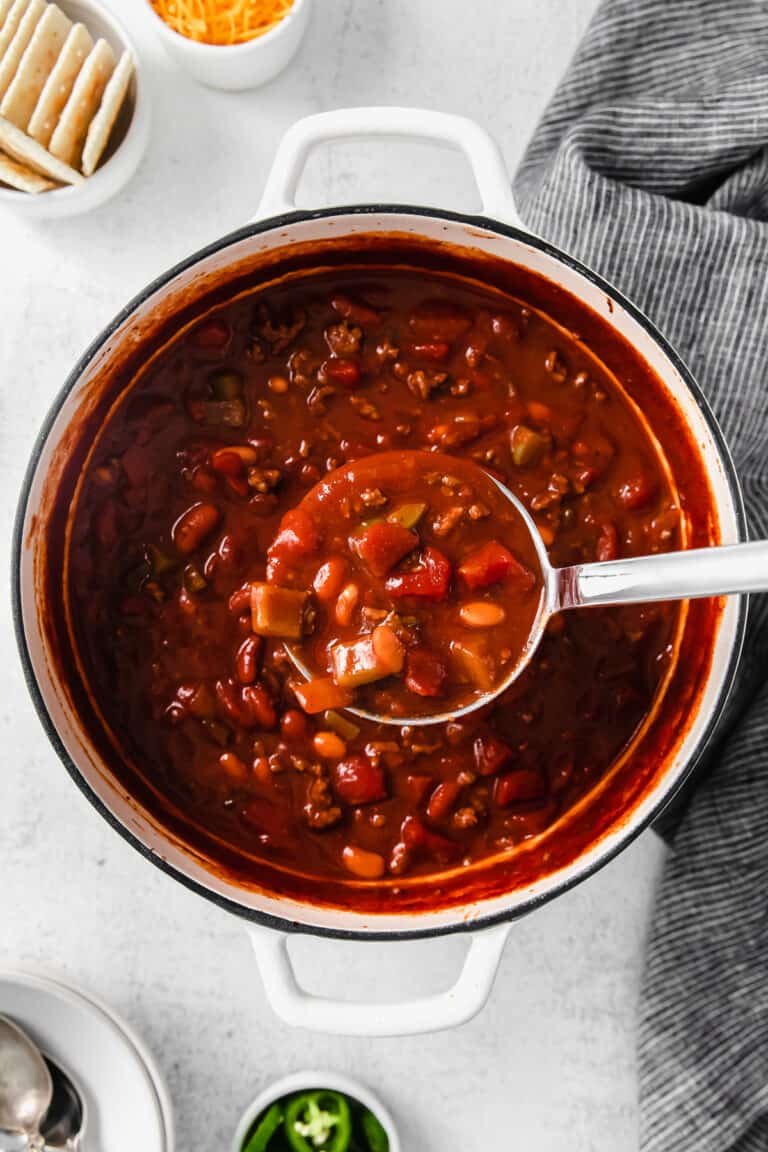 FAQ
What is Wendy's chili made out of?
Wendy's chili is made primarily of round beef, tomato products, beans, and chili seasonings.
Does Wendy's make chili anymore?
Wendy's still makes chili and you can actually buy it year round. We recommend eating it with a side baked potato,
Is Wendy's small chili good for you?
Wendy's small chili s relatively healthy because it's made with whole ingredients such as ground beef, beans, tomato products, and spices.
Storage
Let your chili cool completely. Then, transfer it into an airtight container and seal. Store in the refrigerator for up to 3-5 days.
How to Freeze Wendy's Chili
You can easily freeze this Wendy's Copycat Chili recipe and the real Wendy's chili. Here's how to do it.
Let your chili cool completely.
Transfer it into an airtight container or gallon-size plastic bag.
Remove as much air as possible and seal.
Freeze for up to 3 months.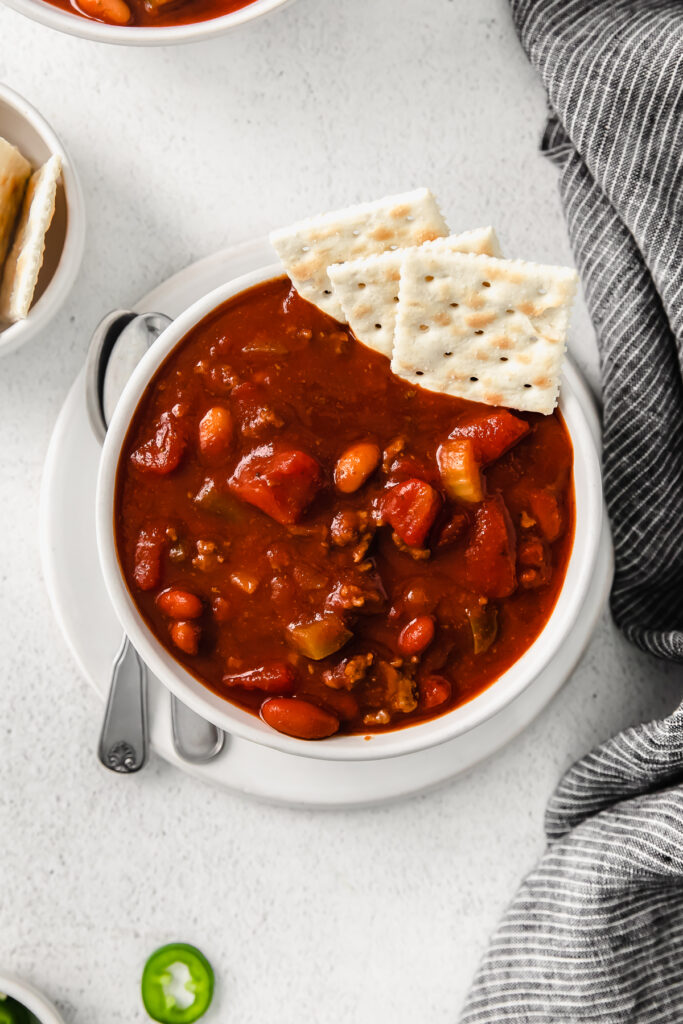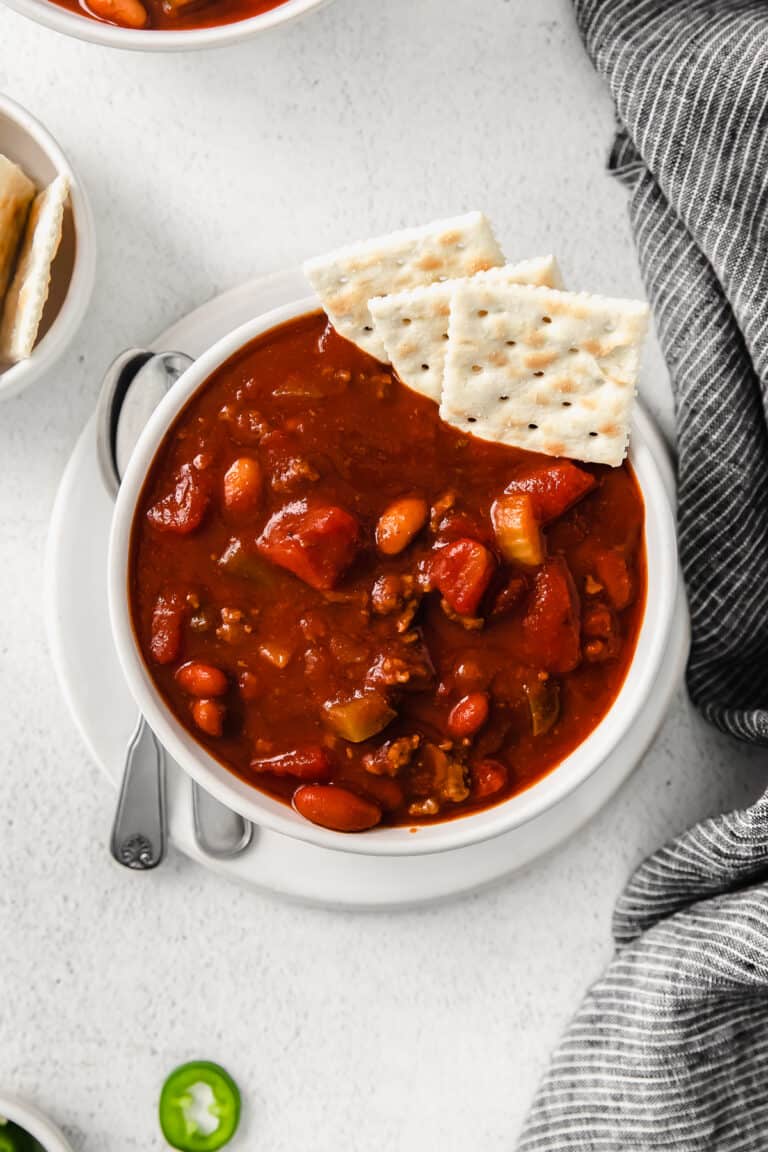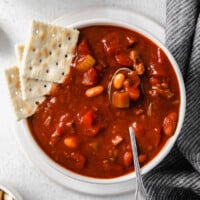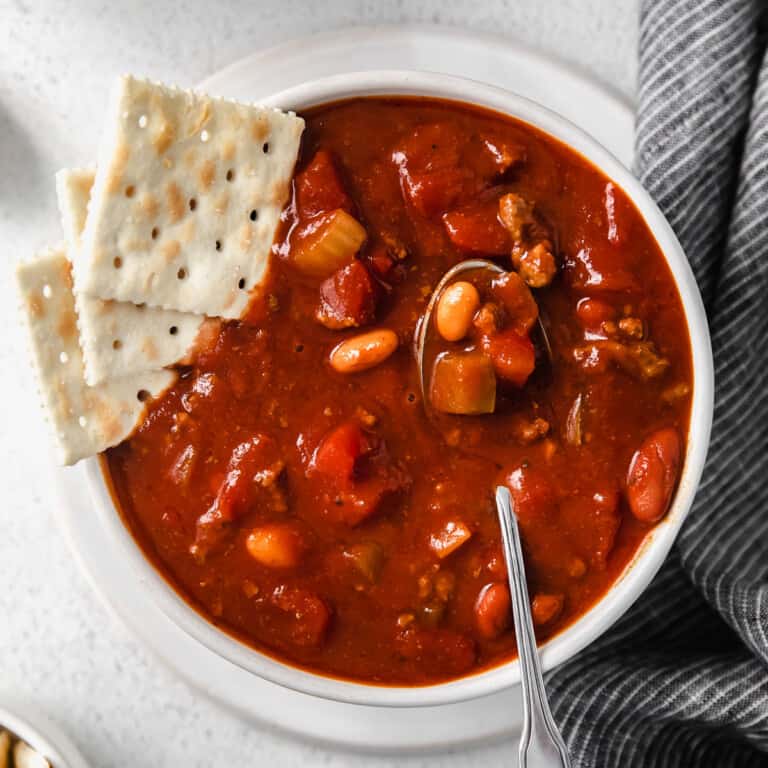 Wendy's Chili Recipe (Wendy's Copycat Chili)
Love Wendy's chili? Check out our Wendy's Copycat Chili recipe! It tastes exactly like the real deal and it's so easy to make at home with real ingredients. 
Prep:15 minutes
Cook:15 minutes
Total:30 minutes
Fat 9
Carbs 47
Protein 22
Ingredients
1

lb.

ground beef

we used 85% fat

½

large white onion

diced

1

stalk celery

diced

1

medium green pepper

diced

1

medium jalapeno pepper

seeded and minced

2

15-oz.

cans tomato sauce

2

15-oz.

cans diced tomatoes

¼

cup

tomato paste

1 15-

oz.

can kidney beans

with liquid

1 15-

oz.

can pinto beans

with liquid

¼

cup

chili powder

1

tablespoon

garlic powder

2

teaspoons

ground cumin

1

teaspoon

ground oregano

or 1 teaspoon dried oregano

1.5

teaspoons

salt

1-3

tablespoons

brown sugar

depending on preference
Instructions 
First, heat a large stockpot over medium/high heat.

Add ground beef to the stockpot and let it cook for 1-2 minutes, being sure to break it up into small pieces. 

While the beef is cooking and still pink, add the onion, celery, green pepper, and jalapeno pepper. Stir all of the ingredients together and let them cook for an additional 4-5 minutes or until the beef is just cooked. 

Next, add the rest of the ingredients and stir until combined. 

Bring the chili to a boil, then reduce heat to low and let simmer for 10-15 minutes to thicken.

Top with your favorite toppings and enjoy!
Tips & Notes
Beans: typically we drain and rinse our beans, but for this recipe, we did not. If you want to drain and rinse, you'll have to add around 1/2 cup of water or beef broth.
Nutrition facts
Calories: 337kcal Carbohydrates: 47g Protein: 22g Fat: 9g Fiber: 14g Sugar: 20g